20 Years of Local Flavor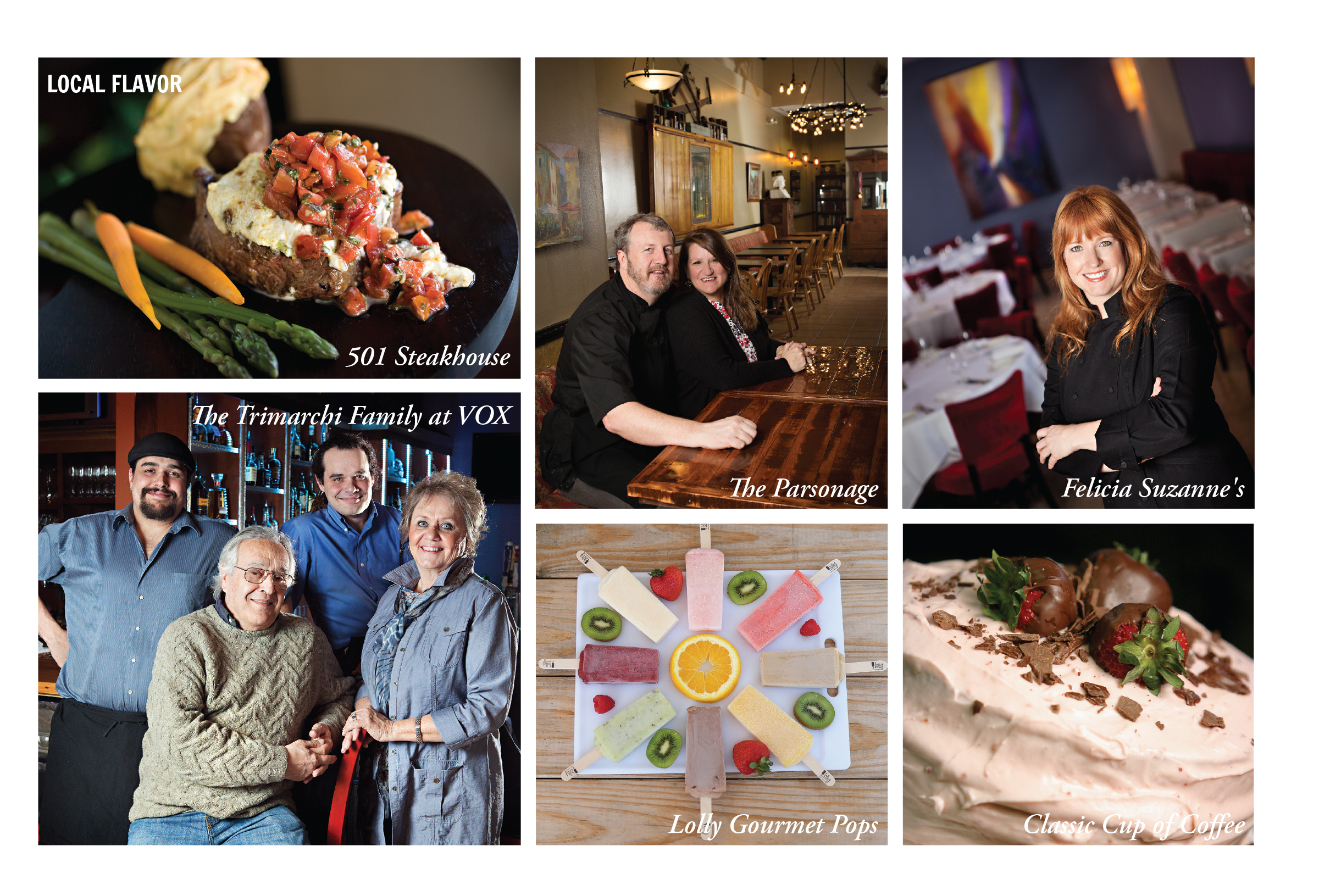 by Audrey Poff, photos from Jonesboro Occasions archives
Since the first issue of Jonesboro Occasions debuted in August 2003, the editorial staff has highlighted countless restaurants and local food vendors.
Some of the establishments and their proprietors featured in the magazine have been legendary, and it has been an honor to share their culinary creations as well as their passion for food. Good food brings people together through all seasons of life, and Jonesboro and the surrounding community has its share of locally-owned eating establishments that easily surpass many restaurants in larger metropolitan areas. Whether it's Southern barbecue cooked low and slow, a delightful weekend brunch or a romantic gourmet dinner at a locally-owned steakhouse, there is no shortage of dining options in the city.
Longtime residents will remember some of the legendary faces in the photos from the past 20 years, such as Piero Trimarchi, Sue Williams and Loretta Kelly, who have all since passed away. Trimarchi enjoyed a 25-year-run of Piero and Company Ristorante – first on Union Avenue, then on Main Street and later with his sons at VOX on Church Street – before his death in 2015. Williams, the founder of one of Jonesboro's longest standing restaurants, Sue's Kitchen, died in 2021 of complications from COVID-19. Her son, John Williams, and his family continue her legacy today serving longtime customers at Sue's Kitchen on Caraway Road. Kelly, who passed away in 2011, operated Loretta's Catering to Your Needs along with her daughter, Kathy Cardwell, specializing in white linen catering and culinary foods for many years.
During the course of 20 years, the Occasions staff has had the privilege of featuring numerous gourmet chefs, including Jonesboro native Felicia Willett, owner of the award-winning Felicia Suzanne's Restaurant in Memphis; Chef Omar Barry of Omar's Uptown; Chef John Myers of The Parsonage; James Best, the chef and restaurateur behind Skinny J's and Uncle Taco, and Jay Taggart, former executive chef at Stan Jones Mallard Lodge.
Whether it's a story on a burgeoning coffee business, a hotdog stand in the middle of downtown or a local cow pasture where cattle are raised on natural grass to provide local customers with premium quality beef, the Occasions staff has had one adventure after another covering the local food scene during the past two decades.
Good food has the power to fuel the soul and the city, one of the many reasons Occasions continues to share the stories of the many hard-working restauranteurs and their staffs who continue to make Jonesboro a better place.