Rosanne Cash to Host Sunken Lands Songwriting Circle
Rosanne Cash to Host Sunken Lands Songwriting Circle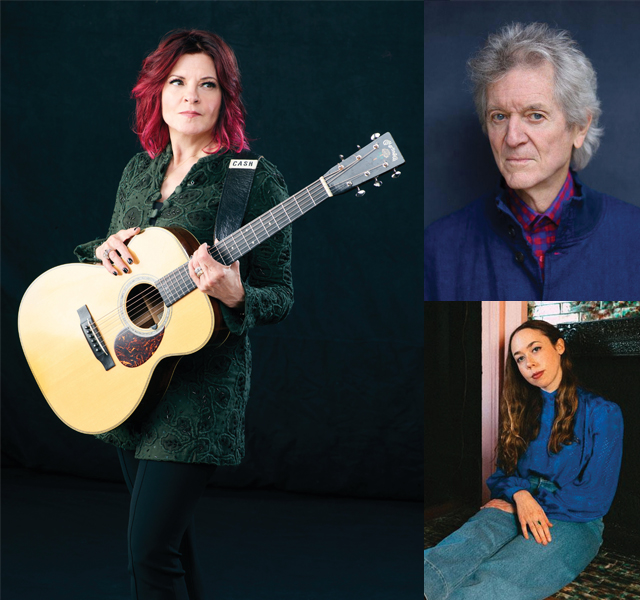 A new performance series will be presented by the Historic Dyess Colony: Johnny Cash Boyhood Home. The Sunken Lands Songwriting Circle will be held in Riceland Hall at Fowler Center, located at 201 Olympic Drive, on Aug. 12. The event will be hosted by Rosanne Cash, along with performers Rodney Crowell and Sarah Jarosz.
The Sunken Lands Songwriting Circle will expand Johnny Cash's musical legacy by recognizing world-class songwriters and performers. Each year, three artists will be invited to share the stage for an evening of music and storytelling.
Proceeds will benefit the ongoing preservation and operation of the boyhood home.
"My father's music began in the sunken lands in the Arkansas Delta, and the gumbo soil stayed with him his entire life," said Cash. "I am excited to return to Arkansas to honor and continue his legacy.
"I am especially excited to be joined by Rodney and Sarah along with John Leventhal. They are masterful songwriters, and I look forward to an unforgettable evening."
This new event will be the highlight of a series of cultural events including exhibitions, performances, lectures, workshops and special events presented by the A-State Heritage Sites program.
One of America's great singer-songwriters, Cash has 15 albums, four Grammy Awards with 11 additional nominations, and is the author of four books and numerous essays in national publications.
A longtime supporter of A-State's Heritage Sites, Cash is one of the family founders of the Johnny Cash Heritage Festival and a supporter of the restoration of the Cash home. Due to her contributions to higher education and the public good, Arkansas State University awarded a doctoral degree to Cash in 2022.
A native Texan, Crowell is a songwriter's songwriter and is a multi-Grammy Award-winning troubadour with 15 number-one hits. Over the course of his more than 40-year career, Crowell has blended his success as an artist with songs cut by artists Emmylou Harris, Johnny Cash, Waylon Jennings and Keith Urban, making him a master among his peers.
Crowell has written songs for artists including Bob Seger, Etta James and the Grateful Dead. He has four daughters and lives with his wife and dog in Tennessee.
Jarosz is a four-time Grammy Award winner and 10-time nominee. The Texas native started singing as a young girl and became an accomplished multi-instrumentalist by her early teens.
After releasing her full-length debut album, "Song Up in Her Head," at 18 years old, she went on to release four more albums. She is currently working on her next studio album.
The Historic Dyess Colony: Johnny Cash Boyhood Home preserves the 1935 home of the Cash family. It was listed in 2018 on the National Register of Historic Places and celebrates Cash's life and music.
Restoration of the New Deal era home was made possible through a series of music festival benefits held at A-State beginning in 2011. In 2017, the festival was relocated to the grounds of the boyhood home and expanded beyond music to include programs about the New Deal heritage that is part of the Dyess and Cash family stories.
The extended Cash family has been dedicated to the restoration and instrumental in the planning and performing in the festivals from the inception of the project. Performers have included: Rosanne Cash, John Carter Cash, George Jones, Kris Kristofferson, Rodney Crowell, Dierks Bently, Willie Nelson, Vince Gill, The Gatlin Brothers, Loretta Lynn, Reba McEntire, Jamey Johnson, Alison Krauss, Marty Stuart and other members of the Cash family.
The Johnny Cash Boyhood Home is an Arkansas State University Heritage Site. Tickets will go on sale on May 1. Tickets will be available through the A-State box office, AState.edu/tickets.