'Sweet Dreams' and 'Memento Mori'
'Sweet Dreams' and 'Memento Mori'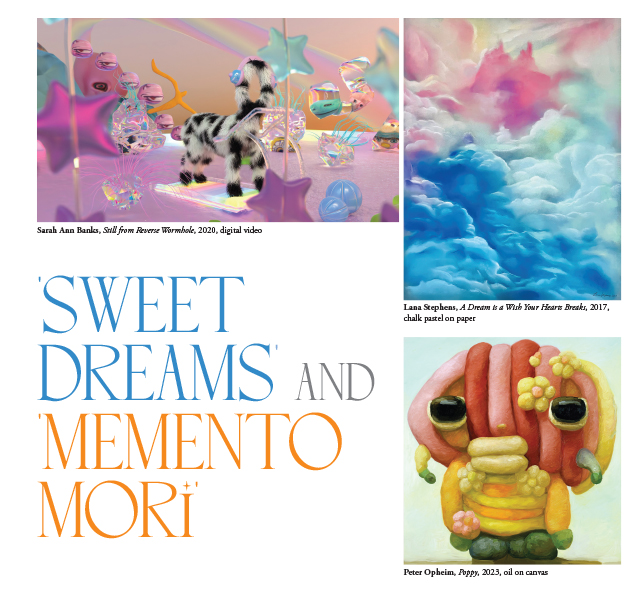 Story and photos submitted by Arkansas State University
Bradbury Art Museum (BAM) at Arkansas State University held an opening reception for "Sweet Dreams" and "Memento-Mori" in September.
"Sweet Dreams" investigates contemporary surrealism, fantasy and the universal human experience of dreaming. The show brings together the work of seven artists and one artistic duo to create an experience that is luscious, inviting, mysterious and a little strange. The art featured in the exhibition stretches across disciplinary boundaries, with the artists using a variety of media to explore the surreal and the fantastical.
"Altogether, the exhibition invites viewers to experience dreams as seen through the eyes of these very different artists—dreams informed by their various backgrounds, experiences and locations," said Madeline McMahan, museum educator and curator. "Their work comes to Bradbury Art Museum from Seattle and New York, from Chicago, from Norman, and from Cambridge. In return, we ask BAM's regional and campus audience to come dream with us, experiencing the exhibition from all their different perspectives."
The artists participating in "Sweet Dreams" are Sarah Ann Banks, Amanda Besl, Cicely Carew, Nicholas Kahn and Richard Selesnick, Wesley Zakk Kramer, Morgan Nicolette, Peter Opheim and Lana Stephens. Three of them utilize photographic methods; the exhibition features dye sublimation prints on aluminum by artist pair Kahn and Selesnick, digital photo collages by Carew, and cyanotype star maps by Besl. Besl is also a painter; her otherworldly oil paintings are joined by alluring works on canvas by Opheim and Nicolette, as well as chalk pastel drawings of candy-colored clouds by Stephens.
Their neighbors are ceramic sculptures, constructed to appear soft despite the material's hardness. Kramer's amorphous ceramic figures supplement the comic book-inspired world of his woodcut and silkscreen prints. Meanwhile, Banks' digital videos look convincing enough that it feels as if one could simply step inside, yet absurd enough to be reminiscent of a dream.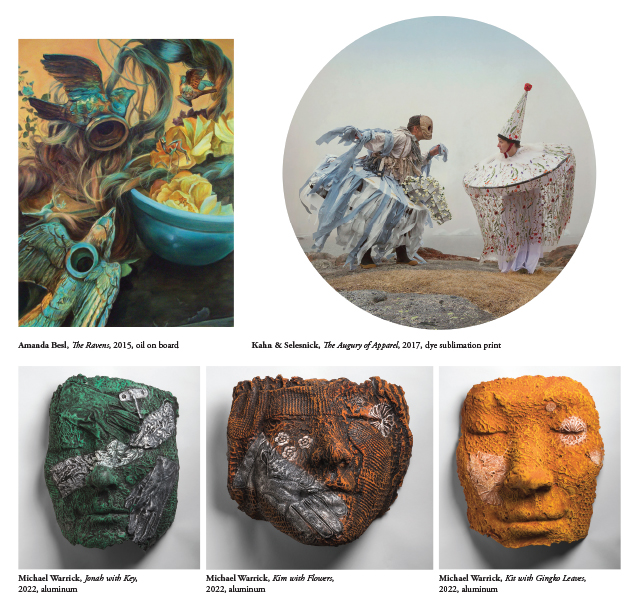 "Memento-Mori" is a solo exhibition of work by Little Rock-based sculptor Michael Warrick. It features narrative sculptural portraits exploring themes of transformation, angst, meditation, mentorship, identity, death and memory as the key to understanding who people are and aspire to be. Warrick's ideas about mentorship and its influence have been greatly shaped by his role as an educator at the University of Arkansas at Little Rock, where he taught for 32 years.
The artworks in "Memento-Mori" represent years of Warrick's sculptural oeuvre, as well as his mastery over many different materials. He has created this body of work using aluminum, bronze, wood, porcelain and Hydrocal, a multipurpose gypsum cement.
"In none of his 'Memento-Mori' sculptures does Michael Warrick insist upon a singular vision; he presents viewers with people who seem familiar, though we have not met them," said Museum Director Ann Prentice Wagner. "Seeing Warrick's sculptures, we learn more about ourselves through our meditations on the faces and figures before us."
Both exhibitions are free to the public and continue through Nov. 15 at Bradbury Art Museum, located in Fowler Center, 201 Olympic Drive. Hours of operation are noon to 5 p.m., Tuesday through Saturday. Viewers may also schedule a tour of the exhibition by contacting Madeline McMahan, mmcmahan@astate.edu or (870) 972-3434. Additional details about the show are available online at BradburyArtMuseum.org.