A Hospitable Partnership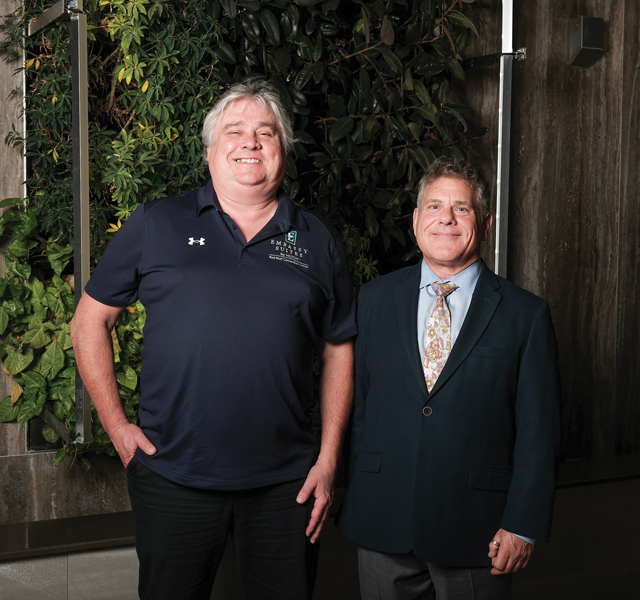 By Audrey Hanes, Photography by Melissa Donner
As Embassy Suites by Hilton Jonesboro's new General Manager, Brian Inman, settles into his new city and role, he is working closely with Arkansas State University Associate Professor of Hospitality Management Dr. David Pearlman to grow the partnership between the hotel and the university to train and cultivate future hotel and restaurant management professionals.
Inman is a longtime team member with O'Reilly Hospitality Management LLC. Prior to his transition to Jonesboro, he was the general manager of DoubleTree by Hilton Springfield and Glendalough Conference Center in Springfield, Mo., and before that, was a part of the John Q. Hammons Hotel Group for a total of 27 years of experience. While in Springfield, he helped establish and grow a hospitality program at his alma mater, Missouri State University, that partnered with the hotel, a recipe for success he hopes to continue in Jonesboro with A-State.
"This is a great opportunity to build a great hotel in an emerging market with so many positive visions in the works," said Inman of his move to Jonesboro. "The team is great, and the Southern hospitality will give the hotel the edge to be one of the best Embassy Suites by Hilton in the nation. …
"We are still in the ramp up phase since the hotel opened during COVID and was set back a few years. The goal is to attract more group business from around the area to bring commerce and revenue growth to the hotel and community. We are partnering with the city to make this happen and sell the hotel, Jonesboro and (A-State) as a great location to host your groups and events."
Inman says the hotel has allowed the Jonesboro community the ability to compete on a national level for business groups, sporting events and civic organizations and has added vital commerce for the community to build growth. With that local economic growth comes the need for additional trained professionals in the hospitality and event tourism field, which led to the hotel's partnership with A-State's hospitality management program.
The university's specialized bachelor's degree is the only one in the state that is part of an AACSB accredited school. Pearlman, who earned his Ph.D. from Michigan State University and has 35 years of experience in the field, came to Jonesboro after most recently spending 13 years at the University of New Orleans to develop A-State's Hotel and Event Tourism Management (HETM) program, beginning with the curriculum.
"I specifically came here because I wanted to grow a program from scratch," said Pearlman. "The challenge is showing students the possibilities of a career in tourism. Hopefully, by meeting employees at the properties we partner with, they'll get an idea of that. There is a world of opportunity out there, and this real work experience helps them find their fit and know what they're getting into."
The HETM program is a part of the Neil Griffin College of Business and has online and undergraduate degree options. By the time students graduate, they will have accumulated 750 hours of work experience, including a comprehensive 125-hour internship in the field that focuses on real-life career choices and hands-on experience.
"I was involved early on," said Inman. "We were emulating the DoubleTree's partnership with Missouri State and O'Reilly Hospitality, which was such a successful partnership; it grew from a handful of students to 400 during my time there. Tim (O'Reilly) was working to build Embassy Suites by Hilton Jonesboro, and the college and city were also involved. … We are growing it ourselves to really grow that program and utilize that environment."
"The partnership here with O'Reilly Hospitality is critical," added Pearlman. "Our students at A-State need that real, hands-on experience, and they get that with our program. With hospitality, you have to try on a lot of different things. A lot of the students are entrepreneurial, but the degree is the necessary ingredient to move to that next level and take it out of your garage, so to speak. We rely on these alliances and partnerships. O'Reilly Hospitality is involved with so many different things I hope to have my students involved with down the road, as well, from event planners to festival promoters. …
"I have experience working with government – I was the director of research for the Chicago Convention and Tourism Bureau – so I saw where all this practical experience was so important for students. I've tried to bring a lot of those things into the classroom, but actually working with industry, they get that dose of reality, where it doesn't come from me as the teacher, but rather from those in the field."
Ideally, graduates of A-State's HETM program would continue with businesses such as Embassy Suites by Hilton or would have other leads with companies that would best suit their goals and experience.
"Our company has been very successful to recruit graduates of that program," said Inman. "The program here is younger and developing. Our goal is to help them grow and generate some great young leaders through the program. There is much more of a demand to hire trained professionals with more formal training in marketing, sales and human resource management, especially in hospitality. Arkansas State's program will give them that formal training we're looking for, and our facility will essentially be used as a lab to help them grow and get that experience."
For more information about Embassy Suites by Hilton Jonesboro Red Wolf Convention Center, visit hilton.com/en/hotels/jbrjoes-embassy-suites-jonesboro-red-wolf-convention-center/, or contact Inman at brian.inman@ohospitalitymanagement.com. For more information about Arkansas State University's Hospitality and Events Tourism Management program, contact Pearlman at dpearlman@astate.edu.