A Reason to Skele-brate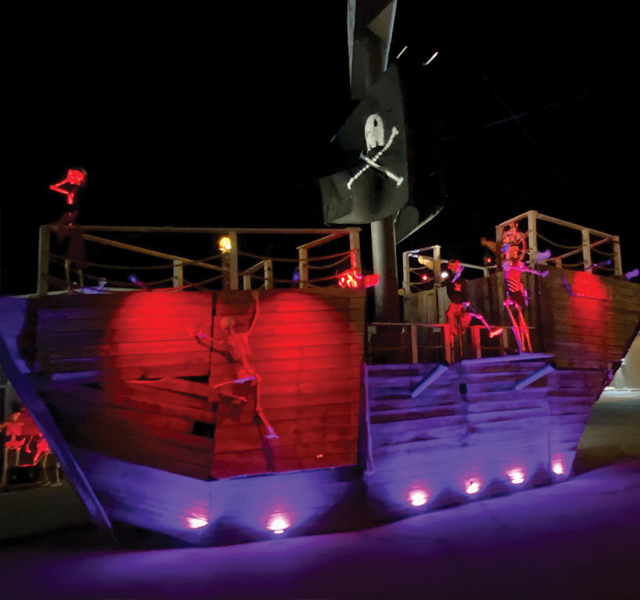 By Kara Fowler, Photos submitted
When Jonesboro businessman Greg Vance started Skele-bration in 2020, he had no idea the Halloween display would turn out to be one of Jonesboro's hottest Halloween attractions.
Jonesboro Overhead Door was established in 1974 and purchased by the Vance family in 2001. Located at 925 E. Parker Road in Jonesboro, Jonesboro Overhead Door and Tri County Garage Door recently merged under a single ownership, combining two of the top overhead and garage door companies in Northeast Arkansas and Southeast Missouri.
Vance, who operates Bistro on the Ridge catering in addition to assisting with the operation of Jonesboro Overhead Door, began the Halloween-themed event during the fall of 2020, when Halloween was essentially canceled due to the COVID-19 pandemic. James Copeland, Vance's co-worker and the general manager of Jonesboro Overhead Door, has a son, Drew, who loves Halloween, and Vance wanted to make sure that he was able participate in one of his favorite holidays.
Because kids couldn't go door-to-door to trick-or-treat or even trunk-or-treat, Vance, Copeland and the staff at Jonesboro Overhead Door created a way to ensure that Halloween would still happen. Instead of handing out candy face to face, Halloween candy was placed in a large pipe chute from one of the company's lifts and sent directly into vehicles to prevent direct contact so that kids didn't have to miss out on the annual tradition of trick-or-treating. Skele-bration 2020 and 2021 were both drive-thru events due to COVID restrictions.
"That's how it got started, and it's just grown exponentially since then," said Vance.
In addition to candy, Vance noticed some kids only had grocery store bags or didn't have anything to put their candy in at all, so they began purchasing Halloween bags. Coloring books and crayons were also added as an additional bonus. This year, they are upgrading to plastic pumpkin buckets. A total of 2,000 pumpkin buckets have been ordered in preparation for this year's expected attendees.
Last year, a huge pirate ship was added to the Halloween decor. The idea came from a Facebook post of someone who created an 80-foot pirate ship in front of their house.
"We were planning on building a small pirate ship, but it ended up being 37 feet long when we got it done," said Vance of Skele-bration's newest creation.
The Drewster Dragon Pirate Ship is named after James Copeland's son. Vance said the pirate ship complemented the skeletons perfectly in 2022 and helped organizers keep the event's kid-friendly theme without being too scary. In addition to the pirate ship, more than 12 local businesses participated in handing out candy.
"We had over 1,000 kids last year, and we are expecting closer to 2,000 this year," said Vance. "We gave away over $5,000 worth of candy."
Organizers say attendees should expect this year to be bigger and better. Twenty more skeletons have been added, bringing the total to more than 60 skeletons. A new "Madam Zoltar" will have her own booth to hand out Halloween fortune cookies, a new skeleton farmer will be on site and games will help turn this year's event into more of a carnival theme.
"The smiles on the kids' faces and the parents saying thank you for a safe place to trick-or-treat makes it all worth it, and that's why we keep doing it," said Vance. "The best part about this event is seeing the kids' faces."
Vance said since the event began in 2020, Halloween has become his favorite holiday.
"It used to be Christmas and then it became Halloween because of Drew," he said. "He's the reason we do this."
Drew, now 10 years old, is looking forward to this year's event and says it's one of his favorite holiday traditions.
"My dad and Greg work together, so we became friends through my dad's work," said Drew. "… I can't wait to dress as a pirate so I can throw candy off the pirate ship."
While the pirate ship that is named after him is his favorite part of the event, Drew said he also likes that the entire community gets to come out and celebrate together.
"Being able to work on the Halloween decorations and having the community come out to see the pirate ship" are what he says he looks forward to the most each year.
For more information about the upcoming Skele-bration, or to inquire about hosting a booth or participating in the event's trunk-or- treat, contact Vance at Jonesboro Overhead Door at (870) 932-6891. Halloween decorations will be up for the entire month of October, with the fourth annual Jonesboro Overhead Door's Halloween Bash taking place on Oct. 31 from 6:30-9 p.m.