Beautifying the Face of Downtown Jonesboro
Beautifying the Face of Downtown Jonesboro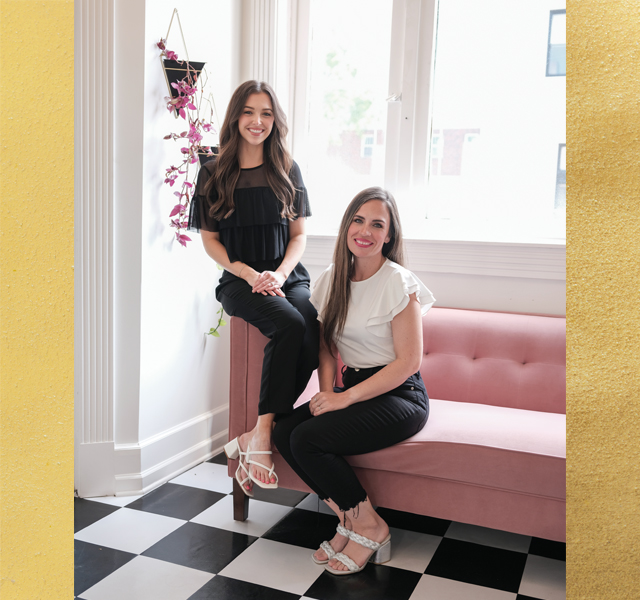 When Jadyn Tippitt and Megan Lamb joined forces to open Esthetique Spa & Makeup Studio in Downtown Jonesboro nearly two years ago, they took a leap of faith and set out to add a unique business to the area that showcased their talent for makeup artistry and their desire to make their clients feel beautiful.
Lamb says that what started as a hobby in college turned into a career after a decade spent at MAC Cosmetics that allowed her to travel all over the U.S supporting large events, assisting senior artists and training managers and artists on how to give the ultimate customer service. She and her husband, Matt, moved back to Jonesboro to raise their two daughters, which is when she and Tippitt crossed paths in a way that led to the creation of their new business.
Tippitt graduated from Manila High School and continued her education at Arkansas State University, where she met her husband, Andrew. In college, she began working as a makeup artist for MAC Cosmetics, eventually putting her degree on hold to follow her dream of becoming an esthetician. Her partnership with Lamb began when Tippitt was doing makeup for a large wedding and called upon Lamb's 17 years of experience to help her for the special occasion.
"I was always into makeup, and I didn't know I would love all the other stuff, as well," said Tippitt. "I decided to take a leap of faith and not continue my degree and go to esthetician school. I then worked for two years before Megan and I met. I texted her and asked her to help for a wedding, and she was down to work. We worked alongside each other that day, and we realized our morals and work ethics and love of our field aligned. We started praying about it and went from there."
The two estheticians and makeup artists had each looked at the available spaces on Union Street for their own possible individual business needs, but after working together on the wedding, realized it would be a perfect fit to join forces and open their doors together. Esthetique Spa & Makeup Studio opened in August of 2021, and its owners have been busy making their customers feel beautiful inside and out ever since.
"It was the best decision ever," said Tippitt of pursuing her current career. "I get to service the community, all while working alongside the best partner. I'm thankful to fulfill my passion by enhancing the existing beauty in each and every client.
"… I never thought I would go into business with someone, but I realized having someone else that has other strengths than you do is so beneficial, and you can grow something more together than on your own. We balance each other really well."
Esthetique's owners point out that the business is more of a day spa, rather than a med spa. They offer brow services such as lamination and wax and tint, lash services like lift and tints and extensions, and some facial services like dermaplaning. Lamb offers facials as well.
"We specialize in makeup artistry, for sure; that's the common denominator that brought us together," said Tippitt. "We also do makeup lessons, which are one-on-one lessons for people of all ages and all skin types. We teach them from the basics to more advanced lessons, depending on what our clients want."
Going into summer, Lamb and Tippitt say low maintenance is very popular with their clients.
"Our customers are looking to have a low-maintenance summer," said Lamb. "They are wanting brow wax and tint and lash lift and tints, which allow them to keep their makeup looks low key for the summertime. We are doing a lot of really glowy, minimalistic skin. It makes it effortless; once you get the services done, then you just look good all the time and don't have to worry about your day-to-day look."
Many of Lamb and Tippitt's clients return time and time again because of how their natural beauty is showcased through their talented makeup artistry.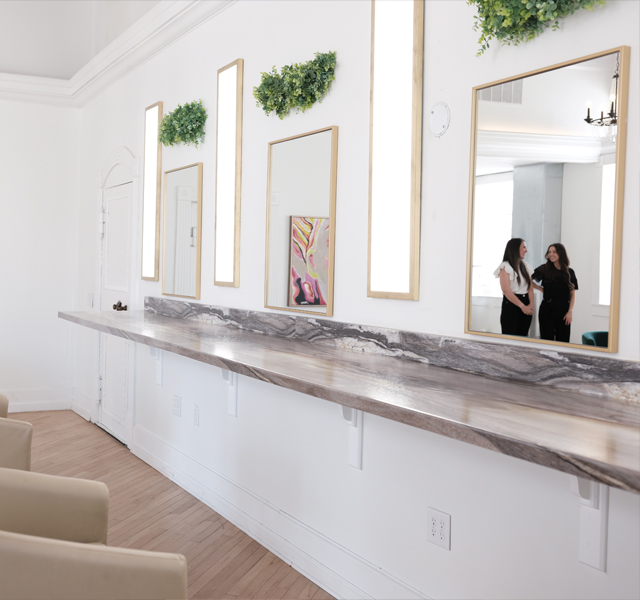 "We have built such a rapport with our clients, they really trust us," said Tippitt. "They tell us to do what is best. I get most of my inspiration from social media, like from TikTok and following certain makeup brands. As an artist, since we have been doing it so long, we have a style about us that we are known for. Enhancing someone's natural beauty is what is key for us.
"There are no rules for makeup. Whatever makes you feel beautiful, by all means, go for it. At the end of the day, you can wipe it off; that's the beauty of it. It's not that serious – it's more about knowing how to use the products – which is one of the things we teach."
Esthetique's Downtown Jonesboro location has been key in its visibility and growth.
"Because there is so much foot traffic, we really feel a part of the community here," said Lamb. "We do stuff with Gearhead, and Jadyn has worked with Downtown Med Spa. Being able to walk (to other businesses), we are able to all support each other, which is one of the highlights of the great community here. There is just so much character downtown and in our building."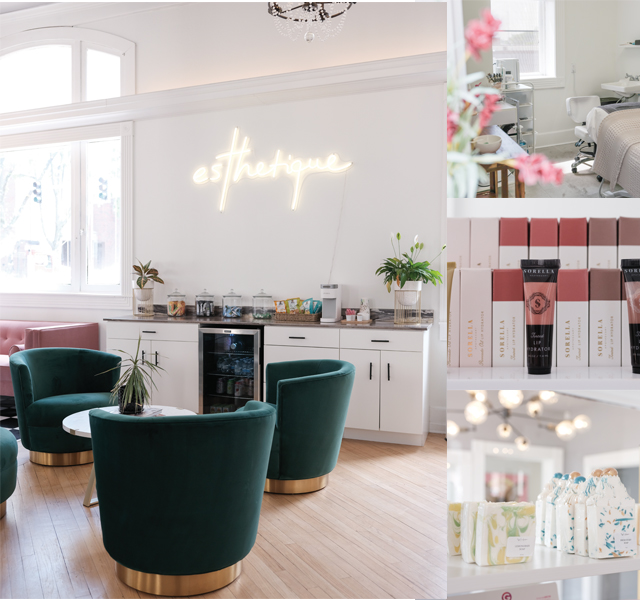 The business' close location to Shadrachs Coffee's downtown location is also key to the many bridal and wedding parties that have rented Esthetique in the past to ready for weddings and other special occasions.
"There are a lot of downtown events that we get to participate in and be a part of within the community here," said Tippitt. "We really appreciate what we have at this space."
As Esthetique continues to grow and make its mark on the spa and makeup industry in Jonesboro and the downtown area, the business' owners continue to grow their clientele and work on their artistry.
"In the last 10 years, makeup artistry has really turned into a specialization," said Lamb. "People book us off of our previous work – they know what we can do, and we love doing it.
"We both feel like our business is a ministry. For me, the best part is connecting with people – it's time that I don't get otherwise. When they're in that chair, your time slows down and you get to make a genuine connection with people."
Tippitt says that in addition to the ministry Esthetique has become for them both, making people feel beautiful about themselves is most rewarding.
"I have had cancer patients who when I draw eyebrows on them, they cry," she said. "It's about making people feel good, even just for a little while. It means so much to me when someone says they feel beautiful when they leave Esthetique. I love my job."
Esthetique Spa & Makeup Studio, located at 415 Union St., is open by appointment Monday through Friday and on Saturdays for weddings and special occasions. The studio is also available for rent to other makeup artists or for wedding parties. For more information, call (870) 530-7137 or (870) 275-5022, find Esthetique Spa & Makeup Studio on Facebook or find the owners on Instagram, @want_moore_makeup and @megs_makeupandmore.