Boots and Ballers and A-State Basketball
Boots and Ballers and A-State Basketball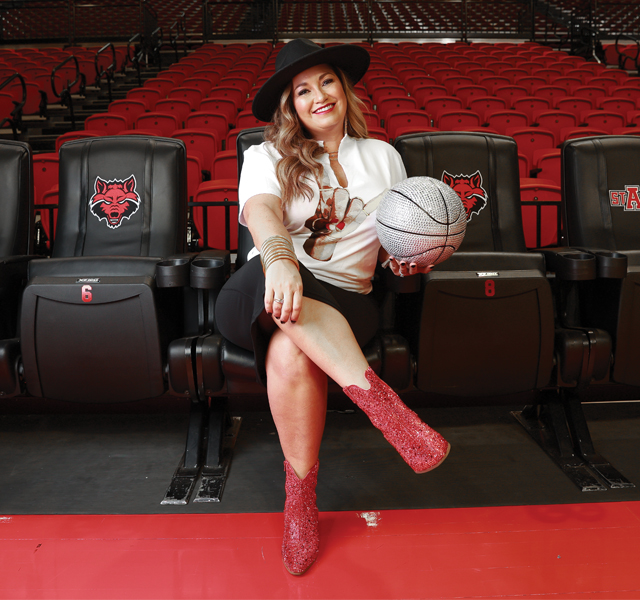 By Audrey Hanes, Photography by Melissa Donner
While the Arkansas State University men's basketball coaches and players ready for the upcoming season, the coaches' wives are busy raising support and money for their favorite Red Wolves. The fifth annual Boots and Ballers event will take over First National Bank Arena on Oct. 20, and the basketball program's first lady, Alicia Balado, promises a fun evening full of entertainment and surprises from the program's coaches and players.
As soon as the Balado family moved to Jonesboro in 2017 when Head Coach Mike Balado took over the men's basketball program, his wife, Alicia, dove right into supporting and participating in all things Red Wolves. Just three weeks after their arrival, a few of her new friends took her to the annual Helmets and Heels fundraiser for the A-State football program. After asking what the basketball program's similar event was and hearing that there wasn't one, Alicia immediately set out to start a fundraiser that would allow the community to get to know the A-State men's basketball team in a fun, entertaining way. A-State alumni and fan Tina Mitchell came up with the name, and the rest is history.
"We started with 60 guests, and now we have 550 to 600; it's grown so much," said Alicia, who also teaches marketing management and business classes at A-State. "We try to bring the community together with our players and get to know them, because if they know them like we do, they will want to come to games to support them and to stand behind us as a team."
Alicia and her fellow coaches' wives, Andrea Crews, Tiffany Young, Stephanie Stanley, Dee Wilson and Kara Lanteigne, plan and execute the event, which includes dinner, extensive live and silent auctions, and music from Top Notch Entertainment. Local artist Braden Walls will paint a painting live at the event, which will later be a part of the live auction. There will be a photo booth, and the A-State cheerleaders, along with Howl and Scarlet, will also be in attendance. Coach Balado and KFIN's Brandon Baxter will again serve as the event's emcees.
Single tickets are available, but buying a table has its perks, including T-shirts, a signed ball, drink tickets, name recognition and a player or coach sitting at a table, subject to availability.
"It's a big party with (Brandon) Baxter and Coach on the mic," said Alicia. "It's a lot of laughs, eating, drinking and comradery. It's getting to know our players and our staff one on one. Players sit at the tables, they exchange banter with the guests, and it's really a time to get to know who we are at the heart of A-State men's basketball.
"We are truly a family. The boys call me 'Momma B.' This is us allowing the community to know what we already know about our players and coaches and how amazing they are."
Coach Balado says the event signifies what he and his team would like the community to know about the program.
"We are personal, hard-working and engaging," he said. "We want our fans to have a personal relationship with our staff and players. This will allow them to cheer just a bit louder if they know us that way."
The head coach and all those involved with the men's basketball program appreciate the hard work of Alicia and the other coaches' wives put in to raise money and community support for the program.
"My wife, Alicia, is the best," said Mike. "She works so hard to put this together. I give her all the credit. …

"All the proceeds go to our men's basketball overall budget. This event helps to offset travel costs during the season, meals for our players during the season and salaries for staff. This event was vital in allowing us to take our team overseas last summer to compete internationally."
Some of the funds raised at Boots and Ballers 2022 will go towards updating the locker room, making it what the hard-working A-State basketball players deserve.
"This event allows a lot of comradery, but it's also a fundraiser," she said. "It allows our players and coaches, when they have a three-game swing, to fly instead of drive 30 hours. It allowed them to play in the Dominican Republic. Whatever the program needs, and whatever the coaches see fit, that's where this money goes."
Player and coach interaction with attendees is a much-anticipated part of Boots and Ballers. Alicia says that in addition to sitting with those who bought tables, players will judge a best boots contest among those who wear boots to the event, and they will also participate in a lip sync battle.
"The most exciting thing for us is we look forward to spending quality time with our fans and community," said Mike. "It allows everyone to meet each other on a personal level. Our players and staff get to mingle and talk to our fans, so they get to know us on a personal level."
The close-knit team considers themselves a family, which is one reason Alicia and the rest of the women are so passionate about raising additional funding for things like locker room updates and travel expenses. They also want the Jonesboro community to get to know and appreciate the players like they do.
"The coaches' kids range from 4 weeks old to 15 years old, and the players are like all of their big brothers; we really are a family," said Alicia. "With it being a basketball team with only 15 or 16 players, we all really have a chance to know each other. We all banter and have a good time. We are all close."
Alicia says the community has already stepped up in a big way just to support the event. Many of the decorations and favors have been donated, including table decorations from Midsouth Nursery, balloon arches from the Garner/Leonard families, glasses from The Refinery, basketballs from Play It Again Sports and so much more. Chad Neill, chief executive officer and founder of Tiger Correctional Services, is catering the event and has donated all of the food and his time.
The university's Vice Chancellor for Intercollegiate Athletics, Jeff Purinton, who came to A-State earlier this year, is looking forward to his first Boots and Ballers event.
"Just arriving at A-State a few months ago, I'm really looking forward to being part of this great event for the first time," said Purinton. "Coach Balado, Alicia Balado, the A-State Basketball family, as well as our athletics administration, have done a fantastic job making this a first-class experience for the fans and our players. I'm excited about the opportunity for everyone to become more familiar with our program, coaches and players while enjoying an entertaining program.
"We want A-State fans to know their support is greatly appreciated. Our administration is continuously looking at ways to enhance the opportunity for them to have an outstanding experience at our games, and their attendance is vital to creating a strong home-court advantage for the Red Wolves. We're looking forward to seeing everyone at First National Bank Arena this season."
"Our A-State men's basketball players and coaches all work really hard," added Alicia. "There is so much that goes on behind the scenes. The players have classes and practice and study hall and lifting, and coaches are up all night watching film. It's a lot of work. It would mean a lot if (fans) could just come out and support us at Boots and Ballers and at games, because everyone in the program really puts so much into it."
For more information or to purchase tickets for the fifth annual Boots and Ballers, contact the Red Wolves Foundation at (870) 972-2401 or redwolvesfoundation@astate.edu. Individual admission is $75 when seats are reserved in advance or $100 on the day of the event, while reserved tables seating eight guests are available for $850 each.