Celebrating 50 Seasons of A-State Football in the Stadium
Celebrating 50 Seasons of A-State Football in the Stadium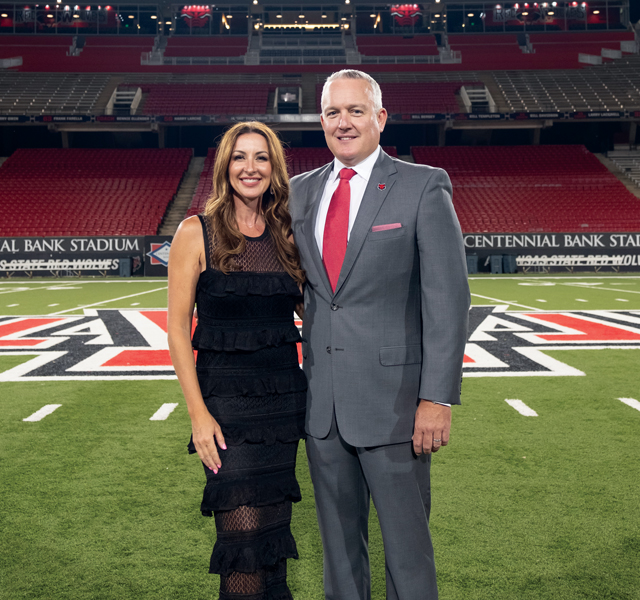 By Audrey Hanes, photography by Melissa Donner and submitted by Arkansas State University
The 2023 Arkansas State University football season will be the 50th season played in what is now known as Centennial Bank Stadium. As Red Wolves fans and alumni reminisce about five decades of A-State football, the current football program is looking forward to celebrating the historic milestone in style.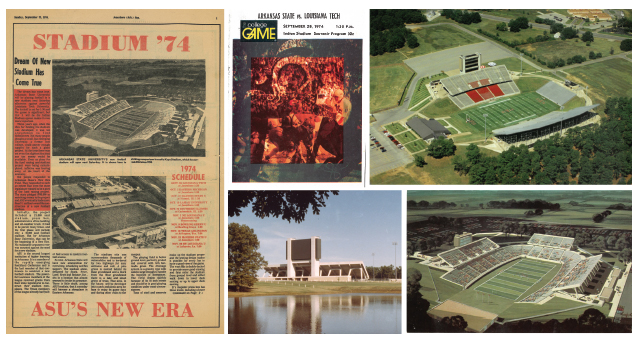 The Evolution of Centennial Bank Stadium
In 1971, fundraising began for what was then Indian Stadium. Of the $2.5 million it took to build the collegiate football stadium, $1.4 was raised solely by friends and alumni. Upon completion, the Indians played their first football game there on Sept. 28, 1974. Since then, the stadium has almost doubled in seating capacity and has seen numerous updates and additions.
In 1980, upgrades brought the seating capacity from 16,343 to 18,709. A later expansion in 1991 added the second level to the grandstand, bringing the stadium's capacity to 30,406, followed by a three-story football complex that was built in the stadium's south end zone in 2002.
The next large expansion was impressive. Thanks to one of alumnus Johnny Allison's two $5 million gifts – the largest individual donation in A-State Athletics history – a Centennial Expansion construction and renovation project to Centennial Bank Stadium's press box and west concourse took place prior to the 2015 season. The entire project, which incorporated the press box and concourse, covered 40,000 square feet. The Centennial Expansion project included a complete overhaul to the stadium press box, expanding it from 7,120 to 36,000 square feet, allowing for enhanced media, coaching, broadcasting, control booth and camera areas.
The face of the stadium has been redesigned to include 42 loge boxes, 20 suites, a club area covering almost 8,000 square feet and 344 club seats in its revenue-generating areas. The project also called for major improvements and additions to the concourse bathrooms, concessions, official gear and apparel shop, and gating and ticketing areas.
The stadium has seen four different names during those 50 seasons, changing from Indian Stadium first to ASU Stadium in 2007, then Liberty Bank Stadium in 2012 and finally Centennial Bank Stadium in 2013 when Centennial Bank bought Liberty Bank.
In 2017, the field itself was officially named Allison Field and the north end zone facility was named Centennial Bank Athletics Operations Center in recognition of a combined $10 million from the Allison family and Centennial Bank to the Red Wolves Foundation. Allison Field honors the former A-State letterman who played on the 1968 football team, served on the ASU Board of Trustees from 1979-84 and was named an Arkansas State University Distinguished Alumni in 1998.
Most recently, construction of the two-level 66,500 square foot Centennial Bank Athletics Operations Center in the north end zone was completed prior to the start of the 2019 season. As part of the same project, new premium seating areas debuted for the 2018 season. The Red Wolves Den, A-State's new outdoor premium seating options, created a unique experience for fans; the area is comprised of loge boxes and terrace seating with premium food and access to two cash bars.
The transition from a grass field to an artificial playing surface was also of great importance and took place prior to the 2006 season. That turf was upgraded to a state-of-the-art GEO Surfaces field turf in 2010, followed by a new field that was installed the summer prior to the start of the 2016 season.
A-State partnered with Daktronics Inc. before the start of the 2014 season to install an approximately 1,600-square-foot LED video display scoreboard in Centennial Bank Stadium's south end zone, along with a custom audio system, play clocks and locker room clocks.
"It's great to be part of a program with that sort of history, because you know you're at a place where you can win championships," said A-State Vice Chancellor for Intercollegiate Athletics Jeff Purinton. "It has been done here before, and when our team is playing on a championship level and the crowd is turning out in big numbers, this stadium becomes an awfully hard place for an opponent to win. With what Coach (Butch) Jones and his staff have done in rebuilding this program by stacking great recruiting classes on top of one another, I'm confident we are on our way to contending for Sun Belt Championships again."

Memories from the Gridiron
For the former players and staff who were with the team as it made the transition from Kays Field – a field in the middle of the track behind the library – to a brand new multi-million dollar facility in 1974, the 50th season in the stadium brings back many memories.
Ron Carroll was an undergraduate student at A-State the year the stadium saw its first game. Two years later, he graduated and was hired as the team's full-time athletic trainer. The first exam-certified trainer in the state of Arkansas, Carroll oversaw the team's athletic training for 556 consecutive games.
"When we first started, when it opened in '74, they had the money to build the stadium, but the locker rooms were double wide trailers, and they stayed that way until '76," said Carroll. "The team moved into a temporary metal building in the '77 season, but in the spring of '78 there was a fire, so they tore it down and went back in the house trailers for the '78 to '79 season. That meant that for five out of the first six years in that new stadium, my office was a 14-by-14 room, because coaches' offices were in the trailers during that time, too. When I look at the facilities now, it's amazing to see."
Back then, the training facilities were limited. Because there was no weight room, Carroll remembers the team's two universal training machines being kept in wooden boxes under the stadium for the team to use. In the off season, they had mats in the area under the swimming pool for drills.
"What they have now, including the top-notch sports medical center, is just amazing," he said. "Today, the weight room and athletic training room are impressive and are now open to all student athletes.
"We didn't even have an ice machine. We would freeze 4 ounce Dixie cups so they could do ice rubs, and we would get water from the cafeteria. We made do with what we had. The team was undefeated in '75, and there they were dressing in house trailers; but it didn't matter the facilities, they didn't know any better. Where we've come in 50 years is remarkable."
Other than the well-known fan favorite win against Middle Tennessee in 2012, which recently won the bracket-style fan vote for best game in Centennial Bank Stadium, Carroll says another exciting game was the final game of the 1993 season. A-State was 2-8-1 at the time and winless in the conference as they went up against Nevada, the defending conference champion.
"It was such an exciting win because the other team had already put up a championship banner – they expected to beat us," said Carroll. "Honestly, we were not very good – they came in and laughed at us. But then our player caught a touchdown at the very end of the game and fell into the endzone and won the game for us. To come back and win such an unexpected victory with only 2,000 people in the stadium, it was such an exciting game for us."
Now in his 47th year with the A-State Football Program, Carroll currently serves as the special assistant to the vice chancellor of athletics.
For the players who were there for the stadium's first games, the 50th season played there is a chance to remember the beginning of it all. Former A-State defensive end Robert Speer, a graduate of Jonesboro High School, had the unique opportunity to play the last game on Kays Field and the first game in Indian Stadium.
"I was very blessed because I got to play my freshman year on Kays Field, the original stadium on campus," said Speer, a four-year letterman and member of the Hall of Honor. "It was right on campus and had a cinder rock track around it that the horse ran around during a touchdown. We moved into the current stadium for my second season. It was awesome compared to what we did have at the time. It was kind of funny, the guys older than me were promised the new stadium before they graduated, but it didn't happen. I was so lucky to play the last in the old and the first in the new."
Speer says that when they tried running the horse across the field at the new stadium it didn't work as well, and even though it took a few years to get things like locker rooms and even stadium lights up and running, the players were so appreciative of the new stadium.
"They couldn't afford restrooms and locker rooms yet, so Johnny Allison provided double wides that we had to dress in for games," said Speer. "We didn't know any better though, we were just so happy to be in the new stadium. It was big time. (In 1975,) we were undefeated 11-0 under Coach Bull Davidson (1971-78). I have so many great memories there.
"Under the stadium is a list of names of businesses and people; getting that stadium built was a grassroot building campaign, and their names are all listed there. It wasn't a big donor; it was thousands of little donors who got that stadium built. Don Floyd, the athletic director then, really got that done; he worked years and years on that project. He was so proud of that project, and so were we."
Because there were not functioning stadium lights until the 1976 season, Speer remembers that all the games had to be played in the afternoons.
"It gave us more time to celebrate a win after those games because they were earlier," he said. "It's been amazing that it's been that long ago. Time flies."
Speer, a retired lieutenant with the Arkansas State Police, also spent 10 years as part of team security for the Red Wolves before his retirement from ASP in 2015.
Former A-State linebacker Jerry Muckensturm, a four-year starter from 1972-75 who went on to play eight seasons with the Chicago Bears, still holds the record for most tackles in team history with 493 tackles. He, too, was able to play in the last game in the old stadium before enjoying his junior and senior seasons in the new stadium.
"It was such a huge upgrade when we moved to the new stadium, and that was even before they added on all the new seating they have now," said Muckensturm, also a member of the Hall of Honor. "What I remember was people sitting on the incline above the end zone, just the dirt and grass on the east end of the stadium, sitting out on blankets to just watch the game. That was cool."
One of his favorite game memories involves another record holder, Joe Duren.
"One thing I really remember was during our first season in the second to last game," said Muckensturm. "We played McNeese, and Joe Duren kicked a NCAA record field goal in that game – 63 yards – that broke the record. Then, at the end of the game with no time left, he kicked the winning field goal, too. That was a pretty memorable game. Not only his kick, but how hard the wind was blowing. Just to attempt it seemed crazy – the wind was blowing like a hurricane. He was a straight on kicker, and that ball kept carrying and carrying. The record-breaking one was great, but really, the one at the end (56 yards) to win the game was just the best. Our first year in the stadium, it was such a great game to win (22-20) that way."
Celebrating 50 Seasons in the Stadium
As former players, coaches and alumni reminisce about five decades of memories in Centennial Bank Stadium, the organization has much in store to help Red Wolves fans make new memories in celebration of the milestone.
"What makes college football so great is the pageantry and history," said Purinton. "So, when something comes along like our 50th season celebration for Centennial Bank Stadium, you get to tap into both of those things. I'm looking forward to hopefully having some former players back who authored some of the stadium's top moments, and I also can't wait to see how our fans react to some of the promotional items we are giving away that are tied to the 50th Season Celebration."
For the first time in program history, all six home games will feature a giveaway for fans, something that is unprecedented in Sun Belt Conference history.
"There's never been a giveaway item every game, and that was something we really wanted to do for the 50th season in the stadium," said Brad Bobo, A-State's associate AD for marketing and fan engagement. "A chunk of the credit for pulling that off goes to Red Wolves Sports Properties – some of their partners really stepped up to make it possible. Three of the six are tied directly to the stadium anniversary, and that's really special."
Following the Sept. 2 season opener at Oklahoma, the Red Wolves return to Centennial Bank Stadium for the first three-game September homestand in program history. The first home game will be on Sept. 9 against Memphis to wrap up the Jonesboro Regional Chamber of Commerce's Paint the Town Red week; the first 1,000 fans to enter the stadium will receive a 2023 A-State football schedule koozie presented by St. Bernards.
The Sept. 16 game against Stony Brook will be presented by Coca-Cola, and the first 1,000 fans will receive a special commemorative Coke bottle featuring the logo celebrating the 50th season. The logo was designed for the bicentennial celebration by members of A-State's Publications and Creative Services Department, who will be recognized during the game for their work on the logo. That game will also serve as a celebration of Howl's 15 years as A-State's mascot; area high school mascots will be invited to Howl's Birthday Party, where members of Howl's Pal's Kids Club will be served birthday cake.
The final game of the three-game homestand will wrap up on Sept. 23 against Southern Miss. The Sun Belt Conference opener will take place during the school's family weekend, where the first 1,000 fans will get a free cap featuring both the Greenway Equipment and Red Wolves logos.
Additional giveaways include a "50 Seasons Celebration" poster presented by Barton's that will feature both original and current photos of Centennial Bank Stadium for the Oct. 21 Homecoming game against Coastal Carolina, the chance to purchase a special theme ticket that will include a limited-edition replica of Centennial Bank Stadium for the Nov. 4 game against Louisiana, and a collectible bobblehead from Kalmer Solutions featuring A-State great and current New Orleans Saints' All Pro linebacker Demario Davis for 1,000 fans in the stadium on Nov. 18 for the home finale against Texas State.
There will also be a commemorative and refillable cup available for in-game concessions.
Starting the Season with Community Support
As the Red Wolves prepare to kick off the 2023 season, Purinton wants to remind fans that they are an integral part of the team's success.
"I just want them to know that we are doing everything we can to make game day here at A-State a full-on fan experience," said Purinton. "That's not just with the work Coach Jones and the team put in; that includes our music, in-game promotions, tailgating environment, Red Wolf Walk, the team intro, concessions and more. We are taking a look at every single aspect of game day here to see how we can make it better for our fans. We know there is more competition for their time and money than ever before, but getting back to a level where we consistently compete for Sun Belt titles can't be done without support from our fans. We truly are all in this together.
"I just want to thank the community for the way they've opened their arms to Julie, our daughters and me. Even though we've only been in Jonesboro for a little more than a year, the way we've been welcomed honestly makes it feel like it has been a lot longer than that. Tuscaloosa was home for so long that we knew we were going to be very choosy about when or if to leave, but the reception we've had makes it clear that Jonesboro and A-State were the right place and now is the right time."
That community and fan support is something the team relies on, often with memorable results.
"Great moments here don't happen without the fans," said Bobo. "It's no coincidence that the best game winner was played in front of the biggest crowd. In fact, all four games that were in the semifinals had an attendance of over 27,000; all these memorable moments, they were all played in front of big crowds here. … I understand that Coach Jones took on a rebuilding project, but I hope the fans understand that they can help speed that process up. If we have big loud crowds in here, we can speed that process up. There is a chicken/egg component to this.
"Forty-nine years ago, when they built this place, they dug a hole for the stadium to be in, and sound really fills the space. We can get a crowd in here that's so loud that it makes it hard for the other team to win. We all want to get it back there, and we can all play a role in that. Overall, across the board, fans need to swap out the notion of going to watch the game for the idea that they are going to impact the game. We need fans to not just come watch, but to come with the mindset that they can play a role in making it more likely that we will win. Every little edge we can get helps."
The Red Wolves will kick off the 2023 season on Sept. 2 in Norman, Okla., followed by the home opener against Memphis on Sept. 23. For more information or to purchase tickets, visit astateredwolves.com.