Celebrating 50 Years of Delta Symphony Orchestra
Celebrating 50 Years of Delta Symphony Orchestra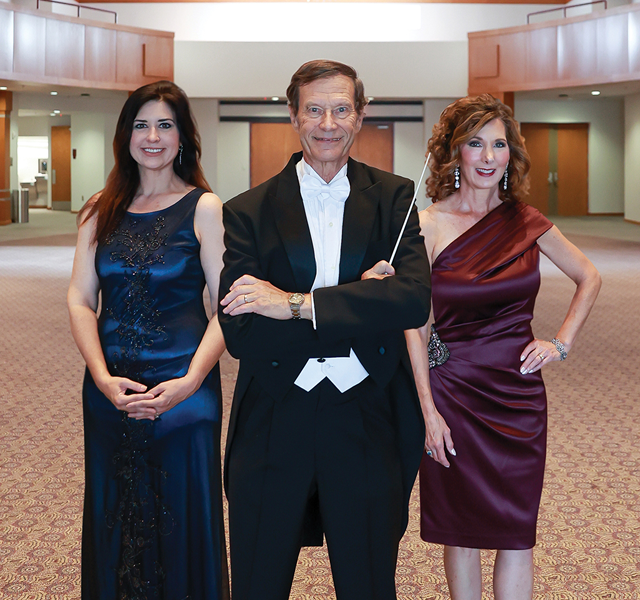 By Audrey Hanes, Photography by Melissa Donner
Fifty years ago, Dr. Neale Bartee dreamed of introducing an orchestra that would change the face of symphonic music in Jonesboro. Today, Delta Symphony Orchestra celebrates 50 years of its commitment to entertaining, educating and enriching lives in the Delta Region by providing orchestral music of artistic, symphonic excellence with an impressive five-concert season full of special touches for the community.
A Rich Foundation
As the founder of Delta Symphony Orchestra (DSO), Bartee has served as artistic director and conductor since its inception. A lifelong musician, he is also a professor of music emeritus at Arkansas State University who has taught trombone, conducting, symphonic literature and music education. Bartee has a Ph.D. from the University of Illinois and has earned many accolades during his long musical career.
Bartee founded DSO 50 years ago after recognizing the void of symphonic music in Northeast Arkansas. The group was initially formed as the Jonesboro Symphonic Orchestra and was affiliated with The Foundation of Arts. As the orchestra began performing in other cities, it expanded to become the Northeast Arkansas Symphony before growing enough to set out in 2002 as an independent nonprofit organization. The organization reorganized as the Delta Symphony Orchestra, and it has been performing and bettering the local community ever since.
"When I got here in 1973, there were no orchestra programs in public schools or college really," said Bartee. "There was a need for people in our community to experience live symphonic music and for the musicians from the music school and in the area to have an opportunity to play. We gave them an opportunity to do that and to perform some really great music. The area had lots of bands and some very fine teachers, but there was no orchestral music. It's a medium used all over the world – in film, TV, commercials – everything uses orchestral music, but there was a lack here. We needed to fill that void."
Bartee was asked to conduct the inaugural season, which included finding enough musicians to comprise an orchestra.
"We just could not find string players; there were two violinists here in town," said Bartee. "You have to have at least 23, so we had to pay string musicians to come in and play. We were able to do that because Rusty Garner wrote a grant and we got some money. I insisted on it being a professional organization from the beginning. We have a pay scale now; I insist on a system of professionalism.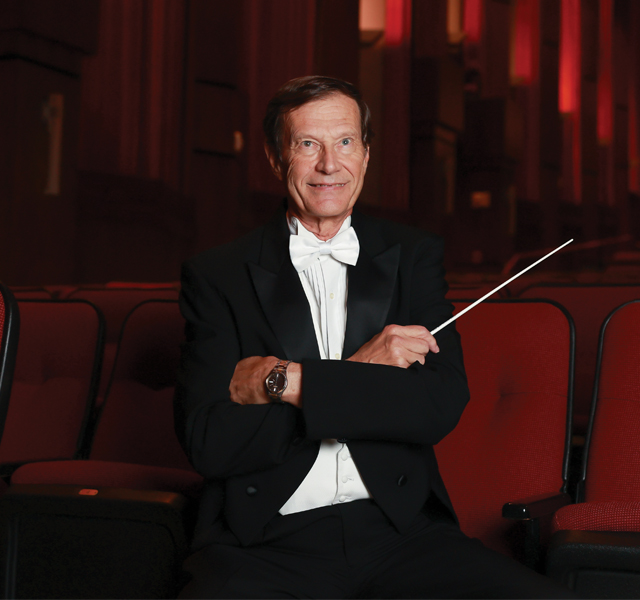 "We have also grown and created a body of string musicians who service other organizations. For example, we play in the pit as orchestra for other shows with The Stage Theatre Co. and for The Foundation of Arts, Christmas and Easter services at churches, and we had musicians play 'Ragtime' for The Link Theatre in 2021, which was a full performance on stage. We now have string quartets with a repertoire of music to play for weddings and receptions and other things like that. It's a service to the community; for many of them, it's part of their living, but they also love what they do."
Bartee says that in addition to the many benefits DSO offers to the community, the thrill of conducting is what he enjoys most about his 50 years with the orchestra.
"Ninety-five percent of the work is everything else, but the one hour of music on that one day after months of work, when it goes right, there is nothing like it," he said. "It's a big thrill, all these musicians in front of you playing their hearts out with great sounds, and I'm in the middle of it. There's nothing like the live experience of it."
Through it all, Bartee's wife, Elaine, has been a constant support and has helped DSO grow in size and impact since its start. She has also written many grants for the organization. The couple was named to the Arkansas Music Educators Hall of Fame in 2004, both have served as officers in the Arkansas Music Educators Association and they received the Governor's Award for Arts in Education in 2010.
New Leadership
Catherine Norvell joined DSO as executive director in January 2021 and has used her background in finance, administration, education and historic preservation to help gain financial support for and grow DSO more than ever before.
"I like being able to wear a lot of hats as the executive director of the Delta Symphony Orchestra; I'm the only salaried employee," said Norvell, who graduated from Arkansas State University with a bachelor of fine arts degree before earning a master of arts from the University of Memphis. "It can be a lot, but we are really making a difference. It's just amazing to see the looks on the kids' faces as they get to experience concerts for the first time. We did our first summer string camp over the summer, and it was amazing to see how the kids improved and made connections with other musicians.
"It's inspiring seeing Robert Johnson and Dr. Bartee and our board members – the passion they bring into our program and what they do."
Norvell has focused on musician support by applying for grants and encouraging the community to support NEA's only professional symphony orchestra.
"It really does take a village to run an orchestra," she said. "Introducing concerts is an expensive endeavor. We are always looking for volunteers, and that help can be financial or to help set up for community events or to be an usher or to serve on our board. We are always looking for motivated and helpful individuals.
"The vast majority of our musicians are local; they're from Northeast Arkansas, Southern Missouri and Western Tennessee. By supporting the symphony, you're encouraging artists to stay in the community and share their talents with NEA."
Working alongside Norvell and Bartee is a dedicated board of directors, including President Mitzi Young, Vice-President Dr. Lacy Baker, Secretary and Symphony Guild President Molly Hay, Treasurer Daniel Tripp, Dr. Vern Ann Shotts, Harold Perrin, Allen Williams, Jon Adams, Dr. Annette Hux, Oz Garcia, Dr. Brookshield Laurent, Denise Snider, Terry Flowers, Perry Moses, Orchestra Representative Robert Johnson, Past-President MG Meyering-Ferguson and Ex-Officio Judge Thomas Fowler.
Young, who became board president in July, grew up supporting the DSO.
"My mom was a part of the DSO's Symphony Guild, which is the fundraising arm of our organization," said Young, who teaches gifted/talented curriculum in the Nettleton School District. "I attended a DSO Gala with her, so my involvement started long ago as a guest at those events, then joining the guild myself and by attending concerts. … In 2018, I was elected to the board of directors, and I was happy to jump in and get more involved.
"Music has always been a colossal part of my life. I grew up singing and leading in the church choir, taking piano lessons, playing the flute in band, taking private voice lessons and singing in the choir at ASU. I've also played handbells at church. I constantly listened to many genres of music. Some of my fondest memories are wrapped in music and the people who taught me about it. Even though I was a terrible flute player, my band director made it fun to play different kinds of music. My voice teachers are mentors and lifelong friends. Dr. Bartee is an inspiration because of his vision for this organization 50 years ago. ... He is a very jovial person."
Bartee's dedication and passion for his artform has inspired the board to continue growing the organization in Jonesboro and beyond.
"The DSO prides itself on providing the highest quality orchestral music in our area while utilizing the talents of musicians from Jonesboro, ASU and the surrounding areas," said Young. "For the past few years, the board has worked hard to bring awareness of the DSO to our neighbors. There is still a lot of work to be done in this area – there are many people in the community who haven't been to a DSO concert before now.
"Additionally, the board of directors supervises the efforts of the Symphony Guild; we are so fortunate to have the guild, which takes care of much of the fundraising for the DSO."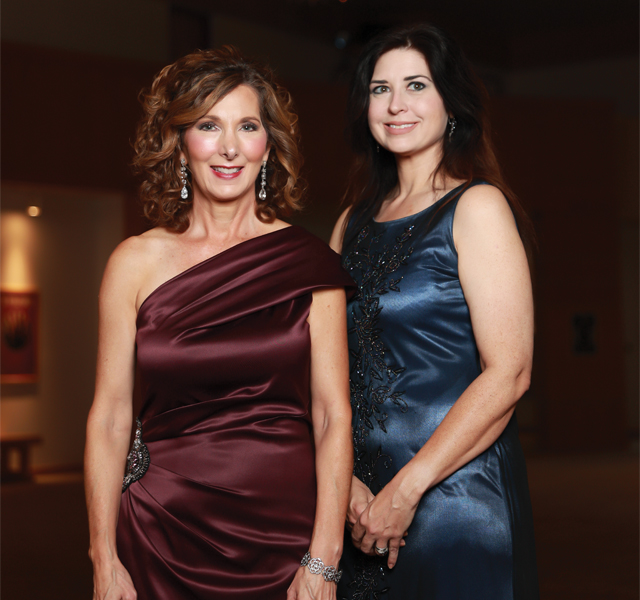 Celebrating 50 Years
To commemorate 50 seasons of orchestral music, DSO unveiled an impressive and unprecedented five-show season, which kicked off with a successful 50th Concert Season Gala fundraiser in August.
"Our annual gala was the unofficial start to the season, and Dr. Bartee and his wife, Elaine, were our gala honorees this year, recognizing their 50-plus year commitment to making the DSO into a successful entity," said Young. "At our first concert of the season, the board is hosting an invitation-only reception for season ticket holders and sponsors where we will toast the season. What I'm most excited about is our five-concert season – usually we have four concerts. We've also been invited to perform in Batesville at Lyon College."
The "Symphony, Stars and Stage" season will open on Oct. 14 with Classical Concert with Jeremy Crosmer. Crosmer, an acclaimed cellist with the Detroit Symphony, will join the DSO to celebrate the milestone. The concert will also feature a piece that DSO commissioned for the occasion, a piece by Tom O'Conner called "The Big 5-0, a Festive Fanfare."
"We wanted to do something special and different that nobody has done," said Bartee of the commissioned piece. "We have worked with him before – he is a good composer and arranger. We needed to kick off the concert and the season with a fanfare type number. It involves the whole orchestra; it's only about three minutes long, but it's a festive, commemorative number. It's an exciting lead in to the whole season."
Next up is the DSO Holiday Concert, which will feature guest vocalists Perry Harper, Nancy Owens and Maddie Bowden Smith. The concert will include holiday classics and a sing-along with Santa Claus.
The Young Artist Concert, a DSO tradition that began more than three decades ago, is open to talented young artists up to age 26 who come from all across the U.S. to audition for cash awards and the grand prize, as well as a concert appearance with the DSO. The Feb. 4 concert will feature the winners of DSO's 2024 Young Artist Competition and a children's chorus from area schools. A number of past winners have gone on to have prestigious careers in music.
On April 6, DSO will present its Out of This World concert to celebrate the solar eclipse. The performance will feature "The Planets" by Gustav Holst. The day before, the orchestra will bring an abbreviated version of the concert to the Nettleton Performing Arts Center for student viewing during school hours.
DSO's 2023-24 season will conclude on May 4 with a May the 4th be with You concert that will feature the music of John Williams' "Star Wars."
"What the community has done in the past and what we need them to do in the future is come to concerts and bring some friends," said Young. "Just like an athletic team, our musicians work hard to practice and perform with excellence. We want everyone to be able to appreciate that work.
"Efforts to improve quality of life in our region must also consider the arts; not everyone is athletic, but most people enjoy listening to music. This season the DSO is excited to present a variety of genres, so there will be something for everyone. We try to do that every concert season, but for our 50th anniversary it was very important for us to show the community not just our past, but also our future as a thriving arts organization in Jonesboro."
Bartee echos Young in asking for patrons of the arts to continue to support symphonic music in Jonesboro.
"We think it's really important for the community to support the orchestra," said Bartee. "Symphonic music is a part of our lives and our history; it's an art form. … It's important to support that by coming to the concerts – we want to build our audience base – and support through fundraising. Ticket sales make up 25% of our income for the year, so grants and fundraising are so important. We want everyone to know we are here. We are not in a major metropolitan area; it's such an opportunity for the community to have something like this in the area, we have got to keep it going.
"We have accomplished something that nobody thought could be done. When we started out, we were laughed at – they said it couldn't be done – but persistence has paid off. We started it anyway and started small, from Jonesboro to NEA to beyond, but the most important step was becoming our own separate entity; the organization has just boomed since then. We have taken big steps since then. Fifty years feels great."
Impacting Young Musicians
One way the DSO plans to keep that support and appreciation for the arts alive is by investing in young musicians.
Robert Johnson has been playing with DSO since 2005 as a section violin player. He has been championing for a youth orchestra for many years, and that dream became a reality when eight talented musicians from Jonesboro, Kennett, Mo., and Batesville recently tried out and made the charter Delta Youth Symphonic Orchestra (DYSO).
"This area of the state does not offer any orchestral opportunities for students in grades 7 through 12," said Johnson. "The Jonesboro and Nettleton school districts offer string classes for their elementary students up to grade 6. After that, there is nothing for these string students to pursue in the form of orchestral group playing. The Delta Youth Symphony Orchestra will help meet that need. …
"Joining a youth orchestra will enhance not only the arts in Jonesboro, but several other aspects. Not only do young musicians improve their social skills and cognitive skills, they will learn to work as a team and learn new experiences. They will also create a sense of responsibility. These skills can be taken over to all other parts of their academic and future work lives, all of which will enrich this community."
The DYSO conductor says that this year the orchestra will be strings only, but there are plans to expand the orchestra to a full orchestra that includes strings, woodwinds, brass and percussion in the near future.
"Conducting an orchestra has been a dream of mine for a long time," said Johnson. "Even if it's only a few times a year, becoming the music director for the Delta Youth Symphony Orchestra has been one of the happiest moments of my life. I'd also like to thank all the people in Jonesboro who have helped make the DYSO possible. We certainly couldn't have done it without the support of the community and of course all the amazing young musicians currently in the DYSO."
DSO has also had success with its popular Young Artist Competition, which Bartee says is one of the things he enjoys most about the fine arts organization since they implemented the competition in 1988.
"We have had great success with the Young Artist Competition," said Bartee. "Some of them have gone on to do great things – we helped start them out sometimes. We had an 11-year-old girl several years ago on violin who was incredibly talented, and we've had people do piano and vocal solos and win and be able to do the live performance. It's been a big thrill over the years to see them develop."
In addition to the five concerts, DSO is making an effort to invest in the community in the form of outreach and collaborations. They've worked with Pat Qualls to hold concerts for musicians with special needs, CityYouth Ministries, The Hispanic Center and other local nonprofit organizations in the past, and they are in the process of trying to implement an after-school violin program at CityYouth.
"We have started doing some community reinvestment programs," said Norvell. "We offer those in-school workshops, and we have opportunities for students and a family member can come to our concerts free of charge. Last year, we also started our DSO Card to Culture Program for families who are enrolled in state and federal assistance programs; they show their card and we will give them free general admission tickets to our concerts.
"We also try to bring in local and minority artists because representation matters. A lot of times children don't have the opportunity to go to Memphis or St. Louis or Little Rock to experience the arts on this scale. … We believe we have a commitment to make symphonic music accessible to everyone."
For more information about Delta Symphony Orchestra's 2023-24 season or to purchase tickets, visit deltasymphonyorchestra.org or call (870) 761-8254.