Cover: Celebrating 20 Years of Occasions
Cover: Celebrating 20 Years of Occasions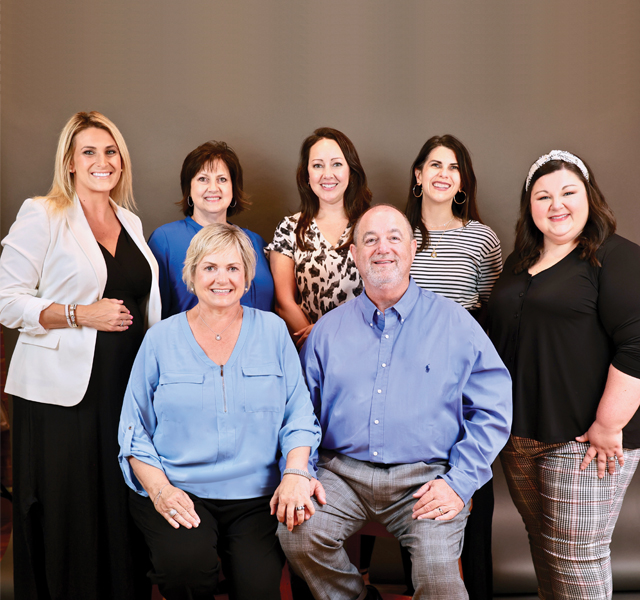 This August, Occasions Publishing Group is proud to celebrate the 20th anniversary of Jonesboro Occasions magazine.
Occasions Art Director Brittney Osborn designed a commemorative platinum 20th anniversary cover for the magazine's milestone as we celebrate 20 years of Occasions with staff and readers this month.
HISTORY
Jeff Hankins of Little Rock and I founded the magazine in 2003. Hankins and I had worked together previously – first as journalism students on the staff of The Herald, Arkansas State University's student newspaper, and later at a start-up newspaper in Paragould.
Hankins had previously helped launch a similar niche publication in Little Rock. As my former partner in the business, he led the initial sales effort of Occasions that summer. I covered all the events for the first issue and wrote all the editorial copy, and Mark Reeves, Occasions' first art director, created the ads and designed the issue. Both Hankins and Reeves held other full-time positions and worked on Occasions in their spare time.
Hankins now serves as vice president for strategic communications and economic development for the A-State System. Reeves is the director of publications and creative services at A-State.
Sam and Marilyn Hummelstein, prominent Jonesboro business and civic leaders, graced the cover of the first issue that debuted in August 2003. Chris Rutherford took the photos for the first cover and feature story.
Friends, family and business colleagues gathered at the 501 for a launch party in early August, marking the beginning of Occasions' two decades of service as THE CITY MAGAZINE.
MEET THE STAFF
Brittney Guest Osborn has the distinction of having the most seniority on the Occasions staff. She began her career with Occasions as an intern in 2006 while attending Arkansas State. She accepted a full-time position as a graphic designer immediately after graduation and was promoted to art director in 2009. She has been the creative force behind most of the ads, editorial pages and covers of our publications for the past 17 years.
Other staff members include Rodney Poff, advertising director, Audrey Hanes, editor-at-large; Donna Fincher, business manager; Megan Morris, senior account executive; and Occasions' newest addition, account executive Rachel Guerin.
Occasions has had the good fortune to work with some amazing photographers during the past two decades. Each has made a positive impact as we have featured people, places and events in the community. Dero Sanford and Jason Masters, both of Little Rock, Chris Rutherford, Courtney Fitzwater, Kim Vickrey and Melissa Donner, all of Jonesboro, and Amy Long, formerly of Jonesboro, have each contributed to the magazine's success by sharing their many talents with our readers.
Thank you, Jonesboro, for allowing us to be a part of the community for the past 20 years. We hope you will celebrate this important milestone in the life of Jonesboro Occasions and join us as we welcome the next chapter.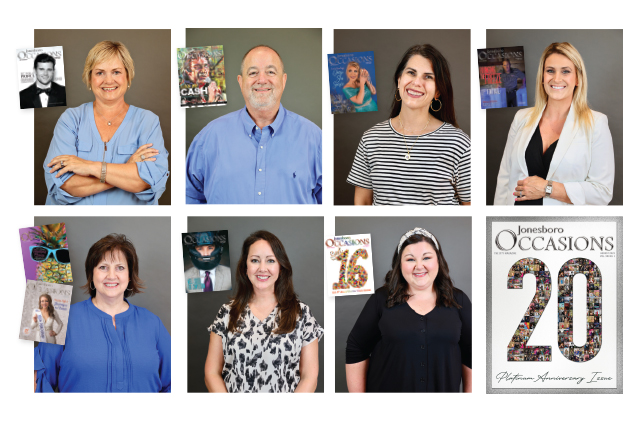 Audrey Poff
Editor and Publisher since 2003
Favorite cover: The classic black and white cover featuring Kyle Dean Massey always reminds me of the Old Hollywood era. (November 2014. Photography by Melissa Donner.)
What I enjoy most about my job: I am a storyteller at heart. I love being able to talk to people and convey their story in words and photos. Everyone has a story, and as a writer, every story that you share becomes a part of you. I am blessed with a very creative team that helps bring those stories to life each month.
Rodney Poff
Advertising Director • Member of the Occasions staff since 2011
Favorite cover: The cover featuring a portrait of Johnny Cash painted by Sean Shrum. (August 2011)
Favorite memory: Hosting the Occasions Art Show for local artists at Church Street Station.
Brittney Guest Osborn
Art Director • Member of the Occasions staff since 2006
Favorite cover: My favorite cover is hard to pick since I've designed almost all the covers we have published. It's like picking a favorite child! I have to say that I really love our February 2020 cover featuring Junior Auxiliary's Deep Sea Soiree Charity Ball. I got to make this gorgeous tiara out of seashells for event chair Amanda Fahlberg to wear and style a beautiful blue backdrop with mermaid-worthy fabric and florals. I also got to blow bubbles with a bubble gun for more of an under the sea look. (February 2020. Photography by Kayla Broadway.)
What I enjoy most about my job: I enjoy getting to use my gifts of designing and creating beautiful things while we bring stories that make a difference to people in our community. I especially enjoy getting to use my illustration skills each month in Audrey Poff's column, "The Occasions Lady."
Audrey Hanes
Editor-at-Large • Member of the Occasions staff since 2010
Favorite cover: One of the earlier cover shoots I was able to be at was for then-Arkansas State University Football Head Coach Hugh Freeze. We wanted ice in the photo, but since we took the photos in August for a September cover, we had to have the photo shoot in the large freezers at Home Ice Company, which was still open at the time. We used blue lighting to illuminate the ice, and I love how it turned out. (September 2011. Photography by Amy Long.)
What I enjoy most about my job: I enjoy meeting and hearing the stories of so many people with different occupations, passions and hobbies in Jonesboro. I am a transplant from St. Louis, and when I moved here with my husband, Eric, almost 13 years ago, I didn't know anyone. Working for Occasions, I've been able to really immerse myself in the community, and I get to write about so many people and the amazing things they're doing in Jonesboro. It helped me quickly feel at home here.
Donna Fincher
Business Manager • Member of the Occasions staff since 2012
Favorite cover: My favorite cover is still the pineapple cover! It was just fun and colorful, and I know how much work went into making it just perfect. (July 2017. Design/photography by Brittney Osborn.) Another favorite was the cover featuring Claudia Raffo after she was crowned Miss Arkansas. I was so proud of her. (August 2018. Photography by Amy Long.)
What I enjoy most about my job: I love how our magazine represents what makes Jonesboro a great community to live in. I've enjoyed meeting people, being part of bringing attention to the needs of nonprofits and new things happening downtown and around the city. Our Christmas parties are always a fun time to invite spouses and enjoy each other's company.
Megan Morris
Senior Account Executive • Member of the Occasions staff since 2015
Favorite cover: My all-time favorite cover is the one featuring Cameron Tedder as a race car driver. (October 2018. Photography by Kim Vickrey.)
A favorite memory: I love the "quotes on the crack" memories; these were quotes that staff said that we thought were funny and memorable. We would write them on a Post-it note and stick them on a crack that was on the wall in a previous office building.
Rachel Guerin
Account Executive • Member of the Occasions staff since 2023
Favorite cover: It is so hard to pick a favorite cover because I have been a dedicated reader of Occasions since 2010. If I had to choose, I would say the Readers' Choice "Sweet 16" cover – the candy theme. I loved the colors, and the theme was so cute and eye-catching. (July 2019. Design/photography by Brittney Osborn.)
What I enjoy most about my job: One of the many things I love about my job is getting to connect with local business owners in Jonesboro. They are the hardest working people you will ever meet, and they all have their own stories, successes, struggles and goals. I love being a tiny part of their success in helping with their advertising needs and showing them off to our readers.