Cover: Lights, Camera, Action - Oasis Film & Digital Media Fest Rolling into Downtown
Cover: Lights, Camera, Action - Oasis Film & Digital Media Fest Rolling into Downtown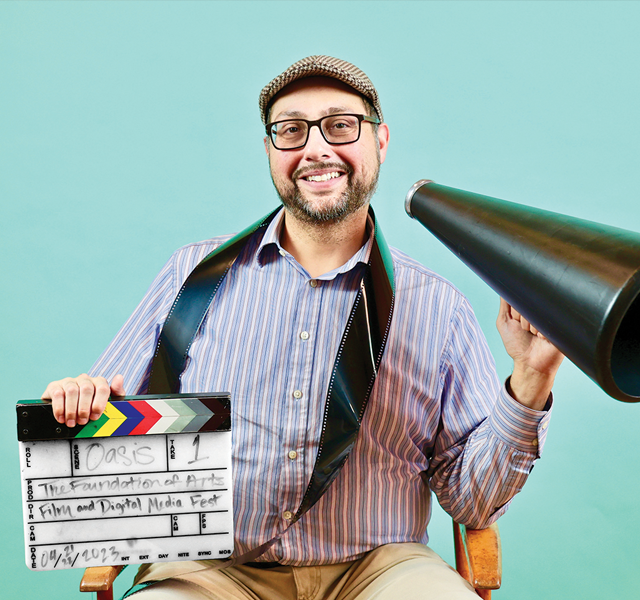 Now approaching its sixth annual year, the Oasis Arts & Eats Festival, presented by The Foundation of Arts, has become a growing collection and celebration of creative food and visual arts of all mediums. The 2023 festival will also feature the first two-day film festival in the city of Jonesboro, giving area filmmakers and enthusiasts a venue for sharing their work and an opportunity to learn more about their craft.


"Oasis Arts & Eats is meant to showcase all types and mediums of visual arts," said Kristi Pulliam, artistic director for The Foundation of Arts (FOA). "In the past five years, we have been focused on the visual arts. We have amazing local musicians to provide atmosphere and ambiance, but we want to highlight the visual and culinary artists."
Oasis Arts & Eats is the largest and most established artist festival in Northeast Arkansas. The event is a collaborative effort between The Foundation of Arts, the Downtown Jonesboro Alliance, the Department of Art + Design at Arkansas State University, Jonesboro Radio Group and NEA Artist Collective. Previously held in May, organizers moved the festival up a month this year so that they wouldn't compete with other area festivals and events.
The festival first started with 10-12 artists on the plaza in 2018 and has had to expand each year because of the growth and popularity of the event. Organizers have more than 50 artists booked for the 2023 Oasis Arts & Eats Festival, and they'll be lined up and down Main Street again this year, with plans to extend down Monroe Avenue and from Centennial Plaza to Union Avenue and beyond. The number of food vendors has also grown. Festival attendees can expect many of the restaurants on Main Street to have tables set up in front of their eateries with samples available, with additional food vendors in the parking lot across from The FOA and on Monroe.
"As we continue to grow, this year we are introducing the film festival concept; we dabbled last year, presenting some films and filmmakers to talk about their work, but we are expanding this year," said Pulliam. "We are offering workshops along with the festival, along with film artists on both days to engage the community on an educational level.
"… I've been wanting to do a film fest for as long as we've had Oasis, and once (Executive Director) Mikel Wewers was hired, he was so generous of spirit in agreeing to make it happen. As artistic director, I had more mental space to be able to work on this project. We've been talking to local filmmakers for almost 10 years to see what it would take to do a film festival, including what kind of energy and collaborations it would take to make that happen. We chose to schedule it as an Oasis Arts event because one genre could support the other and they could make each other bigger and better – that was our hope."
Pulliam says she had been talking with Michael Bowman about such a project for the past decade, and the associate professor of media at Arkansas State University quickly jumped on board when Oasis Film & Digital Media Fest began to take shape.
"We are all working on organizing it and getting it going; it's an all-hands-on-deck situation," said Bowman. "Everybody is pitching in to make this successful."
Along with Bowman, Pulliam says that Lorenzo Balderas, the EAST facilitator for Annie Camp Junior High School, and Brandon Carter, the digital media specialist for the City of Jonesboro who also owns and operates Brandon Carter Photography, have also played key roles in organizing the film festival.
"Each one of them has played a huge part in this; they've had seeds of wanting to do this for many years, too, I'm just the person who put them in a room together," said Pulliam. "They were all so, so generous with their time and expertise. Each one of them has played such a key role and brings a wealth of experience – they've created, submitted and collaborated on films for years, and Michael has directed his own film festival at A-State. They all bring so much to the table, and they have reached out to people they know in the industry so we could have that great collection of speakers and workshop facilitators."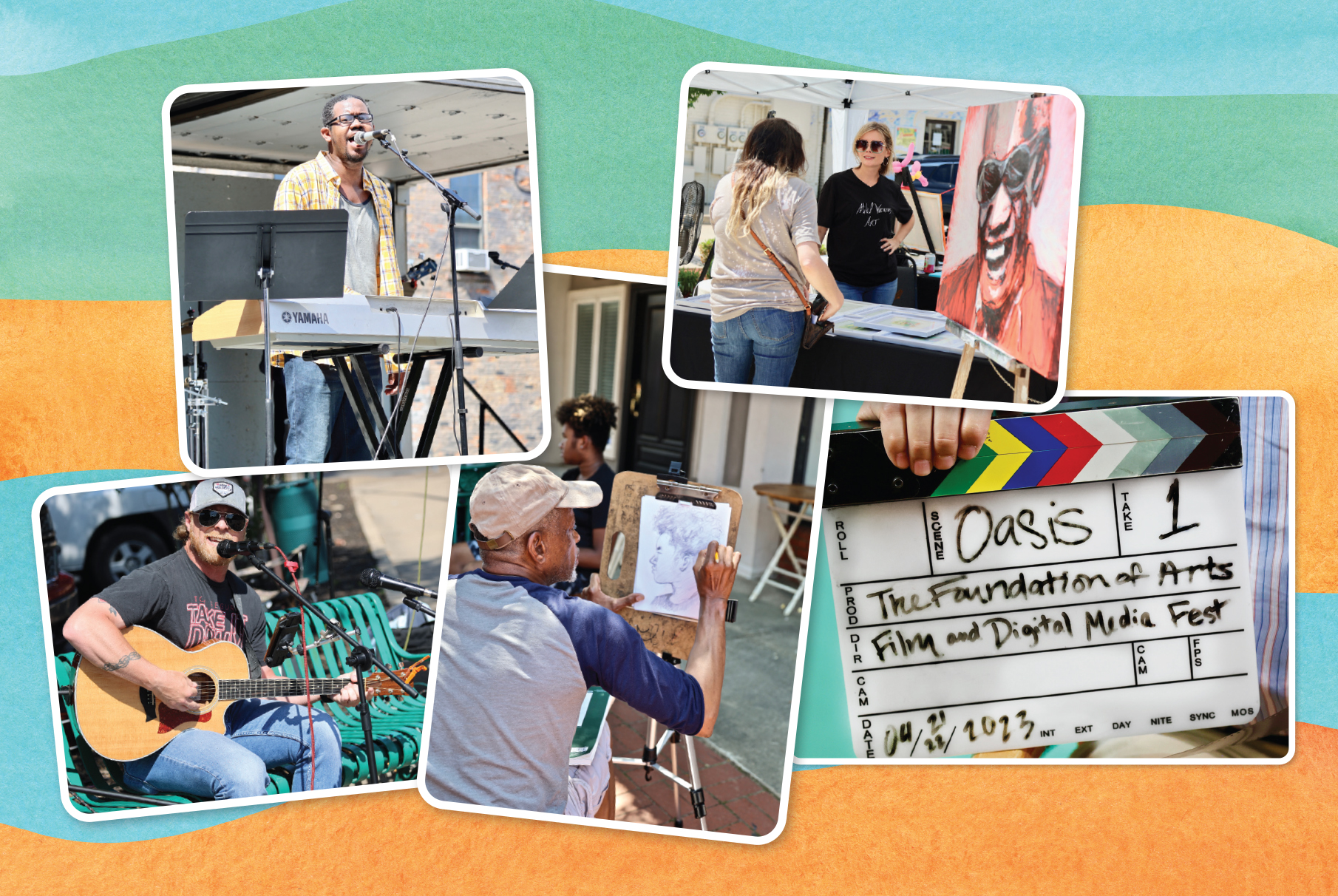 Carter teamed up with Pulliam and Wewers in 2021, bringing with him the experience of having worked in the television industry and in the film industry on two feature films. He went to film school on the East Coast and had even made short films and documentaries of his own.
"I was familiar with how festivals went and had presented at and been to a lot of different ones," said Carter. "When they pulled me in, I got to work researching other festivals and using my own experience, and drafted up a plan for what we could do here.
"I used to be a teacher, so I'm big on education. I love the fact that we are really incorporating education into this with all of the industry insiders presenting and teaching these classes. We didn't have that when I first started in films 20 years ago, before YouTube and online resources; now it's a good way to bring people in and teach them about the industry."
Bowman says that in the past, those in Jonesboro who are interested in the art of filmmaking or those who have already produced films would have to travel to other areas of Arkansas or even out of state to showcase their work, and organizers of Oasis Film Fest wanted to change that.

"We thought it was time for Northeast Arkansas to have its own film festival, not only to help out those individuals who have a passion for filmmaking, but to also showcase the talented people we have in the area," said Bowman. "It's long overdue – to offer those in Jonesboro and NEA a place to appreciate the craft of filmmakers. That's the most exciting thing to me – to finally be able to let everyone know about the talented people in this area. We are proud to be able to provide an avenue for them to be able to showcase that."
The educational component of the festival will be a major focus.
"Not only will this be an opportunity to watch the work of other people, those who come to Oasis Film Fest will have an opportunity to learn the craft of filmmaking, as well," said Bowman. "I think that's really important for those who have a passion and want to get involved, both behind the scenes and in front of the camera."
Oasis Film Fest's 2023 speakers and panelists include: Cody Bush, actor, improvisor and instructor; Jordan Wayne Long, filmmaker; Robby Meyers, creative director and 3D animator; Tara Perry, actor, writer and producer; Croix Provence, actor, voice actor and improvisor; Hunter West, award-winning film director; Corey Womack, screenwriter and senior producer; and Ramona Yancy, actor, acting coach and author. Topics will include getting started in Hollywood, 3D animation, pitching, intro to improv, how to start an acting career, storytelling and more. Those who wish to attend the film fest's free workshops need to register online to guarantee a spot in the classes.
"The educational workshops are going to be such an amazing addition this year," said Pulliam. "We are bringing in people from California to Florida and filmmakers who work in the film industry – from creators to actors. We are so excited to be able to offer workshops this year."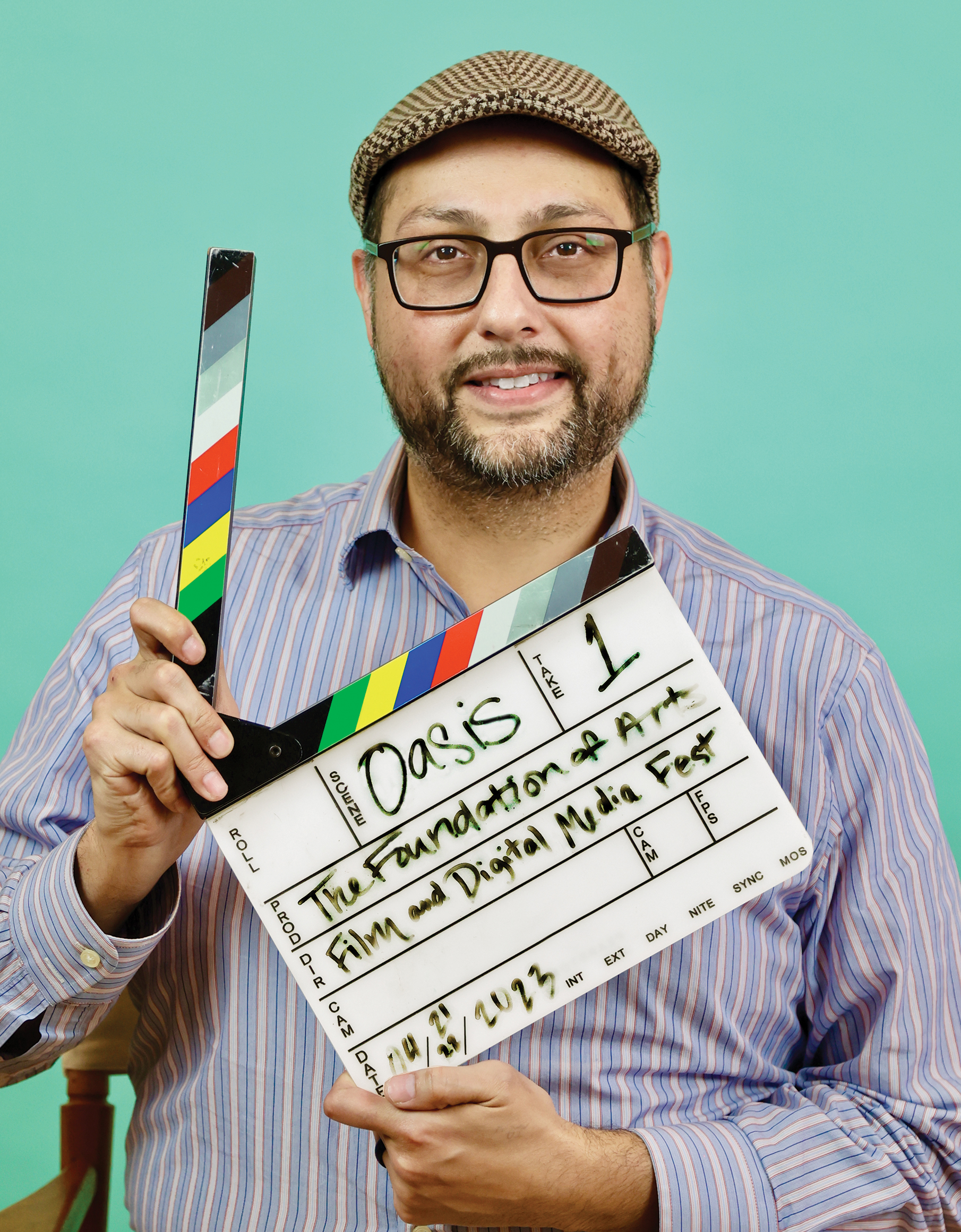 Balderas, who has been a part of the entire planning and development of the film fest, has most recently been focusing on acquiring submissions and orchestrating the screening committee responsible for judging the submissions. For now, members of the committee are being kept under wraps to give them anonymity during the judging process.

"I think we have a great film presence in this part of the state that has been underrepresented for so long," said Balderas. "Having an event like this will give needed exposure to our area and give filmmakers a place to film and showcase their work in the future. … It's something new for Jonesboro, so I think that in and of itself is a big draw. But I also think there are a lot of film lovers in this part of the world. There are also lots of people looking for a way into the business, and I think this gives them that accessibility by exposing them to people already doing the work. We really want this thing to continue to grow and evolve into a much bigger event year after year to draw even bigger people from the industry."
Carter points out that many award-winning independent movies get their start in local film festivals like Jonesboro's.
"Most people don't realize that a lot of the films that people see in the theater – independent films that go mainstream – started out in festivals just like ours," said Carter. "Smaller film festivals allowed them to be able to go to bigger festivals and go mainstream. These are not just little homemade films, these are films we could have go through here and go on to win awards and become well-known."
During Oasis Film & Digital Media Fest, one film will be screened on Friday evening, and there will be screenings throughout the day on Saturday, along with classes, panels and Q&A sessions. There will also be an awards ceremony Saturday evening for the winners.

"In addition to Oasis, the FOA is foundational to all the arts in Northeast Arkansas," said Pulliam. "Some may still think of us as a community theater; we are, of course, but it's just one part of what we do. The FOA supports the arts in so many more ways today than we did even a decade ago. Americans for the Arts refers to The Foundation of Arts as the designated Local Arts Agency (LAA) for Jonesboro because of the variety of ways the arts are supported by The FOA. We are trying to offer opportunities to as many people as possible so there is an outlet for artists of all genres in NEA, and we believe we can continue to be an outlet and a support system for professionals and amateurs of all genres."
For more information on the Oasis Arts & Eats Fest and Oasis Film & Digital Media Fest, visit oasisfest.org. Tickets to festival movie screenings and registration for free workshops are also available online.