Dedicated: FORK Cancer NEA - A Benefit for the American Cancer Society
Dedicated: FORK Cancer NEA - A Benefit for the American Cancer Society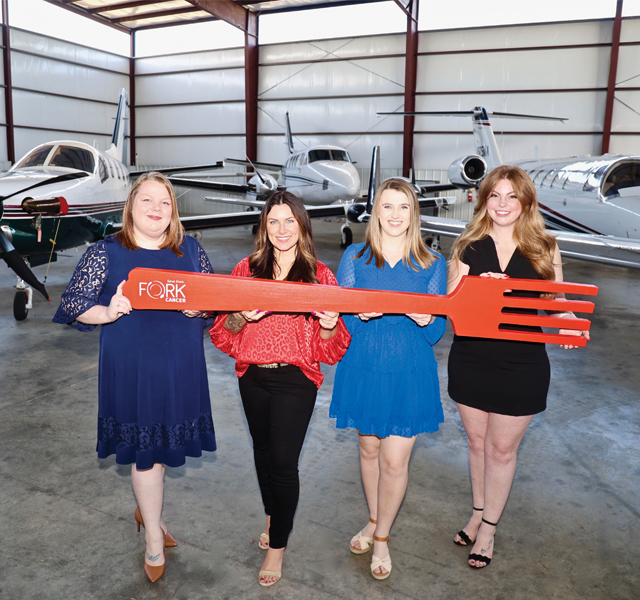 With a goal of raising $125,000, Young Professionals of the American Cancer Society (YPACS) of Northeast Arkansas is hoping to spread awareness and raise funds during its first Fork Cancer event set for April 20.
"This is a night of live music, endless bites and beverages, and raising funds for the American Cancer Society," said Anastasia Sweeney, senior development manager for the American Cancer Society. "There are activities that range from a cocktail contest to a whiskey pull to a live painting. We will also be celebrating our honorary survivor, Kristin Foust."
Sweeney said the event will be "classy casual," allowing guests to wear their best date night outfit or something more casual.
"The biggest key to this party with a purpose are our Tastemakers," said Sweeney. "We have about 18 local professionals spreading the mission and competing in fundraising against each other to further our reach and smash our goals. There is also a designated after-party hosted by Brickhouse, so don't miss out on seeing what they've got up their sleeve."
Organizers are also hoping that the venue for Fork Cancer will add to its appeal.
"Fork Cancer is being held at the Fowler family hangar at the Jonesboro Airport," said Sweeney. "This spot was picked so we could truly show the Northeast Arkansas region that the American Cancer Society wants to make philanthropy accessible and fresh. This venue is wide open and a blank canvas to make sure every detail not only has a new and different feel but also is fun and creates a new kind of vibe for giving back. Not to mention the Fowler family and our presenting sponsor, Local Tire and Wheel, have been endless supporters of the mission of the American Cancer Society."
Sweeney said proceeds from the upcoming event will remain local.
"What's incredible about Fork Cancer is that every single dollar raised stays in Arkansas," she said. "This is a brand-new restriction we've gotten approved. All funds benefit the Arkansas Patient Transportation and Lodging Grant Program. These grants provide transportation to and from lifesaving cancer treatments as well as a way to help patients with the cost of lodging when a longer stay is needed.
In 2022, YPACS of NEA held its largest fundraiser to date, Cruise Fore a Cure.
"It wasn't the first event YPACS had held, but it was the first big event of its kind," said Sweeney. "It was a great success bringing in over $60,000. This year, we've doubled that goal and are well on our way to meeting that goal, already surpassing Cruise."
Organizers decided to take this year's fundraiser in a different direction.
"We decided to switch things up after many chats with our community partners and committee members," said Sweeney. "Northeast Arkansas loves a great time, but the fancy dress had to go. We wanted to take a moment and ask what our community wanted and how they felt best supporting us. We got a resounding answer of 'do something different,' so that's what we did."
In addition to Fork Cancer, YPACS of NEA will also host its annual golf tournament this spring.
"Our golf event chairs, Ty Jones and Heath Wilcox, have a passion for this tournament and we wanted to let them shine," said Sweeney. "We moved it to its own date, May 19, at Sage Meadows Country Club, so it would be a stand-alone event. The funds still benefit the same grant as the Fork Cancer funds, but with these two at the helm, it'll be a day of its own kind of fun."
Tickets are still available for this year's 4-person scramble, and teams are still available. Those interested in participating or helping to sponsor the golf tournament may contact Ty Jones at (870) 761-5895 or visit foreacure23.givesmart.com to sign up.
Tiffany Duggin of Bay is serving as event chair. Fork Cancer committee members include Chelsey Smith, social media; Kassie Wright, food and beverage; Taylor Bush, volunteer chair; as well as committee members Hannah Steele, Katie Pruitt and Suzie Woodring.
Participating restaurants/caterers include Cheddars, Blue Ember, Brickhouse, Embassy Suites, Gigi's Cupcakes, Houlihan's, Jimbo and Quessenberry, Que49, Skinny J's, Texas Roadhouse, Urban Organics and others. More than 20 restaurants are expected to participate.
Organizers say the event would not be possible without the generosity of local businesses and individuals.
"We couldn't do this event without our incredible community partners – Local Tire and Wheel, St. Bernards Healthcare, NEA Baptist, Lawrence Healthcare and Regions Bank," said Sweeney.
Tickets for Fork Cancer are currently on sale.
"We are selling up to 400 tickets," said Sweeney.
Tickets may be purchased online at forkcancernea.givesmart.com. When purchasing a ticket, guests may also choose to have their event ticket support a Tastemaker by selecting their name at checkout. Tickets include all you can eat and drink and dancing.