Downtown Eats: The Ultimate Guide to Dining in Downtown Jonesboro
Downtown Eats: The Ultimate Guide to Dining in Downtown Jonesboro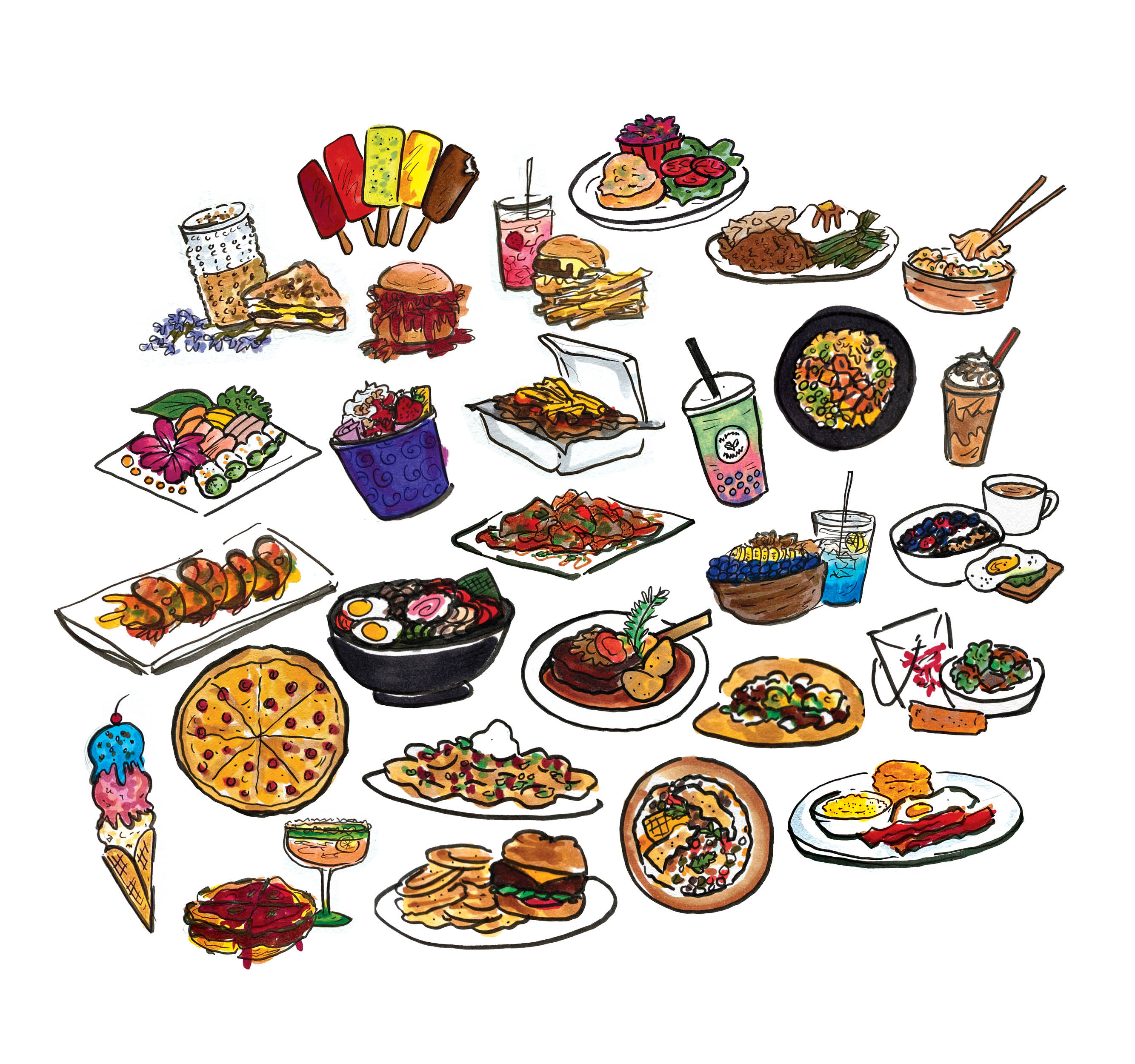 By Lisa Tedder, Illustrations by Brittney Osborn
Editor's note: As Downtown Jonesboro continues to grow, so do the options for dining out. Downtown restaurants, the majority of which are locally owned, draw visitors to the historic heart of the city each day with an array of appetizing menus. In addition to some of the city's best American cuisine, visitors can find a taste of New Orleans, Japanese food, Southern cooking, pizza, Chinese food, popular brunch spots and more. With so many options, Downtown Jonesboro is the perfect place to meet for a meal, a business meeting or a festive celebration. For a complete list of menu items or hours of operation, please contact the restaurants below.
IV Kings Coffee
Owners: Brandon and Audra King • 215 Union St. Suite 300 • Website coming soon.
Coffee lovers will rejoice to see a second location of one of Jonesboro's favorite coffee shops. The downtown location has added a breakfast and lunch menu in addition to the Onyx coffee served. Pastries are made at Southern Confections, which is owned by the Kings; be sure to try the breakfast puff, a laminated pastry filled with delectable combinations of egg, meat or cheese or one of the many wraps, sandwiches and salads. IV Kings Coffee is proud of its slow bar, where they carefully craft single origin pour overs.
Bamboo Japanese Cuisine
300 South Main St., Suite A • (870) 203-0893 • bamboojonesboroar.com
Sushi lovers know that Bamboo Japanese Cuisine offers some of the city's best sushi. Besides the extensive sushi menu, Bamboo serves authentic hibachi, poke, bento boxes, fried rice and much more, all made from the freshest ingredients. The beautiful restaurant is great for a nice lunch or a date night and has weekly specials. Celebrate a birthday there and the honoree gets a free entree.
Ben Yay's Gumbo Shop
Owners: Tony and Stephanie Westmoreland • 226 South Main St. • (870) 938-0025 • tandemrp.team
The Westmorelands are bringing their popular Memphis eatery serving authentic, fresh Creole cuisine to Downtown Jonesboro. For those with a craving for classic Louisiana cooking, this is it. The extensive brunch, lunch and dinner menu includes food not usually seen in Jonesboro, such as alligator sausage, boudin, muffuletta, gumbo, praline duck, po'boys, beignets and so much more. A quick peek at their Facebook page will have you waiting at the door. The gumbo shop is scheduled to open in June.
Brickhouse
Owner: Dan Johnson • 218 South Main St. • (870) 336-2441 • mightybrickhouse.com
For those in the mood for food, fun and the best in entertainment, the mighty, mighty Brickhouse has it all. Guests can enjoy live music, watch their favorite sports on multiple high-definition flat screens or party on the outdoor balcony overlooking Main Street. The friendly staff serves up New Orleans-style cuisine including steaks, fresh seafood and weekly specials. Let the good times roll, and head on over to Brickhouse.
Bubblee Tea
Owner: Elna June • 241 South Main St. • (870) 517-7644 • bubbleetea.square.site
Fans of boba or bubble tea will love Bubblee Tea in Downtown Jonesboro. Bubble tea is a sweetened tea beverage with everything from chunks of fruit to tapioca pearls and has a unique following among boba tea fans. Owner Elna June, a first-generation immigrant from the Philippines, says her goal is to bridge cultures and change how people think about tea. Bubblee Tea also serves regular teas brewed in house with tea imported from Asia, steamed buns filled with meat and vegetables, and bubble waffles. Check Facebook for weekly specials.
Chef's In
Owner: Lance Sullinger • chefsinjonesboro.com • (870) 934-8962
For those in the mood for Southern cooking, complete with cornbread and vegetables like mama used to cook, head to Chef's In for the all-you-care-to-eat lunch buffet. Chef's In has been a Jonesboro fixture for 75 years and has been owned for 21 years by Sullinger, who says he feels blessed to be here. In a place where everyone is welcome, Chef's In has a small-town vibe featuring Southern food at its best.
City Wok Dim Sum
Owners: Li and Cory Clay • 241 South Main St., Suite A • (870) 520-9954
City Wok is a small, family owned and operated cafe with food lovingly made from scratch. For those who need a quiet place for a delicious bowl of ramen, steamed buns or dim sum, City Wok has the best in Jonesboro, according to their loyal and dedicated fans. City Wok is open for dining in with lunch and dinner hours or delivery from DoorDash.
Cregeen's Irish Pub
201 South Main St. • (870) 972-9200 • cregeens.com
Cregeen's is a unique spot in Jonesboro, serving traditional Irish fare like bangers and mash or corn beef and cabbage along with more familiar American food like cheeseburgers or a Cobb salad. Serving a "proper pint," Cregeen's has a long list of beers, wines and specialty drinks. Entertainment includes live bands, trivia nights, the ever-popular drag shows and more. Check Facebook for specials and upcoming shows.

Dragon City Chinese Restaurant
300 South Main St., Suite F • (870) 933-8889
Dragon City is a popular spot for a wide variety of Chinese favorites like General Tso's Chicken, fried rice, sweet and sour pork or cheese crab rangoon. The menu is extensive, so there is something for everyone. Customers say delivery is swift and portions are huge. For those Chinese food cravings, stop by Dragon City.
HUNTINGTON SQUARE
Huntington Square is home to six restaurants (*denoted below) in one convenient location with plenty of outdoor seating under the trees, as well as a new indoor seating area. Pets are welcome, and there are fun activities for the kids in addition to something for every taste bud from coffee to dessert. Here's a list of what is available at Huntington Square.
*CampFire Pizza
Owner: Spencer Young • (870) 926-7505 • campfirear.com
Owner Spencer Young was immediately attracted to Huntington Square and developed Campfire pizza to fit the outdoor theme. All pizzas are made from scratch from the dough to shredding the cheese and making the sauce, then cooked on a wood stone fire deck oven. Besides pizza, there are salads, subs and "nachos" made with fried pizza crust. Cauliflower crust is available for those on a gluten-free or keto diet.
*Lolly Gourmet Pops
Owners: Meridith and Russ Pierce • (870) 819-8496 • lollygourmetpops.com
When it's time for a dessert, head to Lolly's for a frozen treat. Lolly makes their pops daily with simple, real ingredients, nothing artificial. "If it says it has oranges in it, we peeled and blended those right in," said Meridith. Featured flavors change weekly, and there is a no sugar added option, as well as a pop for pups. Check out local favorites Coffee and Cream and Kiwi-Nana, or have Lolly's cater for an event.
*Los Arcos Street Tacos
Owner: Carlos Resendiz
The popular Los Arcos Mexican restaurant has opened a third location at Huntington Square. The menu is smaller, but it's the same good food its customers have come to love. Choose from nachos, quesadillas, tacos, tortas or any of the special dishes like the Papas Locas or the Quesabirria. Conveniently open seven days a week, they also take to-go orders.
*Ray's Rump Shack
Owner: Seth Simmons • (870) 227-2006 • eatraysmeat.com
For those with an appetite for barbecue, look no further than Ray's Rump Shack for craft barbecue by a true pit master. Simmons takes the time to do barbecue the old school way, smoking his meat with a mix of pecan, hickory and oak woods for that special flavor. Everything is made from scratch from the rubs to the barbecue sauces, using the freshest meat and best ingredients. Choose from pork, beef or chicken, sandwiches, plates, nachos or ribs; it's all amazing at Ray's.
*Southern Rolled Ice Cream
Owner: Crystal Millsap • (870) 205-1106
Drop by Huntington Square for the newest frozen treat! Rolled ice cream is a delicious, freshly made mixture of dairy milk and various toppings that is frozen, flattened and rolled before serving. Try an ice cream taco served in a waffle shell or the new ice cream nachos, which is soft serve ice cream, whipped cream and toppings with waffle chips. The Mango Tango looks yummy with mangoes, coconut, mango tajin and chamoy sauce, as does the Southern Pecan with vanilla rolled ice cream, pecans and caramel, but there are many other combos to choose from.
*The Nomad Food Truck
Owner: Norm Jurs • (870) 378-1110
The Nomad Food Truck will be at Huntington Square on the weekends. A Pocahontas favorite, the Nomad makes the rounds and brings its mouthwatering burgers, Philly cheese steak, loaded hand cut fries and fried chicken to Jonesboro. Customers rave about the "food with attitude," especially the cheesy BBQ, loaded fries and the cheeseburger. For those in the mood for some classic American food, Nomad has them covered.
*Urban Organics Coffee

Owner: Heather Walker-Clark • info@urbanorganics311.com
Urban serves a unique proprietary coffee blend with a bold, earthy taste. All pastries are made from scratch, and smoothies are organic, gluten free, vegan and packed full of good things for the body. Just as important, all cups, lids, straws and to-go containers are 100% biodegradable and compostable. Serving light breakfast and lunch food like smoothies, smoothie bowls, chicken salad and bagel sandwiches, Urban has a laid-back atmosphere that invites lingering with friends and hanging out.
Ichiya Ramen
Owner: Snu Gary • 322 South Main St. • (870) 520-5094 • Ichiyaramen.com
Adventurous eaters craving something different will love Ichiya Ramen. At Ichiya, the focus is on the ramen, though they also serve fried rice dishes, chicken katsu, pork tonkatsu and appetizers. Each broth is simmered several hours before being combined with any number of mouthwatering toppings like pork belly, black mushroom, bok choy, seaweed or a fish cake. Ichiya is a unique experience that will have diners coming back for more.
Lemonade House Grille
Owner: Chad and Monica Campbell • 237 South Main St. • lemonadehousegrille.com
With the Lemonade House Grille, The Campbells are changing up the dining scene in downtown Jonesboro with good food in a fun atmosphere. The menu includes appetizers, steaks, gourmet burgers, tacos, salads and much more. The LHG also has the world's largest freshly squeezed lemonade menu with 25 different delicious lemonade combos like Prickly Pear, Peach Berry or Mango Tango, any of which can be made into an adult beverage. Look for Lemonade House Grille to open in Downtown Jonesboro in late July or early August.
Omar's Uptown
Owners: Omar Barry and Bill Hurt • 301 South Main St. • (870) 336-3001 • omarsuptown.com
Omar's never fails to impress; the service is always impeccable, and the steaks and fish are the best in town. Chef Omar Barry's respect for the food is evident in every dish served. For a special celebration, a business meeting or a lovely evening with friends, this is the place to go. There is an extensive wine and a new cocktail menu, not to mention a fabulous dessert menu with features like the baked Alaska or a decadent chocolate terrine. Check Facebook for weekly specials and events like Mother's Day brunch, live music and wine tastings. The upstairs deck is a great place to catch the sunset.
Rice Box
Owner: Jiahui Huo • 320 South Main St. • (870) 580-0010 • riceboxjonesboro.com
For local foodies who haven't tried a poke bowl, Rice Box is definitely the place to go. There are several signature poke bowls, but owner Jiahui Huo says the "pick your own" is the hands-down favorite, as diners can chose ingredients to suit their taste, like spicy salmon, masago (fish eggs) or eel sauce. Rice Box also serves hibachi, milk tea boba and has a kid's menu. Rice Box will be happy to cater with its Asian fusion-style food.
Roots
Owners: Tony and Stephanie Westmoreland • 303 South Main St. • (870) 336-1212 • rootsrestaurant303.com
Roots restaurant is under new ownership and will soon have a new chef, new menu and eventually a new name (Honey Up), with a new look and an upstairs lounge. The Westmorelands are bringing their extensive restaurant acumen gleaned from their successful Memphis eateries to Downtown Jonesboro and opening two other restaurants, Ben Yay's and Sugar Grits, as well. The downstairs portion of Honey Up will have a full dining menu, while the upstairs lounge will feature small plates designed to complement each cocktail. The lounge will be an exciting new concept for Jonesboro, whether having an intimate dinner for two or a gathering of friends.

Scoops
Owner: Eric Roberts • 324 South Main St.
Jonesboro's only real deal, hand-dipped ice cream shop serves Blue Bell and Prairie Farms ice cream. In addition to the usual chocolate and vanilla with a variety of toppings, sweet seekers will find flavors not available in the grocery store, like Jonesboro favorite Blue Monster, a mix of cookies and cream and chocolate chip cookie dough. Flavors rotate weekly, so check back often to see what's new. Carry out only with outdoor seating available, closed on Wednesday and Sunday, open the rest of the week from noon to 9 or 10 p.m.
Shadrach's Coffee
Owner: Larry Billing • 501 Union Street Ave. • (870) 926-4835
Jonesboro's coffee aficionados can now get their caffeine fix from one of Jonesboro's popular local coffee shops at its hip location in the old bank building on Union Street. This location has comfortable indoor seating that's perfect for catching up with friends and the same friendly service for which Shadrach's is known. Sign up for the digital rewards program for frequent visits or pick up a bag of coffee to brew at home.
Skinny J's
Owner: James Best • 205 South Main St. • (870) 275-6264 • skinnyjs.com
Skinny J's may be known for its award-winning hand cut steaks, but they offer so much more. Bring the whole family for Southern-American style pastas, wraps, burgers, chicken and fish, and dine in a casual and relaxed atmosphere. With daily specials, Saturday and Sunday brunch, trivia nights and live entertainment on the weekend, what more could diners ask for?
Sugar Grits
Owners: Tony and Stephanie Westmoreland • 226 South Main St. • (870) 938-0025 • tandemrp.team

Inspired by the cuisine of North Carolina, Sugar Grits will soon be a new addition to the downtown breakfast, brunch and lunch scene, giving J-Town residents a good reason to get up early. Diners will find a variety of tempting breakfast and lunch favorites with a fresh spin, like biscuits and tomato gravy, the Carolina burger with slaw and BBQ glaze or grits with peaches and sorghum. Opening in August.
The Parsonage
Owners: Chef John and Ramey Myers • 305 South Main St. • (870) 203-6116
For those in the mood for brunch, head over to a beloved local favorite. The Parsonage is a family-owned restaurant conceptualized by Chef John Myers and nurtured by his wife, Ramey. Serving classically prepared food with a Southern twist, The Parsonage is open Wednesday through Friday for breakfast, daily for lunch and for weekend brunches. Located in a lovely historic building, The Parsonage is also available for evening or weekend events or to cater events; call for more information.
The Rec Room

Owners: Brian and Sarah Noble • 223 South Main St. • (870) 520-6006 • Website coming soon.
The recently remodeled Rec Room has a new contemporary look and is now serving breakfast, brunch, lunch and dinner. Try a smoked salmon scrambler or Recovery Plate from the brunch menu, or a sandwich, wrap, soup or power bowl during lunch. A variety of pastries,, dessert items and coffee are available daily. Open for dinner Thursday, Friday and Saturday nights. Come in for a dinner special, relax with a cocktail and listen to some live music.
Uncle Taco


Owner: James Best • 211 S. Main St. • (870) 520-6356 • eatuncletaco.com
Uncle Taco is the newest concept from Skinny J's founder James Best and his team. With its fresh and fun take on tacos, margaritas and more, Uncle Taco opened its doors in February 2023 offering the freshest ingredients possible in a fun atmosphere. Start with a Mexican pizza made with your choice of chicken, ground beef, chorizo, carnitas, smoked pork or jackfruit. Try a flight of margaritas with your favorite tacos or choose your own ingredients for a bowl, salad or burrito. House-made salsas are available to complement each entree. Uncle Taco also offers a private space for parties or small groups perfect for a fun-filled fiesta!