El Centro Hispano: Honoring the Past and Celebrating the Future
El Centro Hispano: Honoring the Past and Celebrating the Future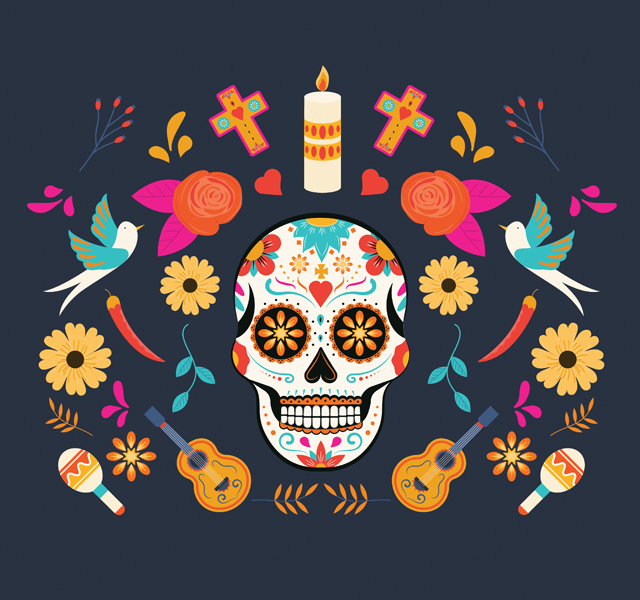 As Jonesboro's El Centro Hispano celebrates 25 years since opening its doors to the area's Hispanic population, the nonprofit organization is also gearing up for its annual Día de los Muertos Celebration, which is moving to a new location for 2022.
El Centro Hispano was founded by Sister Elaine Willett in 1997 as an outreach program of Blessed Sacrament Catholic Church to meet the needs of the growing Hispanic population in the area. In 2003, El Centro Hispano was incorporated as a nondenominational nonprofit called Hispanic Community Services Inc. Most recently, in 2017, Executive Director Gina Gomez and the organization's governing board successfully led a capital campaign that allowed the construction of a new expanded facility and rebranding the former name as "El Centro Hispano." The nonprofit organization now provides approximately 10,000 services each year across Northeast Arkansas, 95% of which go to Hispanics, and 97% of which serve low-income families.
In the quarter century since its start, the center has supported services and programs that focus on six key areas: health, social, educational, legal, cultural and civic engagement. El Centro Hispano focuses on supportive services that cater to low-income families that are often the most underserved and neglected in the Northeast Arkansas region. One such program, La Cuna Program for nursing and pregnant Hispanic women, provides education and free resources throughout the entire state of Arkansas. Additionally, it serves the community through supplemental education programs, including La Escuelita, its bilingual after school program for Pre-K to 12th grade students, its Hispanic Emerging Leaders Program for high school students to encourage leadership and professional development and its Northeast Arkansas Hispanic Professional Network Committee, along with classes in Spanish, English and citizenship. El Centro Hispano also recently added mental health services and dental services in Spanish.
"We have all worked together to achieve great things; we couldn't have done this on our own," said Gomez. "We need the support of the NEA community in order to provide the programs and services that we offer. Without people that believe in our mission and without teamwork, we wouldn't be able to do this."
Gomez knows just how much those services are necessary and appreciated in Jonesboro. She was born in Colombia and moved to the United States 23 years ago. After enrolling in Arkansas State University as an international student, she says the adjustment was difficult.
"I was depressed here; it was not my desire to move to the U.S, but we did it for safety reasons due to the social and political crisis my country was going through," said Gomez. "I came with my husband and my 4-month-old daughter at that time. Moving from Bogota, Colombia, a city with a population of around 9 million people to a city of 60,000 people back then, was a culture shock. I was wanting to go back to my country and be closer to my extended family. It was a very difficult time for me; I had a hard time assimilating the fact that I was going to remain in this country, but then I was introduced to Sister Elaine and was told she would help people find jobs and get plugged in. She said the Hispanic community was growing and they were looking for someone to support outreach with the Catholic church."
Gomez started volunteering for the Catholic Hispanic Center and says she quickly fell in love with the work they were doing. It completely changed her mind about going back to Colombia.
"I think that is why I am so passionate about the work that I do," said Gomez. "It was not easy for me. You may have opportunities to move here, but when you come here, everything is new to you. I thought I was bilingual when I moved here, but then I still could not understand. You feel really lost and homesick, and you don't understand how the legal, health and school systems work. Coming here I felt so lost, and I see that same thing in our families when they move here.
"I was very fortunate that I found someone to support me and I was able to take advantage of that opportunity. I found my passion, and I love what I do. That is the reason why I'm still here in Jonesboro. I know there are inequalities and a lot of needs for minorities that need to be met, and I also know that not all the people here have the same opportunities, but this is a great country. If you work hard and you get access to resources – which is what we try to do here – you can succeed and be happy here. But you can't take advantage of programs if you don't know about them; that is why we work daily to provide education and resources to our people."
Those programs are funded through the generosity of the community through events like El Centro Hispano's upcoming Día de los Muertos celebration. The Day of the Dead event is one of the most important celebrations in Mexico with a history dating back thousands of years. Día de los Muertos originates from the ancient Aztec's belief that the goddess Mictecacihuatl watches over the dead, and the Catholic Church turned this belief into All Saints' Day/All Souls' Day, even including the holiday in the Catholic calendar. Mexicans have celebrated this holiday for centuries and transformed it into the unique annual holiday.
Traditionally, families create altars for their loved ones to commemorate their memory. The altars often include photos of the deceased family members or friends, their favorite foods, items they used to like and colorful flowers. Some people build these at the cemetery where their loved ones are buried, but Mexican immigrants to the United States often build such altars in their homes.
"In the American culture, death is often seen as a sad event, but the Day of the Dead is a celebration of life where death is viewed not as the end of life but as the beginning of a new chapter," explained Gomez. "The holiday is an opportunity for people to mourn the loss of family members and friends and to ensure that they are never forgotten – that is why you will see brightly colored skeletons and skulls everywhere during the holiday."
Because of the great importance of this Mexican holiday, months of preparation go into making the event El Centro Hispano's most festive cultural event of the year. The organization's diverse community and staff work together to ensure that every detail, down to the paper flowers, is in place for the big day. They invite those from all ethnic backgrounds to connect and celebrate Mexican heritage by taking part in a holiday that honors generations of ancestors through music, food and friendship.
The fifth annual Día de los Muertos Celebration, also celebrating the 25th anniversary of El Centro Hispano, will take place on Nov. 5 at the Embassy Suites by Hilton Jonesboro Red Wolf Convention Center. Tickets are $75 per person.
"As Latin individuals, we love to party; we enjoy good food and good music, and we love to dance," said Gomez. "It's an event that celebrates the culture while still raising funds to do what we need to support the Hispanic Center."
Gomez is thankful that the Jonesboro community has stepped up in a big way to support the nonprofit's mission.
"The majority of the community in Northeast Arkansas is supportive and understands that we are families and individuals looking for opportunities," said Gomez. "We are not here to demand anything, we just want an opportunity to work hard and have a successful life for us and for our children. I believe those opportunities given to the Hispanics and Latinos make a positive impact in the community as a whole.
"We are proud of the facility we were able to build five years ago in Jonesboro, and we are very grateful for all that we have been able to accomplish here with the support of this wonderful community. God keeps putting what we need in our path to keep going."
For more information about El Centro Hispano, located at 211 Vandyne Street, or to buy tickets for Día de los Muertos, visit centrohispanoarkansas.com, call (870) 926-1118 or find the center on Facebook (Centro Hispano en Arkansas).