Hydro House: A Green Way to Grow
Hydro House: A Green Way to Grow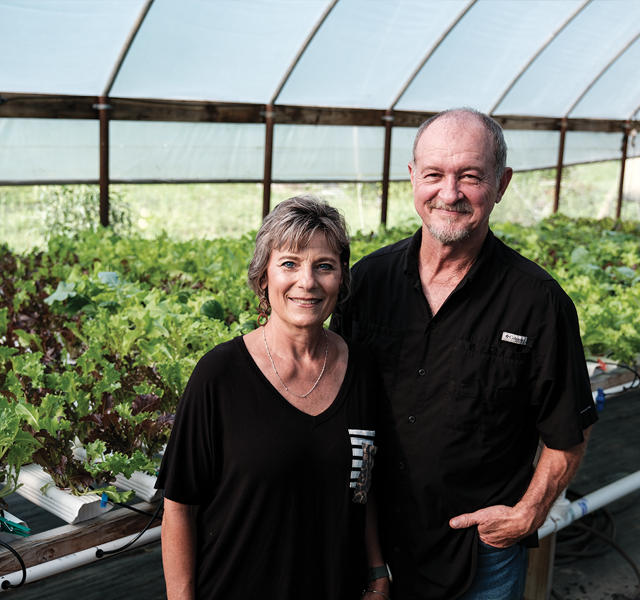 As more people today want to know exactly where their food comes from and what's in it, one couple is paving the way for their customers in Jonesboro to know exactly that. Randall and Amy Blankenship's Hydro House, a home-to-community farm that specializes in growing lettuce, herbs, microgreens and mushrooms, has a mission to serve the community with fresh, home-grown, local, pesticide-free produce year-round thanks to its hydroponic greenhouse.
"I've been here all my life," said Randall of the family home, which is also the site of Hydro House. "This is where my grandfather's cow pasture was. I've worked on farms and farmed for myself off and on my whole life. Amy is the one who has worked in greenhouses before; she came up with the greenhouse idea."
Amy has worked for several greenhouses over the years, including Rogers Greenhouse in Paragould, and loves nurturing plants of all types in a greenhouse environment. When the couple learned that the Rogers family was looking to get rid of a greenhouse structure they had over their pool, the Blankenships volunteered to remove it and repurpose it for Hydro House.
Randall finished installing and redoing the greenhouse on their property in January of 2020.
Hydro House operates out of a hydroponic greenhouse, a technique of growing plants that uses a water-based nutrient solution rather than soil.
"Neither one of us knew anything about hydroponics when we started this," said Randall. "It's been a real learning curve. We use gutter downspouts to grow the lettuce and greens. The channels I looked at were $80 each, and the downspouts were $10 each, so that's what we used. I looked at several different ways to do it, watched a lot of YouTube videos and came up with my own plan. It's been off the cuff and a real learning process. … The nutrients have to be checked constantly.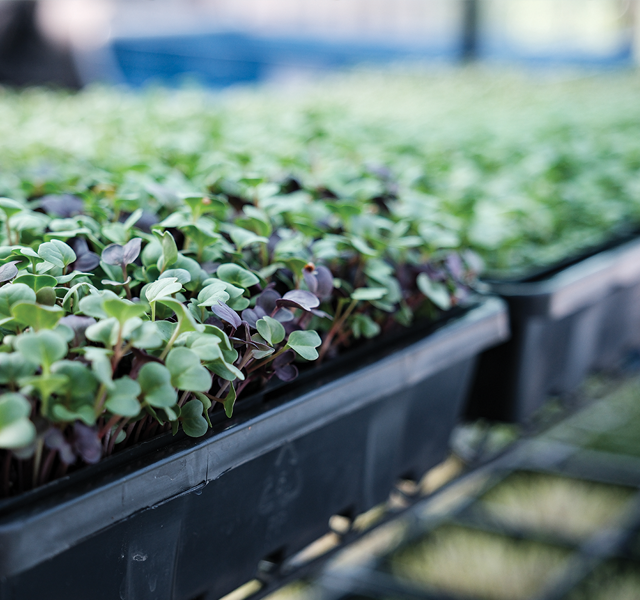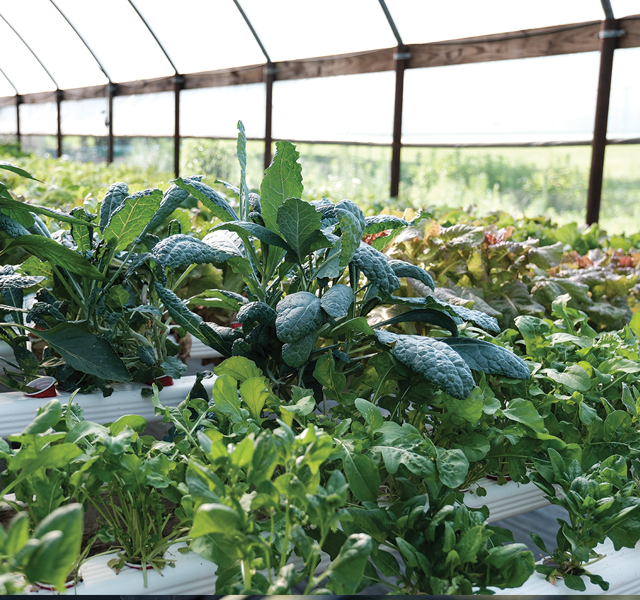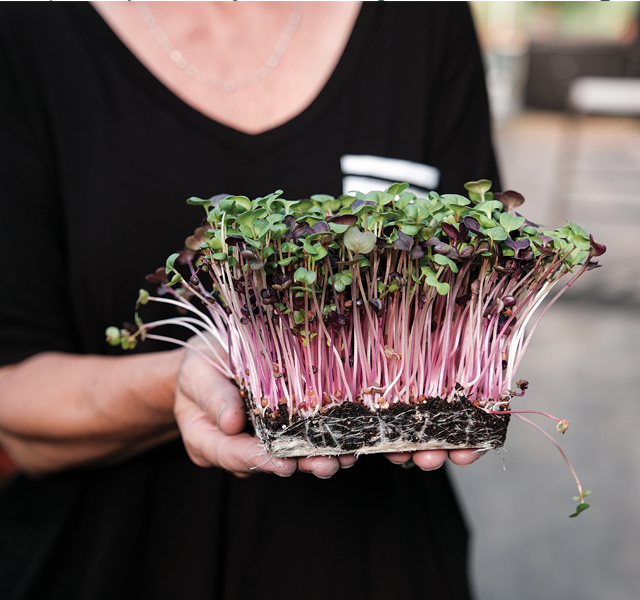 "We've learned a lot of ways not to do stuff. The hydroponic part of it is pretty amazing. To me, it tastes better. It's really amazing how fast stuff grows."
As for the day-to-day operations of the greenhouse, Amy takes care of the growing, planting and harvesting of everything in the greenhouse, and Randall is responsible for the mushrooms.
Hydro House grows a variety of leafy greens, including head lettuce offerings like muir, romaine, butterhead and Lalique, along with a mixed leaf lettuce. The small farm also has a greens mix that includes red and green mustard, broccoli, bok choi, Chinese cabbage, tatsoi and mizuna, along with arugula and kale, which are seasonal. There are a variety of microgreens to choose from, such as broccoli, cabbage, mustard, radish, beets, cilantro, sunflower, pea and more. Hydro House's available herbs are basil, rosemary, oregano, dill and mint.
The current mushroom selection, which is Randall's venture, includes the oyster varieties: Italian, tarragon, golden, pearls and blues, Mediterranean, phoenix, lion's mane, shiitake and chestnut.
Customers can purchase all of Hydro House's mushrooms and greens on-site at the greenhouse or the Judd Hill Farmers' Market, or they can request a delivery through the couple's online store.
"We first started the online store in October 2021, but I found out I had breast cancer at the same time; I made my first delivery then had to close it," said Amy. "We were back at the Farmers' Market in May of 2022 and re-opened the store in November 2022 after the market ended in October.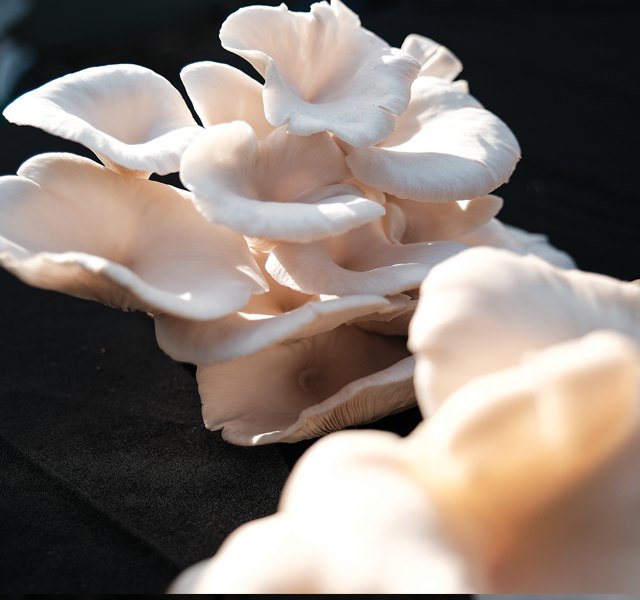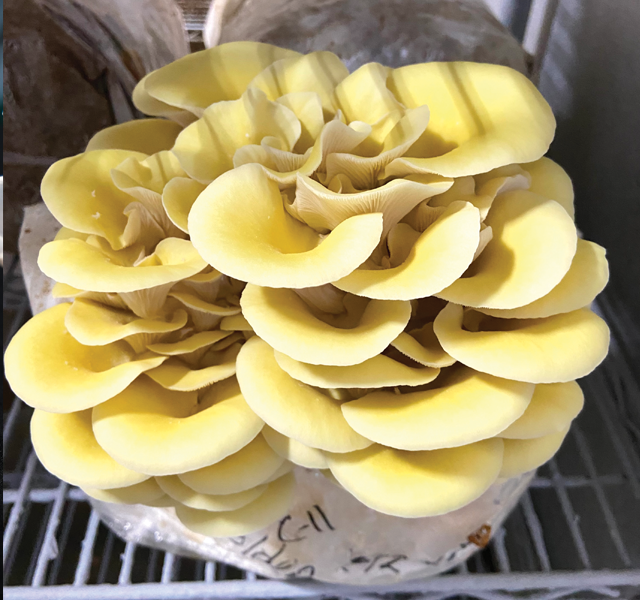 "I love gardening. My mom and dad gardened; it's in my blood, it's therapy for me, it's my outlet. Being out here at night is really neat. With the water running, it's really peaceful."
Amy says that in the future, they'd like to offer ready-made salads, which would be available for pick up or delivery and would include seasonal vegetables such as cherry tomatoes, arugula and kale. She has already received her Food Service Manager Certification and Produce Safety Grower Certification, and Hydro House recently acquired its food trailer Health Department certification. A mushroom seasoning and other adventures are also in the works.
Jay Dunn, who has been a weekly customer of Hydro House since May of 2022, says she normally orders the house mix, salad mix, sandwich leaf, elegant greens and some of the microgreens.
"Two of my favorite highlights are that it's all pesticide free and local," said Dunn. "Their product selections are fresh, crisp and delicious. Their product is unbeatable, and their customer service is consistently amazing."
Another happy customer, Melody Conatser, sought out the small farm's fresh offerings for a meaningful reason.
"We have been using Hydro House since last summer, when we met the Blankenships at the Judd Hill Farmers' Market," she said. "Being a registered nurse and also a cancer survivor, I realize the importance of feeding my family pesticide-free produce.
"We use the various salad greens, herbs, microgreens and mushrooms from them, knowing that it's all fresh, nutritious and delicious. Their home delivery service has been an added bonus during the winter months or when we are unable to get to the Farmers' Market during the regular season. It's been such a pleasure getting to know the Blankenships."
The couple cites those friendships and customer relationships as a large part of why they enjoy what they contribute to the community.
"We stand behind our products," said Amy. "Our customers know that they are getting a fresh, quality product, and they keep coming back. They tell their family and friends. Word of mouth is our best advertisement. I have had (customers) tell me they can't eat lettuce from anywhere else now that they had ours.
"We are so proud of what we do. I enjoy being a problem solver with the community and being able to offer what we do. I want to know where my food is coming from these days, and we can do that for Jonesboro and the surrounding area. I enjoy working with the community and meeting new people. We have made a lot of close friends during this."
To place an order or for more information about Hydro House, located at 1446 Highway 349, call (870) 530-3800, find them on Facebook or visit hydro-house-1.localline.ca/house-share.