Kicking Off the Season with Game Day Brunch
Kicking Off the Season with Game Day Brunch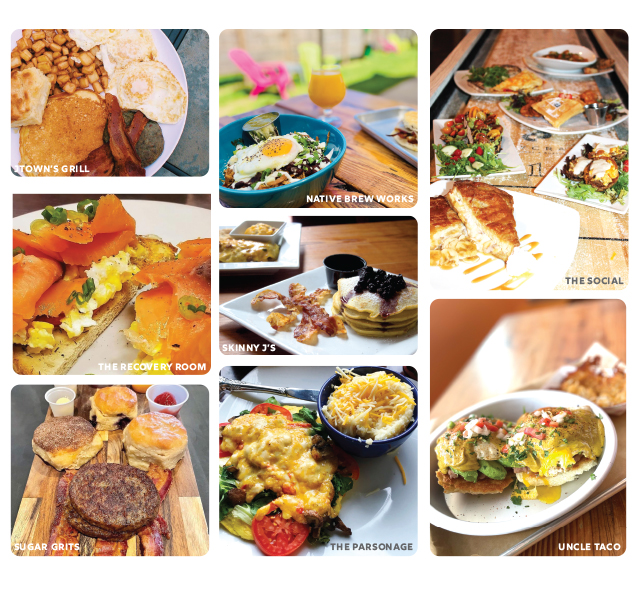 by Lisa Tedder
As Arkansas State kicks off football season at home on Sept. 9 with the Memphis Tigers, locally-owned restaurants are hoping to start the celebration early by enticing fans with an array of game day brunch options.
Brunch is a great way to socialize while enjoying the perfect combination of sweet and savory foods. Whether Red Wolves fans choose to indulge before the game or have a final get together on Sunday before everyone heads home, brunch is a great way to extend the fun. For those looking for a little bit of breakfast and a little bit of lunch, more Jonesboro restaurants are getting in on the brunch game. From delicious staples of pancakes and giant cinnamon rolls to creative cuisine options like Pulled Pork Benedict and Elvis French Toast, there is a brunch in Jonesboro to satisfy anyone's mid-morning cravings.
JTown's Grill
JTown's goes big for brunch. This year, Jonesboro Radio Group's Stafford and Frigo will broadcast live from the restaurant on game days, so show up early to join in the celebration. JTown's fans love the French Toast Sammie, with everything breakfast between two pieces of French toast covered in powdered sugar and syrup, or the Elvis, a combination of peanut butter, bananas, chocolate chips and bacon sandwiched between two amazingly delicious pancakes. Other crowd-pleasing favorites are the Simple and Southern Combos, which include house-made biscuits and gravy with eggs and potatoes. Try a Bloody Hog or get a mimosa tower for the table.
JTown's is located conveniently across the street from the A-State campus, with easy access from stadium parking. The staff goes all out on game days, dressing to support the Red Wolves and cheering after every touchdown to get everyone in the mood for football.
Located at 2610 E. Johnson Ave., JTown's is open for brunch Thursday through Saturday from 7 a.m. to 2 p.m. and Sunday from 9 a.m. to 2 p.m.
Native Brew Works
Native Brew Works is Jonesboro's only microbrewery and is the hot place to have a leisurely brunch with friends. Native strives to cultivate community through unique experiences and by providing handcrafted quality products.
Try a favorite brunch bowl with russet and sweet potatoes topped with pulled pork, black beans, crema, queso fresco, green onion, cilantro and an egg. Other options include breakfast nachos, breakfast tacos and biscuits and gravy. Brunch at Native would be incomplete without the Boozy Batch, a hard seltzer with OJ for Native's spin on a mimosa, or a Hazy Man, the Hazy IPA with a splash of OJ.
Kids and dogs are welcome (dogs outside, of course), and for those who can't sit still while waiting for their food, there is a ping pong table. There is plenty of seating inside or outside when the weather is nice.
Native is located at 515 S. Gee St., and brunch is served on Sunday only from 10 a.m. to 2 p.m. or until they run out of food.
The Parsonage
Voted Best Brunch eight years in a row, The Parsonage has a very loyal following when it comes to serving up brunch, and with good reason. People come for the monster cinnamon rolls, the to-die-for waffles, the famous cheese grits and the scrumptious biscuits and gravy.
The food is obviously the main attraction, but patrons also love the laid-back and welcoming atmosphere of The Parsonage. Many guests enjoy bringing their canine friends for a peaceful brunch outside on the patio. Owned and operated by Chef John and Ramey Myers, everything on the creative menu is made from scratch with the freshest ingredients.
In addition to the regular menu, there are the occasional specials like breakfast shrimp and grits and even half-off specials at times. The Parsonage is now serving Onyx coffees and teas from Onyx Coffee Lab in Northwest Arkansas, another product with a cult following. Coffee aficionados will definitely want to purchase a bag of Onyx coffee to take home.
The Parsonage is located at 305 S. Main St. in Downtown Jonesboro and serves the full brunch menu Thursday through Sunday from 9 a.m. to 2 p.m.
The Recovery Room
Hands down, or rather forks down, The Recovery Room is best known for its brunch. Serving an elevated menu at an affordable price, diners are sure to find their favorite breakfast staple or a tasty treat from the pastry cabinet. Craft is definitely the name of the game, especially when it comes to their coffee and cocktail bar. From top to bottom, bar to back-of-house, The Recovery Room is an eclectic mix of local art and music, with friendly service and a well-executed menu that comes together for a unique experience and a vibe all its own.
The Recovery Room, located at 223 S. Main St., serves brunch anytime the doors are open. The eatery is open from 7:30 a.m. to 2 p.m. Tuesday through Friday and from 9 a.m. to 2 p.m. Saturday and Sunday.
Skinny J's
Skinny J's has been a Jonesboro institution for more than 10 years. A family-owned restaurant, they pride themselves on great food and friendly service. At Skinny J's, diners can order off the brunch menu or the regular menu on the weekend, so everyone is sure to find just what they want.
There are the usual eggs and bacon, but most of the brunch menu is more creative, like the Vaccination Burrito with ham, potatoes, tomatoes, jalapeños and cheddar, which is then deep fried, the Belly Thumper, a ham and bacon frittata on potatoes and smothered with gravy, or the Bourbon Berry French toast. Skinny J's has a full bar, and fans say the Bloody Mary is among the best they've ever had.
Weekend brunch is served Saturday and Sunday from 10 a.m. to 2 p.m. Skinny J's is located at 205 S. Main St. in Downtown Jonesboro.
The Social
Recently voted Jonesboro's best new restaurant, The Social is unique among local restaurants in that it offers entertainment in addition to good food. Crowd favorites include the shrimp and grits, avocado toast, chocolate gravy and biscuits and the chicken and waffles. There are plenty of other breakfast options to choose from, like pancakes and egg dishes. And if that's not enough, they also offer coffee and ice cream bars.
The attractive, family-friendly restaurant delivers big on the fun with four bowling lanes where customers can eat while they bowl or eat first, then bowl. There are plenty of other games like shuffleboard, mini golf, checkers, Jenga, etc., that will keep the crowd busy until game time.
The Social is located at 1004 Chancery Lane, not far from Centennial Bank Stadium. Brunch is served Saturday and Sunday mornings from 10 a.m. to 2 p.m. There is a full bar with $5 mimosa and Bloody Mary specials during brunch.
Sugar Grits
Inspired by the cuisine of North Carolina, Sugar Grits will soon be a new addition to the downtown dining scene, serving breakfast, brunch and lunch. Owners Tony and Stephanie Westmoreland are bringing their extensive restaurant acumen to Jonesboro with Sugar Grits, which is located next door to their other new restaurant, Ben Yay's. Diners will find a variety of tempting breakfast and brunch favorites in addition to house specialties like biscuits with tomato gravy, a variety of biscuit sandwiches, and their signature grits bowls like grits with peaches and sorghum. Along with the usual coffees and juices, adult beverages will be served.
Located at 226 S. Main St., Sugar Grits will be opening this fall; check their Facebook page for details.
Uncle Taco
Jonesboro's favorite uncle serves brunch with a Tex Mex flair. When the gang is in town for a game and ready to eat, Uncle Taco serves up some interesting twists on brunch food. Think Totchos – tater tots with refried beans, eggs, queso, pico and chorizo, an Avocado Benny – refried beans with guacamole, fried egg, chipotle hollandaise, jalapeno and pico on a biscuit or the Breakfast Eleanor Pie – crispy tortillas, refried beans, scrambled eggs, chorizo and pico.

Patrons say the food is delicious, the portions are large and everything is well priced. The bright, colorful restaurant is laid back and kid friendly with great service. For good food and fun, go find out why "Uncle Taco is nacho average uncle!"
Uncle Taco is located at 211 S. Main St. and is open for brunch Saturday from 10 a.m. to 2 p.m. and Sunday from 10 a.m. to 3 p.m.