Leading the Launch of A-State's Veterinary Program
Leading the Launch of A-State's Veterinary Program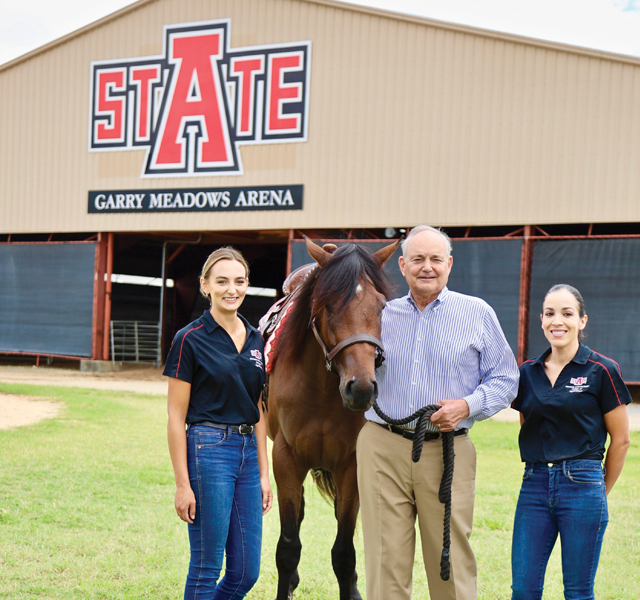 story and photos by Audrey Poff
Although enrollment into Arkansas State University's upcoming College of Veterinary Medicine is a few years away, Dr. Glen Hoffsis has been working to launch the program since being named as the college's founding dean earlier this summer.
Chancellor Todd Shields announced Hoffsis as the founding dean for A-State's College of Medicine in June.
One of America's top veterinary administrators, Hoffsis has served as dean of two the nation's largest and most prestigious vet colleges, Ohio State University and University of Florida, and recently guided the creation of the College of Veterinary Medicine at Lincoln Memorial University in Harrogate, Tenn.
"We are thrilled that we could bring Dean Hoffsis back into higher education to help guide the launch of our program at Arkansas State," said Shields. "His reputation as both an academician and veterinary researcher is outstanding, and we are confident his connections and knowledge within the field will be a major asset in our goal of educating more veterinarians for our state and region."
Along with providing day-to-day leadership as A-State continues its pathway toward accreditation and opening, Hoffsis will guide the university's search for its permanent dean.
"Glen has been a tremendous resource to us in our planning and preparation, and we are extremely excited that he has agreed to join us in this next stage of our process," said Executive Vice Chancellor for Finance and Administration Len Frey.
Hoffsis has most recently worked in private consulting after leading the establishment of the CVM at LMU. He was instrumental in designing the academic program and facilities. He negotiated a unique cooperative agreement with University of Kentucky Diagnostic Laboratory and Gluck Equine Research Center, and he gained accreditation from AVMA Council on Education.
Prior to LMU, Hoffsis was the CVM dean at University of Florida for seven years where he initiated and completed construction of a new small animal hospital and developed an innovative veterinary student enrollment expansion program.
Hoffsis served for a decade as dean at Ohio State University, leading his alma mater to an eventual top-five national ranking among veterinary colleges. Prior to service as the CVM dean, Hoffsis served in several administrative positions including hospital director, head of the food animal medicine and surgery section, and associate director of the Ohio Agricultural Research and Development Center. He gained board certification by the American College of Veterinary Internal Medicine.
Among his private sector experiences, Hoffsis was associate director for veterinary services for the Iams Company, a division of Mars Inc., and served on the board of directors of Banfield Pet Hospitals, one of the nation's largest private pet hospital conglomerates, also owned by Mars Inc.
Along with his bachelor's in animal science and doctorate in veterinary medicine from Ohio State, Hoffsis also holds a master's in internal medicine from OSU and served a large animal medicine internship at Colorado State University.
Hoffsis is a past president and executive board member of the Association of American Veterinary Medical Colleges, past president of the American Association of Bovine Practitioners, a past member of the American College of Veterinary Internal Medicine qualifying examination committee, a former co-chair of the large animal program for the American Veterinary Medical Association, and a past member of the Florida Veterinary Medical Association's Board of Directors.
Another Step Forward
Arkansas State University's College of Veterinary Medicine took an important step forward with approval of the university's plans at the summer meeting of the Arkansas Higher Education Coordinating Board in July.
The board approved A-State's outline for its College of Veterinary Medicine, including the potential for 40 new faculty and staff positions dedicated to the DVM program. The state board also approved the program of study along with the individual program requirements and courses. The next step for A-State is to forward ADHE's approval on to the national accrediting agencies associated with veterinary colleges.
Shields described the board's approval as another milestone for residents of the state of Arkansas and for our significant agricultural industry.
"We appreciate the approval of the coordinating board, and we are looking ahead to becoming the university of choice for those residents who want to become veterinarians," said Shields. "Right now, everyone who dreams of becoming a vet has to leave the state. That's a hardship to them and to their families."
At the hearing, university administrators presented their proposed budgetary plan, which will seek to spread the start-up expenses over multiple years, and would be met with a combination of philanthropy and internal funds. The ongoing costs will be supported by the tuition paid by students to the program, projected to be 120 in each cohort.
"Over and over we hear about the need for more veterinarians to fill the growing need for companion pet care and the agricultural industry across our state," said Shields. "We have been fortunate to have great input from our campus and guidance from our inaugural dean, as well as other consultants to formulate a plan that is responsive to the needs of the veterinary community and economical for our future students. Above all, we want to make it possible for Arkansans in particular to stay home for their DVM and establish their practices right here in our state."
Nationwide there is a growing shortage of DVMs to fill a growing demand for services. In the state of Arkansas alone, the number of households with pets has reached almost one million. Meanwhile, a generation of companion animal care veterinarians who have served those families are reaching retirement age, and many even beyond retirement age. The more than 12,500 farms across the state have a growing need for vet services, as does Arkansas' expanding food production industry.
Provost Calvin White Jr. described the board's decision as a landmark day for A-State.
"We've had a tremendous team effort to reach this point," said White. "I know that creating our own College of Veterinary Medicine not only gives students a chance to stay home and choose A-State, it also creates great interdisciplinary opportunities among our current and future faculty to collaborate on research. A-State will be the only public university where graduate faculty, major biological research facilities, a medical school and a veterinary college can all collaborate on the same campus."
Annual tuition for Arkansas residents was proposed at $17,000 per semester, with out-of-state student cost at $27,000 per semester. The average annual cost of tuition for in-state DVM students according to the American Association of Veterinary Medical Colleges was $34,289 per academic year for residents and $55,158 for non-residents in 2022-23.
"We believe we have a great plan and are assembling a great team for our proposed college," said Shields. "Obviously, specific financial points may vary based on how the economy is going and what it cost to purchase equipment or refit facilities."
The university outlined its plans to utilize existing space on campus for classroom instruction and renovation of existing facilities on the A-State Research and Instructional Farm while it makes final evaluations for the need and design of a potential CVM building. While officials discussed the potential to issue a bond for construction, by the time plans are finalized in the near future, the need may be reduced.
"If we were breaking ground today, we might bond," said Executive Vice Chancellor for Finance and Administration Len Frey. "However, by the time architectural renderings are complete and we move forward, there may be additional sources of funding utilized that may reduce that need."
Arkansas State brings considerable additional advantages to uplift a future CVM, notably one of the state's largest graduate schools, a robust College of Sciences and Mathematics with a large pre-professional program, the College of Agriculture's research and farm spaces, the Arkansas Biosciences Institute at A-State and the on-campus partner for potential research or collaboration in the New York Institute of Technology's College of Osteopathic Medicine.
Following recent approval by AHECB, Arkansas State will proceed with submission of the approval and its plans to the American Veterinary Medical Association's Council on Education, the world's leading accrediting body for colleges of veterinary medicine. Related preparations on campus will accelerate, including facilities planning and faculty hiring, with aspirations to admit the first cohort of students in 2025. The A-State CVM will provide opportunities for students to become veterinarians, meet the projected needs of Arkansas and beyond for veterinary services, and become an economic driver for the State of Arkansas.
For more information about A-State's College of Veterinary Medicine, email VetMed@AState.edu.