Living the Sweet Life: Couple Opens Carroll's Candies in Jonesboro
Living the Sweet Life: Couple Opens Carroll's Candies in Jonesboro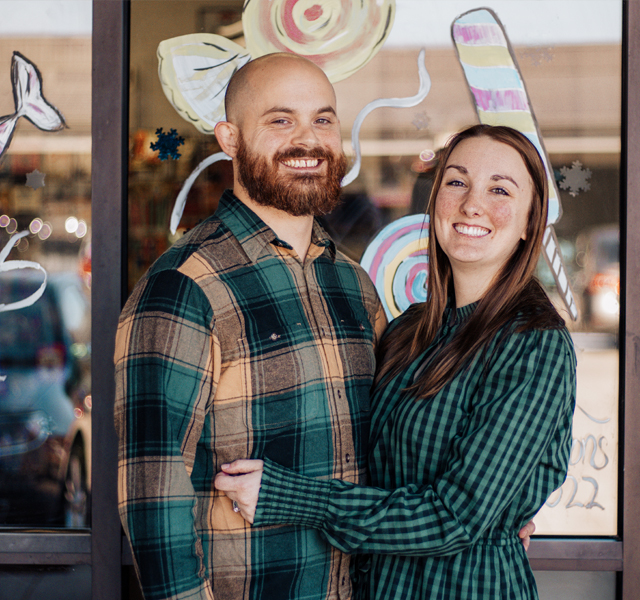 U.S. Navy veterans Allisa Carroll and Tony Hendrickson have brought the big city candy store experience to Jonesboro. Small but mighty, Carroll's Candies offers a wide variety of more than 600 unique candies—and that number doesn't even include its homemade fudge offerings.
The couple, who married in November, opened their candy store in March 2022 after deciding to combine forces and collaborate. Before opening their store, Allisa was making natural products such as deodorants, lotions and soaps, while Tony was making and selling fudge at the Jonesboro Farmer's Market and other craft shows under the name Arrow Peak.
"Tony couldn't keep the fudge on the table without someone buying it, so we put our heads together and opened up the candy shop," said Allisa. "Since we opened the store, Tony started selling more handcrafted items such as caramels, toffee, marshmallows, bon-bons and his infamous betterfingers, all enrobed in Belgian chocolate."
Tony's love for chocolate began with his grandmother.
"She would always bring lots of peanut butter and chocolate fudge around for the holidays," said Tony. "I decided to start making candy by making my own recipe for fudge. When I first started, I ruined about 12 pans before I started to really learn what I was doing wrong. I have now finished almost 400 pans and am happy I never gave up."
Each chocolate is carefully handcrafted to perfection and made with the highest quality ingredients.
"The marshmallows are made with real fruit purée inside instead of artificial flavors, I roast the pecans for the toffee myself, and I use real peanut butter in my fudge," said Tony. "The chocolate is imported from Belgium and is made with real milk and chocolate instead of the mass-produced chocolate here in the states.
"Each unique type of chocolate inside the case takes a lot of time and love to create. The caramels take over an hour and a half per batch to make before the chocolate covering process. I also make sure to use a proper chocolate tempering machine to ensure I get that nice high-quality chocolate 'snap' with each bite."
Some of Tony's best-selling chocolate offerings include "betterfingers," peanut butter, honey comb candy that is similar to a Butterfinger candy bar, sea salt caramels and peanut butter fudge.
Before they met and opened Carroll's Candies, Allisa traveled around in a van she made for about a year. She later settled in Arkansas and met Tony at a Walmart management training meeting.
Allisa's journey into the candy world started when she was young. She has fond memories of going to a candy store with her dad in New York, where she grew up.
"They handmade every item inside," said Allisa. "You could pick what ones you wanted, and I just loved the experience of being able to curate my own box and picking only my favorites to go inside."
The couple tries to emulate a similar experience in their storefront.
"You can come in and pick whatever pieces you want to put inside your box, so you can make it extra special for yourself or someone else if you are giving it as a gift," said Allisa.
Allisa and Tony strive to show their customers a personal touch.
"We treat everyone like family," said Allisa. "Being owner-operated makes us unique in that we get to build a community and get to know our customers. In our store, customer feedback will make a difference since you get to speak with the owners directly every time you visit."
As part of their desire to provide the best possible experience, the couple puts a lot of thought into the candy they sell. When they first decided to open a storefront, they knew they were going to feature Tony's chocolates, but what else?
"The nostalgic candy was our first go-to because we knew that people being able to find the stuff they used to love as kids would bring back warm, happy memories," said Allisa. "As we went on, we got lots of questions from customers, especially the younger ones, about TikTok candy. I had to create a TikTok for our store once I found out how big candy is on that platform. We found so many 'candy challenge' videos and decided to start carrying some of those items. Some of the candy I had to wait months to even get in stock."
Allisa and Tony are always open to recommendations, and they love to help customers try new candies and experience new flavors.
"We get to try lots of candies that people haven't tried yet, so we are able to help people find their new favorite candy," said Allisa. "We love getting to recommend candies to people. We spend a lot of time curating our ever-rotating selection, so there is always something exciting to try.
"We get candy imported from other countries such as Cadbury and Milka chocolate bars, Violet Crumble bars and more. We also carry a lot of nostalgic candy such as crème savers, Astro Pops, candy cigarettes and other retro candy. We carry tons of stuff for kids such as sour slime, TikTok candy, candy foam, jelly fruits, slime lickers and candy lip gloss."
Carroll's Candies has great gifts for any occasion, including gift bags made by Allisa. These gift bags have different themes such as international, the '90s, a sour assortment, candy owners' favorites, holiday bags and TikTok bags.
Each season, Carroll's Candies tries to offer something special. With the holidays quickly approaching, they are stocked and ready for Christmas. They have a large selection of unique Christmas candies that make great gifts or stocking stuffers.
In the future, the local candy store would like to expand into a larger location. They want to continue to serve their community the best way they know how and are always open to taking candy recommendations and catering to the community's wants.
Allisa and Tony say they are grateful to be part of the small business community in Jonesboro.
"Overall, the small business community and our customers have been our best assets," said Allisa. "We had overwhelming support when we opened our doors in March from our loyal customers, and we couldn't thank them enough. We have also had the pleasure of meeting with other small business owners who have shared the same struggles with us, shared some laughs and met some long-term friends. The small business community helps keep Jonesboro unique."
Carroll's Candies, located at 3800 S. Caraway Rd., Suite 26, is open Wednesday through Saturday from noon to 7 p.m. and Sunday from 1-5 p.m. For more information, follow Carroll's Candies on social media or call (518) 418-9025.