Making 25 Years of Wishes Come True
Making 25 Years of Wishes Come True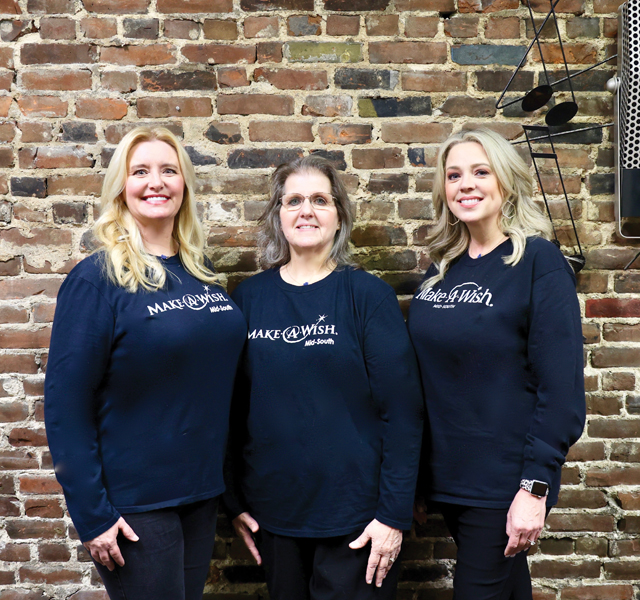 Story by Regina Bowman and Audrey Poff, Photos by Audrey Poff

With a modest goal of raising $3,500 to grant the first wish, the inaugural Make-A-Wish Wishathon took place 25 years ago this month at what was then the home of Pressly Media's Triple FM Radio Group. As organizers and volunteers prepare for the 25th anniversary of the event on Feb. 10, they have set a lofty goal of raising $500,000 to grant wishes to children with critical illnesses.

The Make-A-Wish Foundation was officially founded in 1980 after the wish of Christopher James Greicius, a 7-year-old boy battling leukemia, was granted. In 1980, his Phoenix community came together to make his wish of becoming a police officer come true, paving the way for a movement that would transform millions of lives. Today, Make-A-Wish has granted hundreds of thousands of life-changing wishes to children battling critical illnesses.
In Jonesboro, the first wish granted to a child through the Make-A-Wish Foundation took place on Feb. 14, 1999.
"A group of women from a local real estate company literally showed up at the radio station after attending a Make-A-Wish volunteer training session in Memphis and said, 'We need to raise money to grant a wish, can you help?' I said, tell me what the Make-A-Wish Foundation is."
Matthews noted that two of the ladies who walked into the radio station that day, Danna Johnson and Sharron Haggenmacher, are still an integral part of the Make-A-Wish Wishathon team. That introduction led Matthews to become a trained wish-granting volunteer, as well.
"We were among a group of women who worked for Arnold Group Real Estate at the time for Kent Arnold," said Johnson. "Kent wanted us to do something to get involved with the community. His sister-in-law was involved with Make-A-Wish in Memphis because she lived there, and so they brought in Patricia Brown to speak about Make-A-Wish and everybody just fell in love with it.
"She just convinced us that Make-A-Wish was what we needed to do, and soon after, we were assigned our first wish child. We had to raise money for this first wish that we were going to grant on Valentine's Day 1999, so we were trying to figure out how we could come up with the money."
The group of volunteers set up a meeting with the Pressly family, who owned the Triple FM Radio Group (now Jonesboro Radio Group) at the time and came up with the idea for a radiothon.
"We thought people could call to request a song for their sweetheart on Valentine's Day by making a donation," said Johnson. "We were trying to raise $3,500 for what was at the time considered a comfort wish. A comfort wish was something that would make a child's life more comfortable. We were raising money for a special type of bed because she was almost in a vegetative state and could not have the typical wish experience."
The group surpassed its goal of $3,500 the first year solely based on calls coming into the radio station that resulted in more than $21,764 in donations, which was enough to grant almost seven wishes.
"Our goal is to raise enough money during this one-day event to grant a wish to every eligible child," said Matthews. "A wish forever transforms the lives of children, their families and entire communities. We've seen it right here in Northeast Arkansas. When our first Have-A-Heart Wish-A-Thon began in 1999, we started out with just an in-studio event with a handful of volunteers and our radio station staff."
After adding the first roadblock at the intersection of Caraway and Nettleton the following year, the wishathon raised more than triple that amount with $63,350 in donations.
Today, Johnson and Haggenmacher estimate that nearly 90 percent of the funds raised each year are collected through some 18 roadblocks set up across Northeast Arkansas and donations from the Kids for Wish Kids.
Organizers say the success of the Make-A-Wish Have-A-Heart Wishathon would not be possible without the dedication of volunteers in 15 different communities who have a heart for wish kids, as well as friends of those families who want to pay it forward.
"It's truly amazing the dedication that these volunteers put in to make this event so successful," said Matthews.
Every wish begins with a referral. To be eligible, children must be between the ages of 3-17 years old; diagnosed with a progressive, degenerative or malignant condition that is life-threatening; and have not yet received a wish from a similar organization.
The Make-A-Wish Wish-A-Thon is the main fundraiser for granting wishes in Northeast Arkansas.
Even though most children choose a trip like Disney World as a Make-A-Wish destination, Make-A-Wish does much more than just trips, all of which is orchestrated by Make-A-Wish staff members. Once a child is deemed eligible for a wish, volunteers meet with them and their families to learn more about them and ultimately uncover what their one true wish is.
"A wish experience can be a game-changer for a child with a critical illness," said Matthews.
"This one belief guides us in everything we do at Make-A-Wish. It inspires us to grant life-changing wishes for children going through so much. It compels us to be creative in exceeding the expectations of every wish kid. It drives us to make our donated resources go as far as possible.
"Most of all, it's the founding principle of our vision to grant the wish of every eligible child. This is our mission: Together, we create life-changing wishes for children with critical illnesses."
Both Johnson and Haggenmacher say the experience for volunteers is also life changing – both through the friendships that are made and through the process of granting wishes to children with critical illnesses.
"The smiles on their faces, seeing what they've been through and seeing them light up when they get their wish – it's indescribable really," said Haggenmacher.
"I truly believe the growth of our event was sparked due to the fact that the money we raise is used to grant wishes right here in our community," said Matthews. "If the family authorizes publicity, we share those photos and stories and invite media to cover the wish to share with those beloved donors that, 'You made this happen with your donation.' We then ask those wish kids and their families to be a part of our event and share their wish experience in hopes that it will inspire others to give so that more kids can be granted a wish."
Plans to celebrate the 25th anniversary of the Make-A-Wish Have-A-Heart Wishathon are under way. Following the grand total reveal on Feb. 10 at Embassy Suites, a celebration concert will be held featuring The ShotGunBillys and The Band TRIPPP.
For more information on the Make-A-Wish Foundation, visit wish.org. For updates on the 25th annual Have-A-Heart Wishathon or to purchase tickets to the concert, visit jonesbororadiogroup.com.