Making it Work with Project Search
Making it Work with Project Search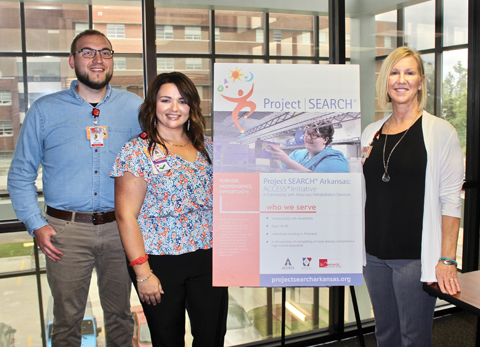 The Jonesboro division of Project SEARCH, an international job training program for young adults with intellectual disabilities, is celebrating five years of helping its interns learn the skills and independence necessary to be successful in the workforce.
Locally, Project SEARCH has partnered with St. Bernards, ACCESS and Arkansas Rehabilitation Services. Erin Leach, job development manager, says that the program's partners all collaborate closely to ensure Project SEARCH's success in Jonesboro.
"ACCESS is our educational resource provider," said Leach. "They provide the community resources that help us to go out and educate the community about our program. They also provide training for our staff and hire the staff at each one of our sites. Arkansas Rehabilitation Services are a big partner in that they provide funding. They also help with recruitment and decide the eligibility requirements for individuals that can be in this program. They help us steer our program in how it needs to go.
"St. Bernards is our host site; they're our business partner. They provide the training space and internship opportunities for our interns. They also help us with recruiting, hiring and educating individuals. Each partner does a specific thing, but we all come together to make it happen in the communities we're in. We've really enjoyed Jonesboro, and they've really embraced our program. We've had success every year."