Making Summer Sweeter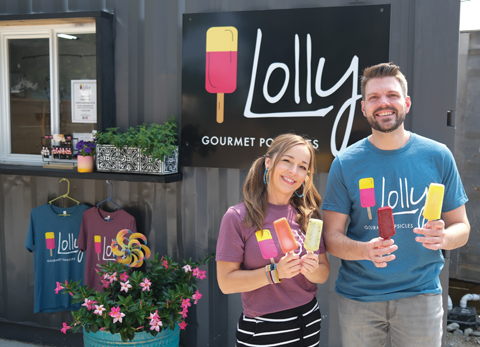 Those who frequent Porch Thirty know that it is an experience filled with good food and fun outdoor activities, all in a family- and dog-friendly environment. Last month, Russ and Meridith Pierce contributed to that thriving atmosphere with the addition of Lolly Gourmet Popsicles, a trendy popsicle shop that offers sweet frozen treats at the Downtown Jonesboro venue.
Meridith, the marketing director for The Foundation of Arts, says she and her husband have always dreamed of opening their own business. She and her family have been regulars at Porch Thirty since it opened, and it wasn't long before she approached Huntington Square owners Mat Clark and Heather Walker-Clark about the empty shipping containers that were located on the edges of Porch Thirty's outdoor courtyard.
"I love to bake, but we have lots of bakeries here already; I wanted new and fun and something Jonesboro didn't already have, and that's where the popsicles came in," said Meridith. "We had encountered trendy popsicle places while traveling, and we thought, 'Well, how cool. Jonesboro needs something like that.'
"Porch Thirty is a perfect setting; it's ideal for that. Mat and Heather had wanted a dessert place, so it was a great fit. We were not professional popsicle makers before this, so we really had to do our research and learn a lot. … We got in a lot of research and support ahead of time, so we felt like we were ready to take that risk. Downtown is the ideal place for me, because I'm down here already every day, and it holds a special meaning to me as a way to bring the community together."
"I enjoy seeing the positive reactions from people," added Russ, who also works full time as a pharmacist. "I like it when people tell us that they enjoy the experience – not just the flavor of the popsicles, but the whole experience of coming to Porch Thirty."
The Pierces invested in a machine that flash freezes the popsicles, allowing them to produce the gourmet sweet treats more quickly. All the popsicles are made with very few ingredients – fresh fruit, cream and sugar. Each batch is blended, put into molds, flash frozen in just 20 minutes then wrapped to sell individually. Lolly also offers pupsicles for man's best friend, which are made from unsalted beef broth.
"We have a base menu that we have every week, but we also have fun weekly flavors that are first come, first served that are a bit more unique," said Meridith. "Everything is made from scratch; we make them fresh every day. We have cream-based flavors and fruit-based flavors, which are dairy free. We are also working on a sugar-free option. We are making them daily to keep up with the demand that is there already."
She says that a surprising favorite is Kiwi Nana, a flavor that people try once and then come back for again and again. Another popular popsicle is the Strawberries and Cream, which features fresh strawberries on the outside and is filled with cream in the middle.
"Some of our customers find a favorite and stick with it, and some want to try a new flavor each time they come," said Meridith. "That's my favorite, to see the people who have been here every day since we opened."
The Pierces have big plans for the future of the gourmet popsicle shop. Meridith says they would would love to eventually have a mobile unit, like a popsicle cart they could take to events, festivals or fairs and travel with for catering.
In the upcoming fall and winter months, the Lolly owners also plan to expand their offerings to include seasonal activities that fit in with the Porch Thirty environment.
"We hope to transition into seasonal offerings, specifically for holiday theme flavors, like pumpkin spice for fall and Christmas flavors," said Meridith. "We are also going to be adding things like hot cocoa and campfire kits in the fall that will be ready to go for different sizes of families to go with the bonfires that are set up in the Porch Thirty's outdoor Garden and Games area."
In an effort to support local artists, which has been a trademark of the Porch Thirty environment since its start, the Pierces will also feature a monthly artisan, such as last month's jewelry maker, Younge and Peachy.
"I see owning a small business as an opportunity to support others in the community, which is why I hope to feature various local artists/artisans and draw attention to or give back to local nonprofits," said Meridith.
Lolly, located inside Porth Thirty in Huntington Square in Downtown Jonesboro, is open seven days a week from 11 a.m. to 9 p.m. For more information, call (870) 819-8496 or find Lolly on Facebook.