Mississippi River Memories
Mississippi River Memories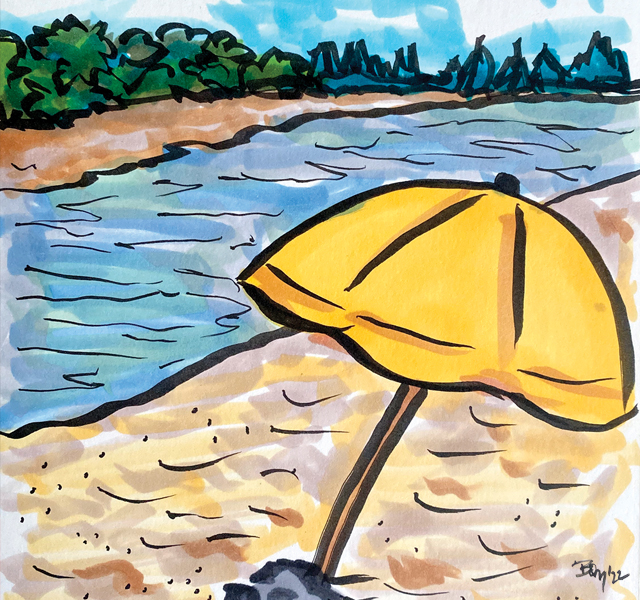 I'm not sure what it is about fall, but as soon as the leaves start to turn and cotton is ready for harvest, I'm ready to drive out to the Mississippi River.
Recently, Rodney and I drove over to Blytheville on a Saturday afternoon to get my river fix and to see how low the Mississippi had gotten at Barfield Landing. Both of us grew up in Blytheville and have memories of trips out to the river with family and friends over the years.
Unlike Crowley's Ridge, we grew up in the flat land of the Mississippi Delta. I often tell people that if you found yourself on a hill in Mississippi County, you were either on an Indian mound or a levee.
When I was a child, my parents would sometimes gather a few large cardboard boxes (refrigerator boxes were the best if you could find them), put them in the station wagon and take a group of us to the river so we would slide down the levee. It was generally in the fall when the weather was cooler and the river wasn't flooded. It doesn't sound like much, but it entertained us for hours.
As a teenager, it was common to drive out to the river on the weekends if we were bored with cruising Blytheville's 10th Street circuit. There were nearly always friends parked at the turnaround point and a nearby bonfire would blow smoke in your face throughout the night. For teenagers and young adults, it was a common place to hang out, smoke, drink and listen to loud music.
None of our parents really approved of us being at the river for the obvious reasons stated above, but also because the road between Blytheville and Barfield had some twists and turns where fatal accidents had occurred. As a mom who raised three kids, I get it, but for the most part, we stayed out of trouble.
Just north of Barfield, closer to where my dad grew up in the 40 & 8 community, there was a place we would go called Sandy Beach. For a bunch of Blytheville kids, it was somewhat magical. It was a little more difficult to get to because you were trespassing on private property, but farm boys always knew where it was and had a four-wheel drive to get you there. You could walk in the sand alongside the Mississippi River on a warm day and pretend you were hundreds of miles away on the coast somewhere.
When Rodney and I drove out to Barfield Landing in late October, it was as if Sandy Beach had taken over. Strangled by months of drought, the Mississippi was still at record lows, and what would typically be covered by the muddy waters of the Mississippi was instead covered with miles and miles of sandy strips that flanked a shrunken version of The Mighty Mississippi.
We searched through the exposed rocks and along the riverbank for treasure. Rodney found a partially submerged car and skipped rocks. I found a fossil and a piece of slate uniquely shaped like A-State's Red Wolf. I sat on the newest strip of Sandy Beach letting the coarse sand flow through my hands in a very surreal moment while looking across the river at Tennessee.
I took photos and sent them to old friends and posted a video on social media for the ones who live further away. In the moment, it was the best I could offer, but what I wouldn't have given to have them all show up with a cooler, plant a beach umbrella and host a reunion we would never forget.