Revamping The Recovery Room
Revamping The Recovery Room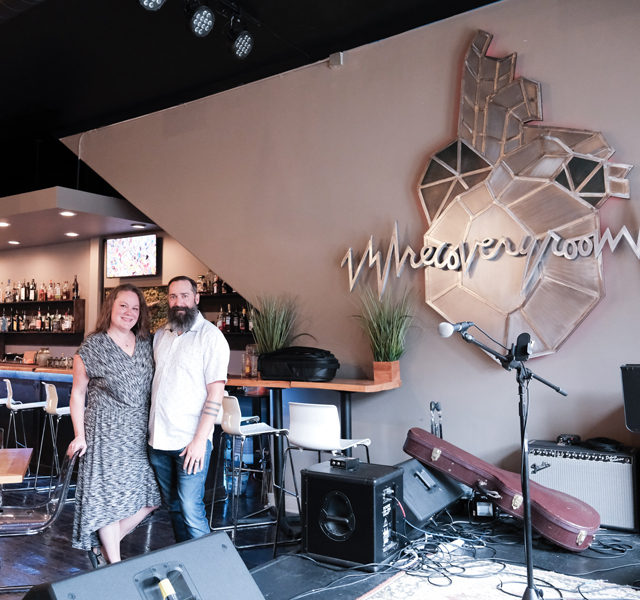 By Audrey Hanes, Photography by Melissa Donner
Just more than a year after taking over The Recovery Room, a Downtown Jonesboro eatery, longtime restauranteurs and Downtown Jonesboro supporters Brian and Sarah Nobles have breathed new life and a new menu into the popular coffee bar and breakfast favorite.
"During the pandemic, I was offered a job at The Recovery Room by the former owners," said Brian. "After a period of time, it was suggested that Sarah and I manage the place. Two years later and the offer of ownership made too much sense to pass up. We quickly made plans. Sept. 1, 2022, was our official takeover date, making it one year this September."
Brian and Sarah, who have years of experience cooking and managing locally owned restaurants like The Edge Coffee House and Eatery and Porch Thirty, wanted to take the established restaurant and elevate the menu and atmosphere.
"We knew that the coffee shop/breakfast niche was going to stay the same," said Brian. "However, we wanted to breathe some new life into it. After an interior makeover, the building of the bar and change in style of service with a revised menu in effect, the atmosphere became better along with it.
"We aim for a classy, comfy atmosphere with a funky vibe that is contemporary and creative. Local art and a hip playlist keep eyes moving and feet tapping. People often request our Spotify playlist. Cleanliness and character are must haves in our restaurant."
As the chef, Sarah designed the menu items and recipes, and she organizes service and events, as well. Brian does the bookkeeping, staff management and the occasional bartending shift.
"Our staff has been the legs that keep us standing," said Brian. "Our dedication to friendly service in a warm and welcoming environment is exemplified by our wonderful employees."
Sarah has put the creative Southern twist she is known for on The Recovery Room's menu, delivering staples full of flavor that leave diners coming back for more.
"Cooking has always been a creative outlet since childhood," said Sarah. "Family is where it all started and continues to drive the want to put a twist on southern comfort staples. I like to take food you know and love and elevate it."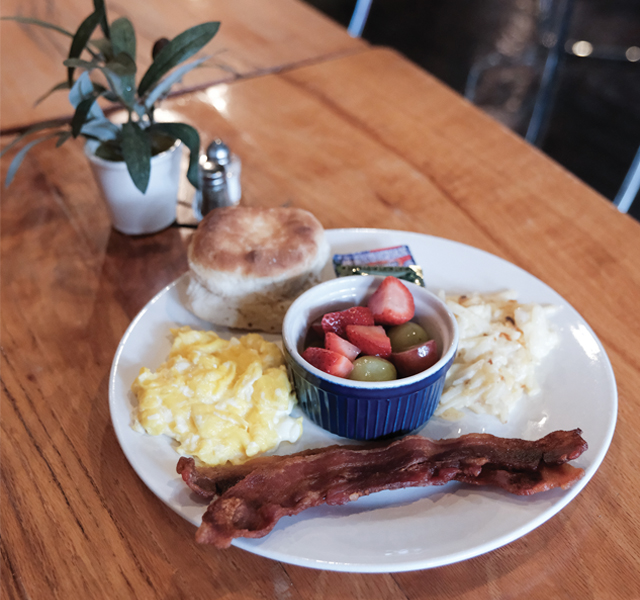 The brunch menu and lunch menus are both available any time The Recovery Room is open. Brunch items include Bagel & Lox, Smoked Salmon Scrambler, Avocado Toast and the Biscuit Benny. Other popular items are the Brunch Bowl, a mix of hash brown casserole, biscuits and gravy and two over-easy eggs, with a choice to add bacon, sausage or ham, and The Recovery Plate, a combination of two made-to-order eggs, hash brown casserole, fruit and a choice of bacon or sausage.
"It's a neck and neck race between Brunch Bowl, which is all the breakfast items mixed, and the Recovery Plate, which is all the breakfast items separated," said Sarah of diners' favorites. "It's hard to go wrong either way. … All day breakfast is our star player, but we also offer flavorful specialty lattes and cocktails that rival any game in town. Oh, and our grab-n-go spicy crackers w/ hummus or pimento cheese is a fan favorite."
When it comes to lunch, The Recovery Rooms offers sandwiches, wraps, bowls, salads and soup. The Ham & Cheese Croissant, Chicken Salad Croissant, Veggie Melt, Roasted Chicken Power Bowl, Rec Room Salad and Italian Salad are all delicious, but Sarah says the most popular lunch items are the Turkey Pesto, a sandwich of turkey, pesto mayo, provolone, tomato, bacon and spring mix on toasted sourdough, and the chicken and dumpling soup.
The evening menu is up to the chef's discretion and what ingredients are seasonal and available. Thursday through Saturday, Sarah serves up elevated Southern comfort food such as pork tenderloin and mashed potatoes with a maple bourbon glaze, curry shrimp bowls, salmon and grits with creole meuniere sauce, Korean barbecue meatloaf and more.
To accompany the evening menu, the couple has introduced student-friendly specials and evening entertainment, making The Recovery Room a go-to downtown destination for Arkansas State University students and for those who live in the area.
"We have Double Punch Wednesdays and Open Mic every Thursday evening, which has become a magical time," said Brian. "We always offer 10% off for A-State students and Downtowners. In addition to full menu, we offer a limited menu of featured items each Friday and Saturday evening based on availability of seasonal ingredients and what the chef desires. …
The restaurant's bar has also been enhanced since the couple took ownership, offering patrons a cozy atmosphere to meet for a casual drink. Coffee cocktails, such as The Duende, consisting of vanilla brandy, Grand Mariner, Kahlua and in-house cold brew, and signature cocktails like the Lavender Lady, made of butterfly pea flower gin, Cointreau, egg whites and lemon juice, along with a selection of craft espressos are on the menu.
"We are working on rebranding and updating some equipment when we can. Of course, we will continue to be creative with our craft food and beverage program."
Brian and Sarah have truly invested in Downtown Jonesboro. They have lived and worked in the growing area for years, and, in turn, they've felt the support of the downtown community with their new endeavor.
"We have always had a large support system in our downtown family and continue to make new friends and patrons daily," said Brian. "Once they get in the door, they're hooked. New clients are always coming in, which lets us know that despite our limited marketing and advertisement, word of mouth is still strong. The friendly service and quality of food keeps them coming back for more."
The Recovery Room, located at 2223 S. Main St. in Downtown Jonesboro, is open Tuesday and Wednesday from 7:30 a.m. to 2 p.m., Thursday and Friday from 7:30 a.m. to 2 p.m. and 5-10 p.m., Saturday from 9 a.m. to 2 p.m. and 5-10 p.m. and Sunday from 9 a.m. to 2 p.m. For more information, find The Recovery Room on Facebook or call (870) 520-6006.