Saving Lives with PulsePoint AED
Saving Lives with PulsePoint AED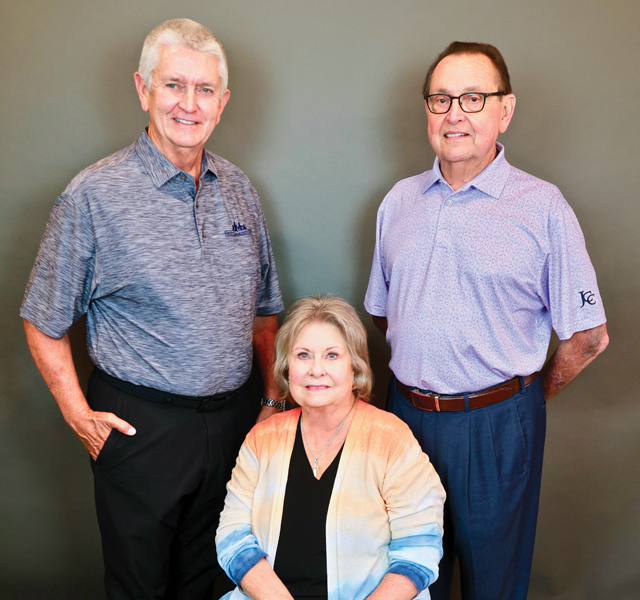 By Audrey Hanes, Photography by Audrey Poff
In recent years, the Community Health Education Foundation, a local nonprofit dedicated to providing health education and chronic disease prevention programs, has focused on automatic external defibrillator placement throughout the community. Now that it has placed 100 AEDs in area community facilities, churches, parks, nonprofit businesses and schools, CHEF's newest addition to enhance the AED placement program is promoting and funding PulsePoint AED, a simple tool that allows users to record and share AED location information with the goal of saving even more lives in Jonesboro and the surrounding area.
Community Health Education Foundation (CHEF) Executive Director Emily Lard says that since the nonprofit organization began its AED placement effort, more than 100 devices have been placed throughout the community. With the introduction of PulsePoint, Lard hopes that those devices will be utilized even more when needed.
"With PulsePoint AED, we hope to create greater awareness throughout our community around the important role AEDs play in out-of-hospital cardiac arrest survival," said Lard. "… Having an accurate AED registry within our community can greatly improve the odds that a nearby device will be accessible during a cardiac arrest event and can be used to help save a life."
Local CHEF volunteers Harold Perrin, David Daniel and Linda Wofford are co-chairing the nonprofit's 2023 AED Placement Campaign to raise funds and spread the word about the registry and to place more AEDs in the community.
Wofford, the owner of Everyday Chef, learned of the program last year when her business became involved with the local effort.
"We have heard the positive impacts that the AEDs make in a person's life at the most critical time," said Wofford. "PulsePoint is an app that uses your location to identify where the nearest AED is located, along with people who are trained to use the AED. The amazing part is that in town we might not have the opportunity to make it to a hospital or clinic, but we might be just down the road from the AED that can be used to save a life and also offer help to call for transport for you.
"PulsePoint is new to me, and I am excited to learn more about it and see it work for people. Just thinking about driving in our area and being able to look up the nearest AED and trained personnel who can give you those precious moments to save your life is such an awesome concept. I hope there are more AEDs placed and more join the PulsePoint network so they are identified on the app."
The co-chairs say the PulsePoint app can also be connected to 911, allowing responders to be sent out more quickly and efficiently.
"The funds this year will go to purchase some new AEDs for placement, as well as to PulsePoint for its support," said Wofford. "The software is not inexpensive, so we will continue to use funds to support that, as well."
Perrin, who has been a CHEF volunteer, supporter and event participant for many years, says that after living in, raising a family, working in the banking profession and serving as mayor for 12 years in the Jonesboro community, he believes one of its most important and worthwhile programs is CHEF's AED Placement Program.
"This group has quietly done so much for our community," said Perrin. "They are one organization that rolls up (its) sleeves and focuses on the mission of making the community healthier and not necessarily the limelight. … When I was mayor, I worked with this group to get several public places such as our parks, cemeteries and sidewalks smoke free. I was always very supportive of the AED Placement Program and intrigued by the lifesaving results. Three years ago, Emily came to me and told me the program could be better, but as with everything, it needed more focus, publicity and money to make it better."
Perrin says that PulsePoint greatly increases the community's access to AEDs in case they are with someone or by someone having sudden cardiac arrest.
"Every person in Craighead County needs to download the free PulsePoint AED app on their phone," he said. "If a person comes in contact with a person having a sudden cardiac arrest, they first call 911 and then push the app to see if there is an AED in the vicinity.
"This campaign will help the AED Placement Program in several ways; continue purchasing and placing AEDs, funding the PulsePoint education and awareness program so our community will know we have it and how to use it and begin to develop and implement the second phase of PulsePoint, which is PulsePoint Respond."
Daniel, who serves as assistant vice president for business development for First Community Bank, previously spent 43 years in education as a teacher/coach and athletic director.
"As the former athletic director of Jonesboro Public Schools, every coach was trained every two years in AED/CPR training," said Daniel. "The Arkansas Activities Association has recognized the importance of sports medicine training for the student athletes, but we all need to have knowledge of CPR and how to use an AED. We ask that everyone step up and help us save lives.
"The need for PulsePoint is the ability to locate an AED in the shortest amount of time possible. Minutes, even seconds can save a life. The people of Jonesboro will support this effort if the story and the effort to raise money gets in enough hands."
Daniel says the goal of the campaign is to raise $50,000 in a short amount of time, funding 20 more AEDs and the implementation of the PulsePoint program.
"I'm honored to be asked to participate as a co-chair along with Coach D and Harold Perrin," said Wofford. "We are putting together great team captains, and they are getting their teams together for this event. I encourage every business to support this fundraiser, and I encourage every nonprofit, school and church to apply for an AED if you do not have one so that you will be prepared when the critical need arises."
"There is no other way to say it, but an AED can be, has been and will continue to be the difference between life and death," added Perrin. "When we gave out our 100th AED, we had the director of a nonprofit service agency speak (in which) we have placed AEDs, and in that facility the AED has been used four times. That's four lives. We gave an AED out that day that saved a life the next week; 100 AEDs means we have more than 100 opportunities to save a life if needed."
"We are very thankful for Harold, David and Linda spearheading the AED Placement Campaign this year and the team they have put together," said Lard. Team members include Christy Valentine, Hytrol; Dr. Shane Smith, Shane Smith Family Dental Care; Zach Owens, Unico Bank; Joe Verser, Centennial Bank; Sonya Sanders, Engines, Inc.; Gary Childers, Farmers & Merchants Bank; Audrey Poff, Occasions Publishing Group; Lindsey Wingo and Jennifer Swymn.
For more information about CHEF or the PulsePoint AED program, or to apply for an AED, visit chefjonesboro.org. To add the free PulsePoint app to a phone or iPad, find PulsePoint AED in the app store. To add AEDs that exist in local facilities in the community to the global registry, which is vetted and maintained by CHEF, visit aed.new.
Donations can be made by contacting any team member, in person at The Everyday Chef, 2325 Red Wolf Blvd., or online at chefjonesboro.org.