Serving Those Who Served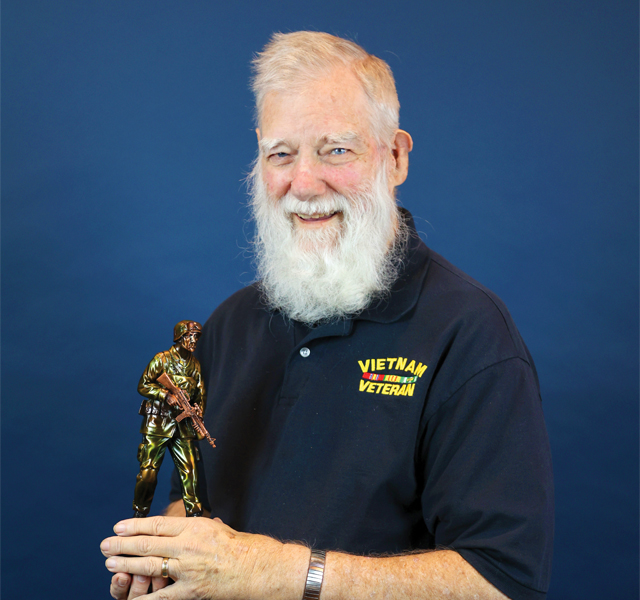 Story by Audrey Hanes, Photography by Audrey Poff and submitted by Richard Carvell
Following a life of military and community service, Jonesboro's Richard Carvell is still giving back, now as an active member and officer of the Disabled American Veterans Chapter 26, an organization dedicated to supporting and honoring those who served in the United States military.
Carvell is a Vietnam veteran, serving in the U.S. Air Force from 1967-1971. He served as part of the 12th Reconnaissance Intelligence Technical Squadron at Tan Sn Nhut Air Force Base in Saigon serving as Officer in Charge (OIC) of the squadron's photo lab and as a civil action officer working with the Sanctuary de Phu My orphanage in Saigon.
A 1966 graduate of then-Arkansas State College, Carvell's career at Arkansas State began in 1971 as KASU news director. He continued his service as chair of the Department of Radio-Television from 1988-2007 and as a faculty member from 1972 until his retirement in 2008. He is a member of the American Legion and Disabled American Veterans, Craighead Community Veterans Monument Foundation (CCVMF), Cornerstone United Methodist Church and the United Cerebral Palsy Board. He and his wife, Sue, have five sons: Richard Carvell Jr. of Bentonville, Dean Collins, who resides in Greene County, David Carvell of Yuma, Ariz., and Jonathan and James Carvell, both of Jonesboro.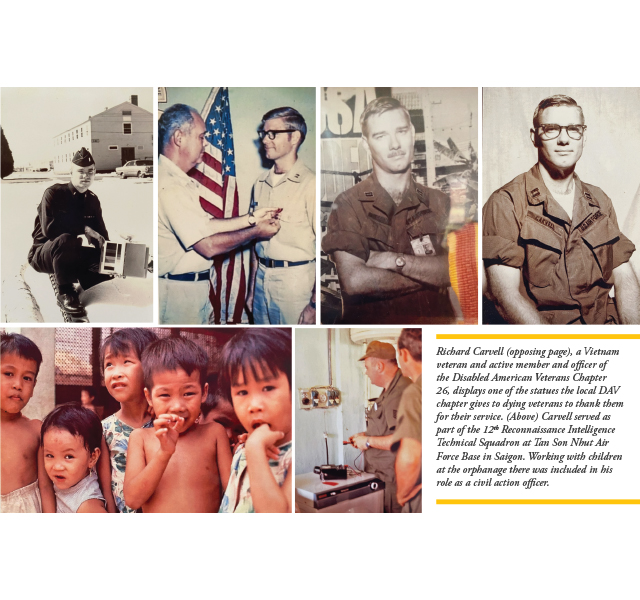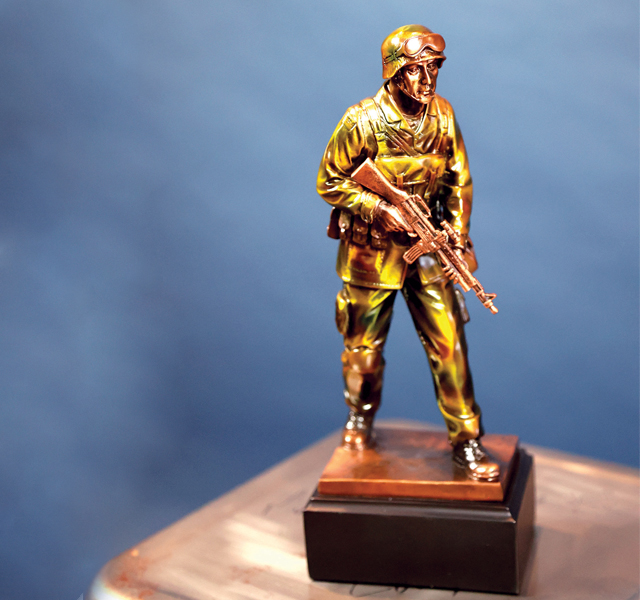 The Disabled American Veterans (DAV) organization is a national organization, with more than 400 active members in Jonesboro's Chapter 26 branch. The group has grown over the years and has become known for its statue program, in which a statue is given to dying veterans to thank them for their service.
When the chapter first started its statue program, Carvell said he recognized it as an important give-back to the community and got involved. They started awarding the statue to veterans in Jonesboro's hospice house but have since grown to include all of Northeast Arkansas.
"I was not the originator of this DAV program but became intimately involved when it was started," said Carvell. "Now, I am the contact guy for the Phil and Flo Jones Hospice House and Elite Home Hospice whenever they identify a veteran who would like to have a statue. I am the contact guy who deals with Mr. Trophy, the organization which engraves the statue with the veteran's name and branch of service. I prepare the letter and coordinate the presentation ceremony. … It is our chapter's way of recognizing the service of veterans all over our part of the state."
As soon as DAV Chapter 26 members are made aware of a dying veteran, they work to prepare a statue and ceremony to honor the serviceman or woman.
"When we are notified of a dying veteran, we have a statue engraved with the veteran's name and branch of military service. We prepare and frame a letter," said Carvell. "… We have been doing this for more than 10 years We conduct a brief ceremony with the veteran and the veteran's family. One DAV member presents the statue after I read a letter to the veteran. The letter is framed so the family can have a keepsake."
The ceremony and act of appreciation make an impact on those who both receive and give the award.
"The first ceremony several years ago was to Mr. Albert Rusher, a banker from my hometown, Brinkley," said Carvell. "His son was a physician in Jonesboro, and Mr. Rusher relocated to Jonesboro for his final years. I showed up at the Hospice House for the ceremony, not knowing who the veteran was. We gathered before entering the veteran's room, and I was asked to read the letter. I scanned it to make sure I could read it properly, and there was his name. His wife was in the room when we arrived, and I introduced myself to her. She spoke as if she remembered me. Mr. Rusher and my father, also a banker, were friends.
The ceremony is impactful, and often represents a first for veterans.
"… For most of the presentations we make, it is the first time anyone has said 'Thank you for your service' since they left the military," said Carvell.
Although the Disabled American Veterans program is nationwide, the statue program is unique to Jonesboro's chapter.
"A few years ago, chapter members attending the national DAV convention presented a program on the Chapter 26 Statue Program and learned that no other DAV chapter in the U.S. was doing anything similar to our statue program," he said.
For more information about Jonesboro's DAV Statue Program, email Carvell at rcarvellsr@yahoo.com. To support the statue program, please mail donations to DAV Chapter 26, PO Box 195, Jonesboro, AR 72403. Donations are tax deductible.