Simply Stylish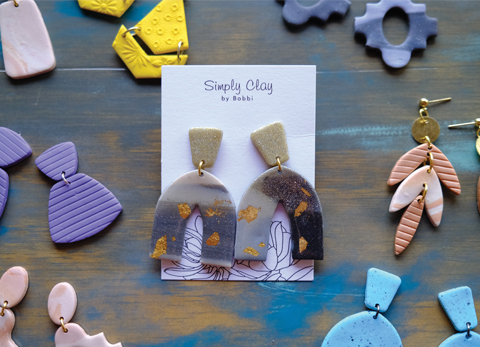 What started out as a creative outlet quickly turned into a small business when busy speech-language pathologist and mom of two Bobbi Hydrick's clay earring designs became popular several months ago. Now, Simply Clay by Bobbi is garnering a reputation for quality wearable, artistic earrings of all shapes and sizes and for any season or occasion.
Hydrick says that her jewelry business came about because of the pandemic. Due to daycare closures and quarantines, she was not able to do speech therapy full time, which left her looking for a new hobby.
"I desperately needed a creative outlet to help fill some spare time," said Hydrick. "I woke up one morning and told my husband that I wanted to make jewelry, so I went to the store and bought items to start. I quickly found out that not all materials are the same, but it was a great starting point to master the skill."
The jewelry artist is entirely self-taught. After deciding on her new pastime, Hydrick learned how to craft earrings by watching YouTube videos and following other jewelry makers on social media.
"I have always enjoyed art and love to paint landscapes; however, painting is very difficult with two children at home," she said. "Earring making is a lot less messy. … I quickly realized how much I loved making earrings and had interest from others in purchasing them; therefore, I started a business."
Hydrick began in September 2020 by posting items on Facebook for her friends to see, and as the demand and popularity increased, she decided to start a website and a Facebook group. It has grown from there, and 400 orders later, she now ships earrings all over Arkansas and the surrounding states.
For the earring-making process itself, Hydrick uses polymer clay that hardens to a semi-flexible, lightweight solid by the end of the process when cured properly.
"I usually begin by mixing the colors I want," said Hydrick. "Once I get my colors, I begin my slab for the earrings. The thing I love about slabs is that no two earrings are exactly the same. Once my slab is complete, I begin to cut out earrings. Then, it's time to bake the pieces, drill holes, sand and assemble the pieces together.