Super Bowl Bash 2023: Raising Funds for Families Affected by Autism
Super Bowl Bash 2023: Raising Funds for Families Affected by Autism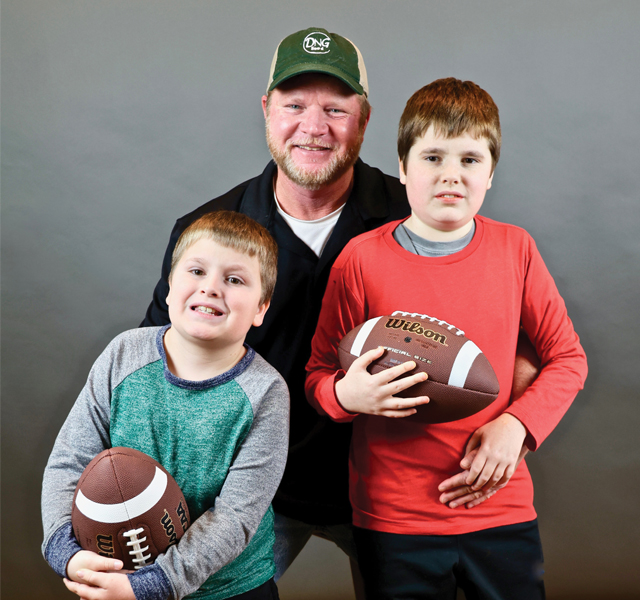 By Audrey Hanes, Photography by Audrey Poff
Ag for Autism was originally started by leaders at Armor Seed, Cache River Valley Seed LLC and Farm Credit Midsouth to help make autism therapies more accessible to all families that need access to care.
One of Ag for Autism's founders, Danny Graham, points out that in many cases, autism therapies are not covered by insurance or Medicaid even though they are critical to help a child function at their highest ability. Research shows that many families, especially in rural areas, struggle to find and afford those life-changing therapies, so Ag for Autism has made it its mission to ease that financial burden and help those families and their schools access the services and tools they need.
"I think what really got everyone's attention was the fact that an employee of Armor Seed who lived in Marianna was having to bring his son all the way to Jonesboro to receive the therapy that he was needing," said Graham. "It was a natural fit because the agricultural industry is so entrenched in rural Arkansas and is always looking to help people."
Graham, and his wife, Nicole, have two sons, both of whom are autistic. It is because of them that Graham is devoted to helping local children and families affected by autism by bringing together local agriculture-related businesses and other local companies to collect donations and hold fundraisers, the proceeds of which are channeled to area autism education and therapy programs.
"I have two sons with autism," said Graham of Maddux, 15, and Carter, 11. "We are fortunate that their school district, Greene County Tech, has a program for them and goes above and beyond to help them, but not all schools are so fortunate. That's why we like working with school districts – we can't donate to anything for profit. With school districts, we are able to impact a lot of kids.
"We do a lot of individual donations, as well. We can do a lot of good therapy-wise with putting devices with specialized apps in the hands of children with autism and their therapists; a $500 iPad can really help them. Technology has really helped the special needs and autism community and how they respond to the different therapies, and we can help them have access to that technology with grants from Ag for Autism."
Graham says that it's not uncommon for siblings to be autistic, such as his own sons, and that the neurological disorder is more prevalent in boys.
"The key now is the early diagnosis and intervention and using therapies when they're younger," said Graham, whose oldest son is more severe on the spectrum. "That's what so unique about autism – there is no set protocol in working with these kids. Each child with autism is unique, and what works for them is unique."
Graham currently serves as Ag for Autism's president, and he is backed by a passionate group of volunteers including vice president and treasurer Daniel Pieroni from Farm Credit Midsouth; secretary Lauryn Tacker, the owner of Humble Designs & Gifts and a parent mentor at The Center for Exceptional Families; and board members Marty Eaton from Cache Valley River Seed; Sterling Clifton, owner of Clifton Agronomics; Miranda Smith from Cache Valley River Seed; Zach Owens from Unico Bank; and Matthew Harvey from Integra.
Former president and founder Nathan Waldrip from Armor Seed is still on the board, as well; Graham credits him with laying the groundwork for and establishing the foundation as a nonprofit.
"Nathan ran Armor Seed whenever we first started," said Graham. "He didn't have any direct association with autism, he just saw an opportunity to be a steward of his community. … Many of our volunteers are personally affected by autism, but so many don't even necessarily have a dog in the fight, they just see how much good we are doing.
"We have the agriculture community covered, but we would like to tap into the industry in Jonesboro; if we can get them involved, I think we can see this really blow up. We have granted nearly $1 million since we began, and we are just getting started."
In addition to using funding to make a difference, Graham and his fellow volunteers want Ag for Autism to become a resource for others in the autism community.
"We want to make Ag for Autism a household name to where if you hear of someone with a diagnosis, you know to send them our way," said Graham. "… Where we come into play is not only monetarily, but we can help create a network for parents. When it comes to raising autistic children, it takes a village.
"Whether you're donating money to Ag for Autism, attending the event or donating your time, every little bit helps; we do anything and everything we can for those parents when they get that diagnosis."
One person who can personally attest to the difference Ag for Autism is making is Susan Boling, a board-certified behavior analyst who is currently an independent consultant at the Lighthouse Homeschool Cooperative.
"Ag for Autism is serving our immediate community by granting money to facilities who serve people with autism," said Boling, who retired from teaching after 28 years in early childhood special education and K-12 special education. "I have personally seen grant money being used and have in the past been a grant recipient. Tasks boxes were purchased for the special education classrooms to help teach attending skills, fine motor skills and daily functional living skills. The facility I currently work in has received grant money to provide staffing to serve children with autism, as well as sensory playgrounds for three of the locations. Without grant money from Ag for Autism, none of the purchases would be possible. I can't praise this organization enough."
Shelby Knight, the executive director of The Center for Exceptional Families Inc., is similarly thankful for all that the nonprofit organization does to truly better the lives of those with autism and their families.
"Our program loves working with the Ag for Autism folks and deeply appreciates the grants they have awarded us over the past 10 years," said Knight. "Ag for Autism has always impacted The Center for Exceptional Families and its role as the state's parent center. As a federal program, we must follow a strict budgetary guideline and work within those parameters in our service delivery. Ag for Autism grant money allows us to offer more to the community, providing social events such as Sensory Cinema, funding a part-time position to serve the local community and helping with distribution of our popular Record Keeping notebooks for families to store their special education material. Our relationship with our friends at Ag for Autism helps The Center for Exceptional Families be more for our community, helping us to enrich the lives of families living with autism."
Graham says that Super Bowl Bash 2023, which will take place on Feb. 12 at Harmony Gardens at 3:30 p.m., is just as much about spreading awareness about Ag for Autism as a community resource as it is fundraising for the nonprofit's grant requests.
The event began as a March Madness-themed event 12 years ago and has grown steadily since. When a longtime local Super Bowl event stopped a couple of years ago, Graham says Ag for Autism saw an opportunity to gain some supporters and revitalize the annual fundraiser. As they ready for their second annual event at a new venue, they want their 400 attendees to be ready for a fun night that includes a gun raffle, a 50/50 pot, Super Bowl squares, a spa raffle and an online auction.
"We want to keep it fun and entertaining and keep people engaged," said Graham. "We even have a Bernedoodle in the auction that someone donated. You don't have to enjoy football to have fun at the event."
For more information about Ag for Autism or to purchase tickets to the 2023 Super Bowl Bash, visit agforautism.org, email info@agforautism.com or call (870) 240-5739.