SWAT Makes (Shark) Waves as a New Swim Team
SWAT Makes (Shark) Waves as a New Swim Team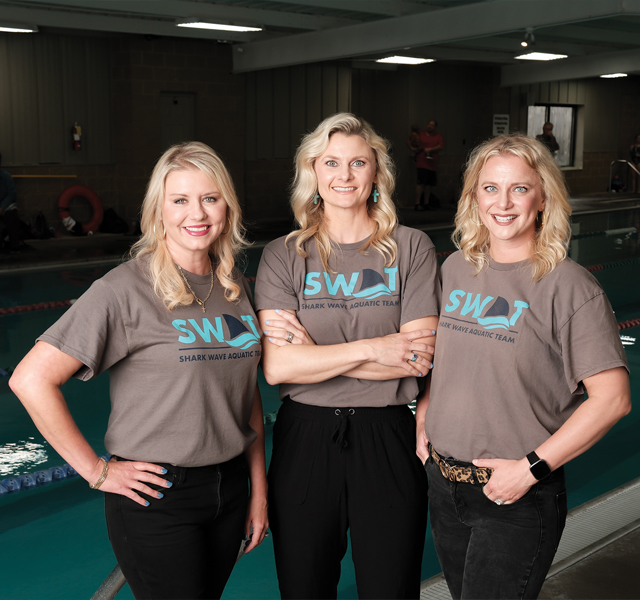 Just over a year ago, three local moms and former competitive swimmers joined forces to found Shark Wave Aquatic Team and grow the sport of swimming in Jonesboro. As more than 100 SWAT swimmers head into the summer season under the direction of Head Swim Coach Will Green, the team continues to grow in size and impact as it focuses on family, fun and the development of a lifelong sport.
Introducing SWAT
Brooke Booker, Katie Rae Guinn and Kirby Smith all grew up in the water and have passed that love for swimming on to not only their children, but children from all over Jonesboro and the surrounding area.
"We were three mom (swim team) board members that swam in Jonesboro for years growing up, and we wanted our kids to have the wonderful experience we had as children," said Smith. "My parents, Dean and Janice Massey, were very instrumental in making that team a year-round USA Swimming team. In doing so, they were able to attract economy to Jonesboro back in the '90s through swim meets. This team was very large and very active in the community; it was very family oriented and competitive, and we wanted that for our children. We wanted to have a family-oriented, competitive swim team based on Christian values, and we wanted a coach to encourage and invest in our kids not only for swimming, but sportsmanship, as well. We found all that when we started Shark Wave Aquatic Team (SWAT)."
Swimming has always been a large part of Smith's life. Her first job as a teen was as a local swim instructor; she has now been teaching children and adults in Jonesboro how to swim for more than 25 years. Formerly the head Jets Aquatics Club AAU coach, she also taught water aerobics and masters swimming classes. While living in Pennsylvania before moving back to Jonesboro, Smith taught blind and deaf children to swim. Today, she and her husband, Chance, enjoy swim practice and meets with their two oldest sons, Koen and Sheppie, and their youngest son, 2-year-old Vinny, can't wait to join the team.
"Swimming has always been a family sport for me, and it brings me immense joy to see people ranging from babies to the elderly enjoying the benefits of water," said Smith. "Some of my best childhood memories are at swim meets cheering on our teammates. The relationships my family built through this sport have withstood the test of time."
Originally from Blytheville, Booker says she has loved the sport of swimming her entire life. She started lessons at a young age, was on the Blytheville Barracuda AAU team in the summers and drove to Jonesboro twice a week to swim for the Jonesboro Jets in the winter. She was a lifeguard throughout high school and trained others as a lifeguard instructor at the University of Arkansas, worked with the American Red Cross providing swim lessons, was the pool director for the City of Jonesboro in the summer of 2000 at Earl Bell and managed the Aquatics Department in Blytheville the summer of 2001. Today, Booker and her husband, Chris, still spend plenty of time poolside, as five of their six children swim for SWAT.
"Swimming isn't just a sport, it's a family," said Booker. "I don't think I would have had the self-discipline, work ethic or the dedication to succeed in life without the skills taught to me from swimming. Because of this, I have encouraged my kids to swim and hope they experience and learn everything I was blessed to get out of it."
Guinn also grew up swimming; she learned how to swim at age 3 and joined Jets Aquatic Team shortly after. A multi-sport athlete, she played collegiate volleyball and fastpitch softball at Williams Baptist College before going on to earn her master's degree in physical therapy from A-State. Prior to the creation of SWAT, Guinn had several years of swim team board experience and many years of volunteering for local nonprofit organizations. She and her husband, Dr. Nick Guinn, are parents to Connor, Cade and Camden, who love being in the water, too.
"With swimming you can meet lifelong friends, as evident in our founders' friendships to this day," said Guinn. "Swimming is a sport for everyone, not just your athletes, and can be as competitive as you would like it to be. Practicing one day a week or five days a week, it's all about what you desire to accomplish."
Starting a new swim team was no small feat for the busy moms and professionals. They had an idea and made it happen in a short amount of time in order to be established for the summer 2022 season.
"SWAT was established by three mothers who previously swam at a young age and whose children are now second and third generation swimmers themselves," said Guinn. "We desired to have an honest, family-friendly swim team available to all skill levels with the main focus being about the kids."
Smith says that days she would get discouraged she would think of the quote by Theodore Roosevelt, "Nothing in the world is worth having or worth doing unless it means effort, pain, difficulty."
"After myself, Brooke and Katie Rae left our former swim team, we put many hours into building Shark Wave Aquatic Team," said Smith. "Our first endeavor was finding pool space. Currently it is limited, and that in and of itself was a huge undertaking. We appreciate the city for working with us so we had a place to swim, and love having The Trim Gym as our home pool.
"We spent a lot of time educating ourselves on protocols and necessary documents for building a team. We wanted this team to be very organized and family oriented. … It took a lot of heart, sweat, money and sometimes tears, but we did it. I am incredibly thankful for Katie Rae and Brooke's friendship, and I'm so proud of this amazing team."
After deciding on a name, logo, coaches, bylaws, contracts and other necessary documents, Booker, Guinn and Smith launched SWAT in May 2022 with their own children and several other swimmers, but it wasn't long before they were joined by many other families.
"The City of Jonesboro is growing very fast; having more than one option for your child to participate in swimming is always a plus," said Guinn. "Founding SWAT has grown the knowledge of the sport of swimming in Northeast Arkansas, and I hope it grows even more with the new aquatic facility in the future. … I would say personally what I am most proud of about founding this team is its Christian base."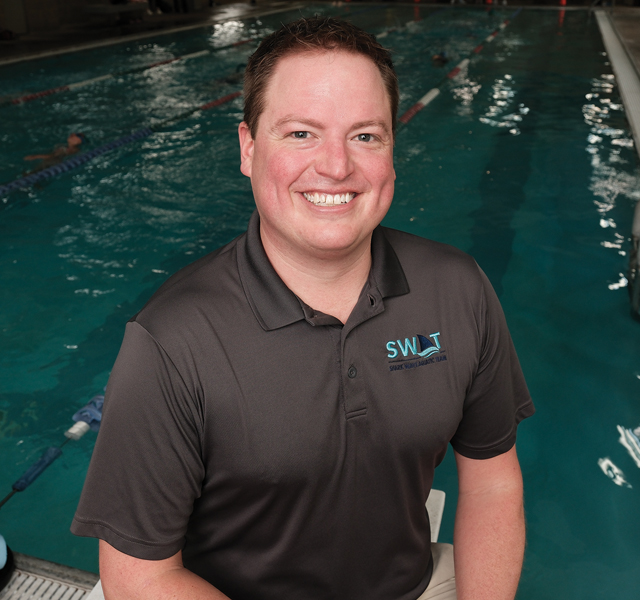 Meet Coach Will
SWAT Head Coach Green was first introduced to swimming during group swim lessons at the YMCA. He began swimming for the Jonesboro Jets at age 11 and continued swimming for the club team and for Jonesboro High School before heading to the University of Arkansas. Besides participating as a swimmer, Green started his career in aquatics at a young age, as well.
"My first real job was lifeguarding at the YCMA working for Bob Williams at 15 years old," said Green. "I was also teaching group swim lessons at the YMCA, the same ones I participated in when I was a young kid. Then, between my freshman and sophomore year of college, when I returned home for the summer, the coach of a local club team contacted me to see if I was interested in assisting with coaching age group swimming. That's where my coaching career started."
Green then became an adjunct professor at Arkansas State University, where he taught all the aquatics courses and became the founding head coach of the A-State Swim Club. In 2014, Green decided to start his own USA Swimming, AAU and U.S. Masters Swimming (USMS) registered swim club, Dart Frog Aquatic Team, which he coached and operated until the team merged with SWAT in June 2022.
"Throughout my career, I have had many of my athletes go on to swim successfully at the collegiate level," said Green. "I have coached top 10 swimmers in the country and swimmers that have made it to the futures, the junior nationals and the U.S. Open. I was also Arkansas' Junior Olympic head coach for multiple years and will return this year as one of South Wind Swim Conference's head coaches."
Green first got involved with SWAT when Smith reached out for some advice in starting the new club swim team.
"Kirby reached out to me and expressed her plan to start a swim team with Brooke and Katie Rae, and after pointing her in the right direction and her getting the ball rolling, she reached out again to see if there was any interest in being the head coach of the new team, Shark Wave Aquatic Team," said Green. "That first summer I was still coaching my team, Dart Frog Aquatics, and quickly saw the benefits of combining the two teams to benefit the kids."
The head coach's soon-to-be wife, Caitlin Cothern, who swam at a collegiate level and has been involved with competitive swimming and coaching for more than 20 years, brings her knowledge as a registered dietitian to the team, as well.
Smith says that Green was a great fit for the kind of positive, family-friendly team they were hoping to build for the future of Jonesboro swimming.
"Will has spent his entire adulthood working in the swimming world," said Smith. "He has coached nationally ranked swimmers but is also excellent at developing swimmers.
He always goes the extra mile to help a child's techniques and is incredibly patient with the little swimmers. He always finds new creative ways to keep the kids' attention and to make it fun. It is rare to find a coach great at coaching both the younger swimmers and the more competitive swimmers. He pushes the kids to be the best they can be while making them love the sport at the same time. It is a rare gift."
"Coach Will is great on the pool deck," added Guinn. "He is constantly moving from swimmer to swimmer to best personalize their needs and instruction."
The two teams combined under Green's coaching and the leadership of SWAT's founding members and has made a growing contribution to the sport of swimming in Jonesboro ever since.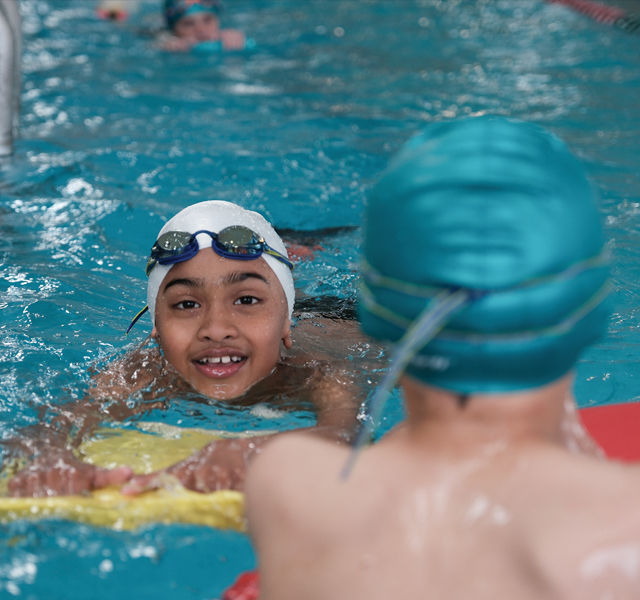 Riding the Shark Wave
With more than 100 swimmers currently on its year-round roster and expecting many more heading into the summer season, SWAT continues to grow as an organization in numbers and accolades. At the end of its inaugural summer season as a swim team, SWAT placed second in conference finals in June 2022, won the Arkansas First Chance Winter Meet in November 2022, won the Ugly Sweater Swim Meet in Pocahontas in December 2022 and placed third in the Spring Splash AAU swim meet this past April. The swim team also sent eight swimmers to the 2023 Arkansas Swimming Championship Meets in March.
"It went from being an idea born out of necessity to an AAU, USA Swimming and USMS registered club with more than 150 kids on the team within the first few months," said Green. "That is unprecedented. I think the timeline of this is remarkable in that when I first started Dart Frog Aquatics it took a couple of years to accomplish some of the things SWAT has been able to do in a matter of months."
Booker says that she and the rest of the team's leadership are thrilled by how much the team has grown over the past year and how it has created an environment for kids and families who really love the sport of swimming.
"Swimming isn't just an event or a sport, but more a way of life," said Booker. "Besides it being one of the healthiest exercises physically, swimming teaches so many lessons to use in other areas of life like commitment, hard work and how to be a team player. The kids are learning all that and more on SWAT."
Green encourages swimmers of all ages to give the sport a try.
"It's a lifelong skill," he said. "We have 4-year-olds on the team, and we have a core group of masters swimmers (any swimmer over the age of 18) that range from their 20s to their 70s, including my dad, and their abilities are wide-ranging. You don't have to know how to swim all the strokes to be able to join SWAT. If you can make it down the pool unassisted, you can be on the team, and we can go from there."
The head coach says that lessons only get swimmers so far; what really makes a difference and advances them to that next level of competitive swimming is being around their peers in the water multiple times a week.
"Summer is a great time to start swimming," said Green. "During our summer season, we are a part of the South Wind Swim Conference, an established area conference with six teams. We will have six regular meets and conference finals during our summer AAU season. It's competitive, but meets are really fun. The kids absolutely love summer meets, and we make practices fun, too.
"During the school year, we practice in our home pool at The Trim Gym, but during the summer, we expand our practice options and hold daily practices at the Jonesboro City Pool Center and have practice time at St. Bernards Health & Wellness, as well. There are so many options available to our Shark Waves, and it's amazing to see how much these kids can improve over the course of the summer season."
Smith says that she and the board are most proud of the growth of the swimmers on the team and the team's contributions to growing the sport of swimming in the area.
"I have watched swimmers excel exponentially in their competitions and technique," she said. "We currently have two nationally ranked swimmers in their age group who were not previously. The growth of these children is truly amazing to see.
"With a year under our belt, the SWAT family has a much larger presence in the community. We have an established coach and seven assistant coaches. We have great connections with the city and the community, and we are now officially a nonprofit organization. We have been able to purchase the necessary equipment to host our very first meet this upcoming summer due to our generous sponsors. As a board, we have learned a lot in the past year about making the team the best it can be. We also now have a large group of dedicated parents who are always willing to assist."
Green also cites the family environment of the team as a reason for the team's success.
"Unlike other organizations I have been a part of in the past, this board and other key parents behind the scenes truly share a passion for this sport and somehow seamlessly work together," said the head coach. "As a team, we work hard, but we have fun while doing it. We want to grow as an organization in terms of being efficient in how we operate so we can continue to focus on all of our young athletes. There are big things in store for SWAT."
As the team approaches its one-year anniversary, its founders say they could not be more proud of where the team is today.
"When we built this team, we did not know the outpouring of support we would receive; it was truly overwhelming," said Smith. "I would never dream of where we would be only a year later. We will always be incredibly thankful to the families that trusted and believed in us. Will Green has helped us from the very beginning, and we are thankful for his initial advice and friendship, as well as his coaching, along with Audrey Hanes, for being such an incredible asset to the building of the team and who is on the Board of Directors along with Scott Griffith.
"I love watching kids and adults learn to swim, but if you don't have a team cheering you on for your achievements, it just isn't as sweet. I believe our mission is to teach this lifelong skill in Christian values, to compete and to have our swim family support us. From the bottom of our hearts, thank you for trusting and believing in us. We will never forget it."
For more information about Shark Wave Aquatic Team, visit swatjonesboro.com or find it on social media.