The Creative Flavors of Casa Blanca
The Creative Flavors of Casa Blanca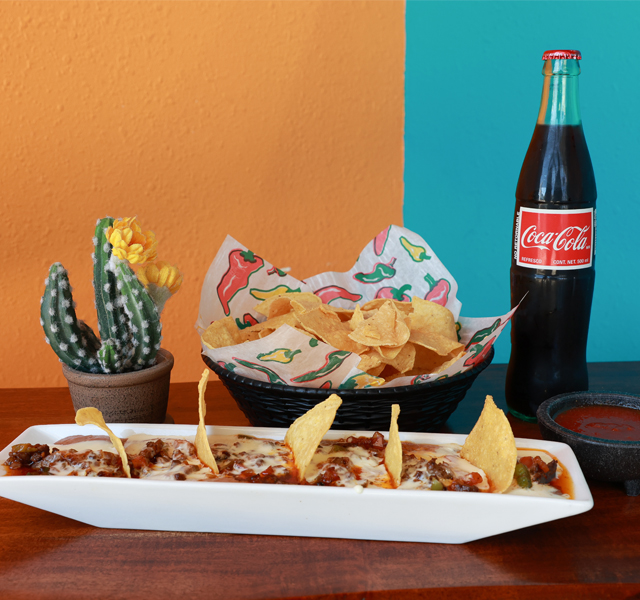 by Audrey Poff, photography by Melissa Donner
When José and Samantha Meza decided to open a new Mexican restaurant at The Shoppes at Hilltop, they knew they wanted to offer something different that would set them apart from other Mexican restaurants in the city.
After years of dreaming, saving and planning, the couple opened Casa Blanca Mexican Grill in January. José previously worked at Trinity Rail in Jonesboro, and Samantha is a design engineer who works remotely from home mapping out communication networks.
Their first venture as restaurant owners is a partnership with Jose's brother and sister-in-law, Isidro and Alexis Meza of Pryor, Okla.
"During the whole 10 years I worked at Trinity Rail, we put a lot of savings together," said José. "Thankfully, my brother partnered up because that's the only reason we were able to make it."
Samantha is a native of Leachville, but José spent most of his youth in Texas, coming to Arkansas when he was about 16. He came to Northeast Arkansas with his family as a migrant farm worker.
"We used to come chop cotton," said José. "We chopped cotton around Trumann, in the Bay area and Marked Tree. We did it for a lot of years."
Although it was hard work, José says he has fond memories of those days.
"We spent a lot of time as a family," he said. "Even though we were working, I do remember enjoying a lot of time out there in the fields with my family."
The importance of family and a strong work ethic have helped the couple in the launch of their business. Today, their three boys – Juan, 18, Carlos, 15, and Javier, 8 – help out in various ways at the restaurant when they can. The couple's nephew, José Cortez, also works at Casa Blanca and is enrolled as a freshman at Arkansas State University.
While saving and planning, the owners said they frequently visited other Mexican restaurants in the area to see what they could do that would make Casa Blanca unique.
"We've been to all the restaurants here and we knew that the food was all 100% the same, so we wanted to change some things," said José. "We just wanted to offer more things on the menu, and we thought that we had enough to bring that difference, not only in the flavor, but we also have special dishes that are not available anywhere else here like the Naked Nachos, Chili Casa Blanca and the Burrito California."
The Naked Nachos appetizer consists of a bed of refried beans, shredded cheese and strips of steak cooked with sauteed onions, bell peppers and tomatoes, topped with their famous Queso Blanco. The Chile Casa Blanca is a fried red bell pepper stuffed with cheese and steak, cooked with sauteed onions and tomatoes and served with rice and beans.
Another popular item is the California King Burrito, a 12-inch flour tortilla filled with steak, fries, shredded cheese, pico de gallo and guacamole that is served with rice.
"It's a big hit," said José. "A lot of people like it. It's an original California burrito. It's big there."
Other specialties range from simple but flavorful street tacos with a choice of steak, carnitas, al pastor or chorizo, to the massive Molcajete, an impressive mix of carne asada, carnitas, grilled chicken, grilled shrimp, chorizo, onions, a fried jalapeno and shredded cheese served in a volcanic rock bowl with a side of tortillas.
"One of the things that really makes us different is our seasoning," said José. "We make our own seasoning. My brother spent way more time than I thought was OK on seasoning, but I'm happy because it turned out to be very good."
He believes the seasoning is what makes the difference in many of their menu items, especially the fajitas.
"We would go to restaurants and it was like the seasoning got lost," said José. "After so many years of the growth of the business, which is good, the training or the recipe didn't get passed on like it was supposed to. We would go and get fajitas and the flavor just wasn't there.
"We have just been looking at all the things that we thought needed to be fixed. I think maybe that's been part of our success. We just knew there were a lot of things that needed to be worked on."
Community support has been beyond what the couple expected.
"We have the best customers," said Samantha. "We really do."
"We're very appreciative of the support from Jonesboro," added José. "We didn't expect to be as busy as we have been, and we are just really grateful. Our commitment is to stay on top of our quality and our service. We understand that without the customers, we don't really have a business."
Located at 3410 E. Johnson Ave., Casa Blanca is open daily. Hours are 11 a.m. to 9 p.m. every day except Wednesday, when the restaurant closes at 8 p.m. For more information or to place an order, call Casa Blanca at (870) 932-0247.