The Hat That Jack Built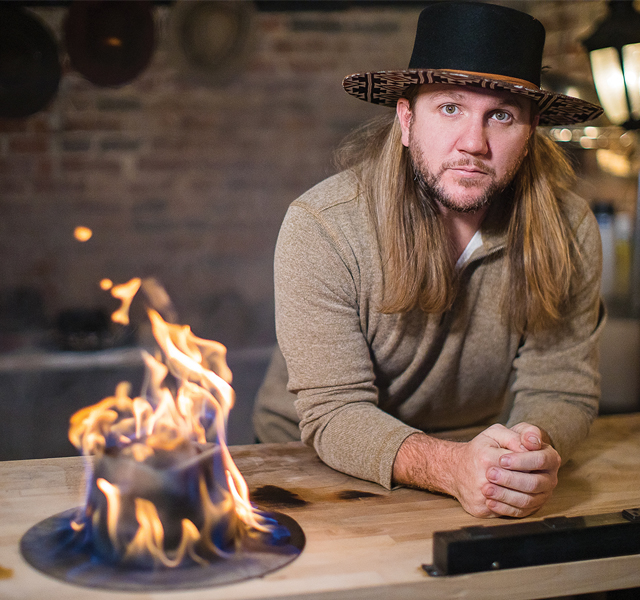 A trip to Aspen, Colo., last December set the wheels in motion for Jack Turner's latest artistic endeavor, 24k Hat Company.
Turner, a real estate agent for New Horizon Real Estate in Jonesboro and a local musician, was vacationing in Colorado with his girlfriend, Kassie Wright, and friends James Bickham and Dr. Leisa Spence, when they walked into a hat store in Aspen.
The store offers high-end western wear and handcrafted cowboy boots and hats. With a large inventory of pre-sized hats, the store offers to help customers create their dream hat that can be personalized with hat bands, feathers and other swag.
"I've always been interested in hats, but this past winter, in December of last year, we went to Aspen," said Turner. "There's a store in Aspen called Kemo Sabe. It's kind of franchise-style hat shop. You go in and hats are lined up on both sides of the building – so high that they have to have sticks to get to the top. It's full of just rows and rows of hats. There are thousands of hats inside – all different shapes, sizes, colors. They're all sized already. They already have the sweatbands in them and a hat liner in them, but they are pretty much blank. You take it and you can go over to the side, and they will customize it for you on the spot.
"Now, it's not anything fancy. They use a hot glue gun for the feathers and the sweatband, it's not stitched in or anything. We all bought one, but for Kassie and me, it was like $1,800 for our two hats; they're just run of the mill, but I didn't know any better."
While they were steaming his hat, Turner said he realized the store's concept was unique. After choosing a hat, customers could choose to customize it with their choice of bands, feathers or have their initials burned into the design.
"I'm thinking that's cool, and I get it, but there's no way those hats are that expensive," he said.
Turner immediately began researching the process of making custom hats online and found many hatmakers who were charging $900 to $1,200 for a custom hat, but the difference was that those hats were handmade.
"It is fit specifically to you," said Turner, "your size, your design, and in some cases, you can watch them make them. To me, that makes sense. I'd spend a $1,000 for a custom hat in a heartbeat, or I thought, 'I can just make one myself. How about that?' So, I jumped on YouTube and started digging through the process."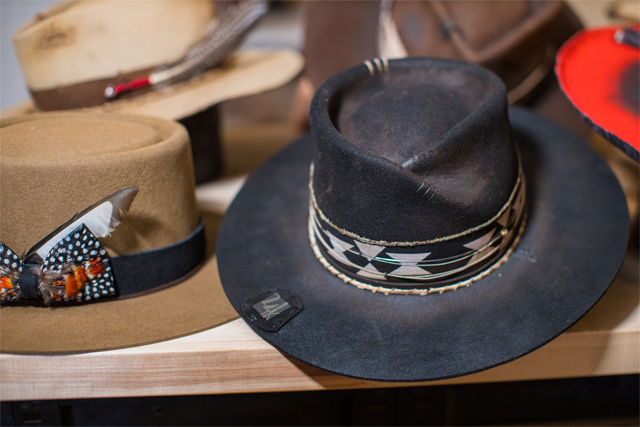 The hatmakers he found online, however, were very secretive of the process, so he began trying to put the pieces together.
"It was not like there was one source that I was able to find that told you everything you needed to know about it," said Turner. "I did find one guy that offered a weekend course from Friday to Sunday to take you through the whole process, but he wanted like $4,000. I'm resourceful, I'm creative and I'm good with my hands, so I thought, 'I can figure this out,' and I did. I just watched hours and hours and hours of videos."
Once he had the basics down, it was time to try his hand at making his first hat. In February, he decided he was ready for the challenge
"It seems weird, but by the time I bought the steamer, the iron, all of the tools and the (sizing) blocks – when it was all said and done I had like $4,000 in all this stuff, and I thought, 'I may have gone overboard. This may be a bit much. Here I have bought all this stuff and I haven't even made a hat yet.' So, I kind of took a step back.'"
Sitting at his dining room table, Turner began experimenting with millinery tools and materials and trying to figure out the process.
"The very first hat I made is actually still at my house," said Turner. "It's a black rabbit fur felt hat. I shaped it and then I just started testing stuff on it. If you looked at it, you would be like, 'What in the world is that?' It's like Frankenstein. I kept it because it's the first thing I've ever made. It's like a test hat, so before I go do something on one of these that I'm making for somebody and ruin it, I'll test it out on that hat. Everything that I've tried on all these hats, I did on that hat first because I didn't want to mess up what I was working on."
After making the test hat, he then made a hat for Bickham, his friend and colleague, and then made a Valley View-themed blue hat with his 9-year-old son, Gibson. Another hat for his oldest son, 12-year-old Jack, is in the works.
"I made six hats before I started telling anyone that I would make one for them," he said.
For Turner, his newest artistic endeavor remains a hobby.
"I do this as art," he said. "I like it because it's not me sitting around thinking, 'What do I want to do for me?' Somebody gives me an idea, and then I can go and run with it and turn it into something that they can wear, or they can hang it up and use it as a wall art piece. I like that aspect of it. I've always been into art – drawing or painting or whatever – and this is just an extension of that. It's my downtime.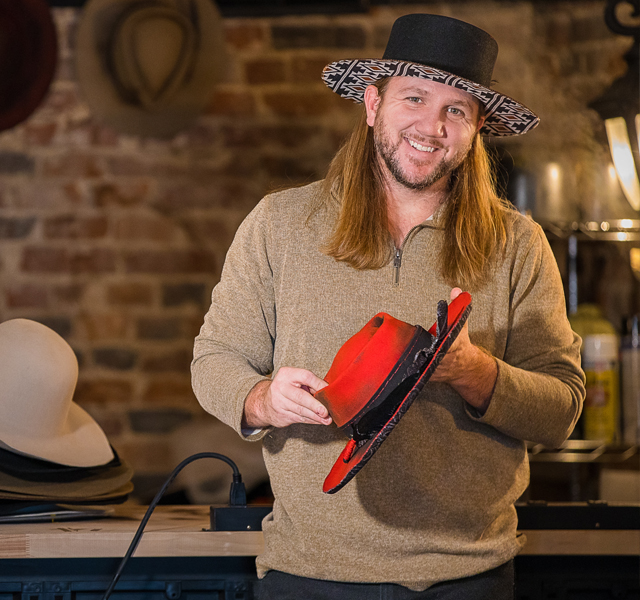 "I'll come over here, I'll turn music on like some jazz or something. It's usually in the evenings or night, and I sit back here and just relax. It's all real relaxing to me. I enjoy it, and I really like having a finished product and then you can see people wearing it outside, or they'll send me pictures of them wearing it. That's the thrill for me is seeing that I made that and now this person is wearing it, or they're putting it up on their wall and it's like a picture to them. It's a piece of art."
The amount of time he is able to dedicate toward hat making, however, depends on his work schedule at New Horizon Real Estate, which is located a short distance from his hat making workspace in Downtown Jonesboro.
"So, when somebody orders something, I tell them that up front," said Turner. "I tell them I may can get this done in a week and it may take me six weeks. I don't know. I'll get it done as soon as I can, I promise, but a lot of it depends on my actual job. I've got three companies that we run, so a lot of it just depends on how much time I can give to it after that."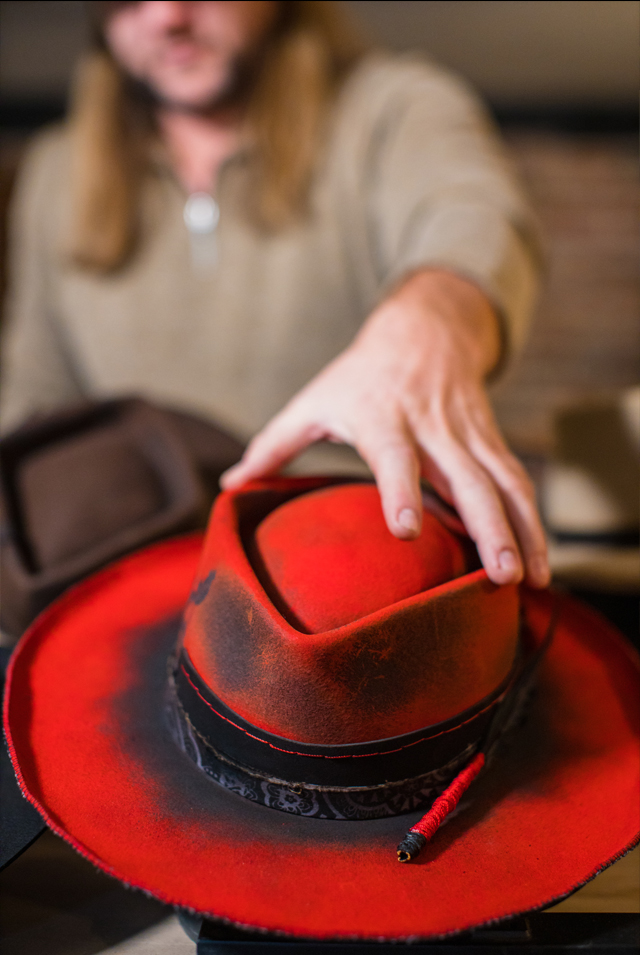 Although he isn't sure where his journey as a hatter will take him, he is in no hurry.
"I don't know that I ever want it to turn into a business, and I don't want to mass produce them, either," said Turner. "To be honest, I'd rather it be small and almost prefer the rarity of it."
Currently, Turner is working on a couple of projects that have allowed him to draw on his own creativity. One is a dark gray "Godfather" style Fedora requested by a TikTok fashion influencer in Dublin, Ireland, who has more than 600,000 followers. Another is a distressed black hat that will soon be shipped to a Nashville musician known for his music videos. Turner incorporated guitar strings into the hat band and stitched a guitar pick holder on the brim of the distressed black hat. He was also able to collaborate recently with George Gotcher of Georgeous Jewelry, who works in Downtown Jonesboro, as well.
"I made a hat for a buddy in Colorado, and he wanted a matchstick in the hatband," said Turner. "You know, sometimes they'll put little matchsticks down in the side as a charm. Instead of a wooden match, I had George make a match out of silver and then dip the tip in red enamel. It was just something a little personalized that was different from the normal."
As for the price of a hat from 24k Hat Company, Turner said it depends on the size, materials and how intricate the client wants to get. Fur felt hat bodies are the most expensive component for milliners and can cost $200 or more just for the felt hat form without any customization. For that reason, he tells customers that a good starting point for a customized hat from 24k Hat Company is $350.
To contact Turner or to view some of the customized hats he has made, follow 24k Hat Company on social media.