The Kings are Coming to Town
The Kings are Coming to Town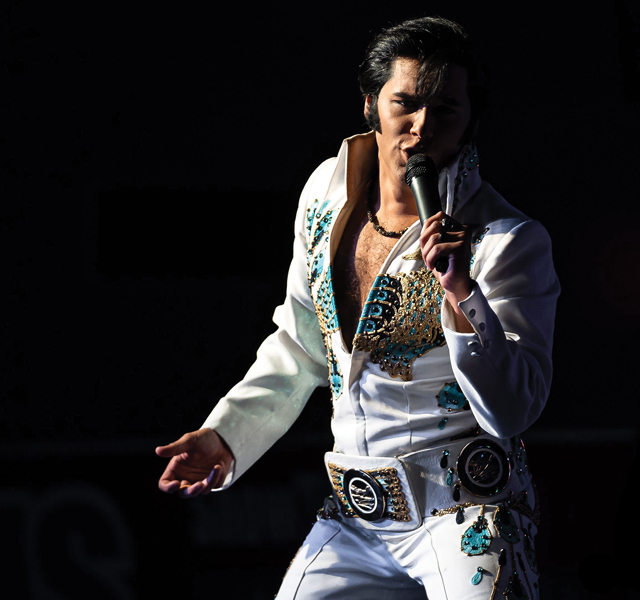 Later this month, the world's most well-established Elvis festival as endorsed by Graceland will make its grand entrance in Jonesboro, bringing Elvis fans from across the nation to see 12 Elvis tribute artists perform over the course of the three-day, six-show festival as they pay homage to The King.
After quickly outgrowing its debut festival location in Pocahontas in 2022, the Arkansas Elvis Festival, presented by ETA Festivals, is moving to Jonesboro and will be held at the Embassy Suites Red Wolf Convention Center from May 18-20. The Arkansas Elvis Festival, along with nine other ETA Productions-produced Elvis festivals across the country each year, is the realization of a lifelong dream of the company's CEO and founder, Cote Deonath, who has been an Elvis fan since he was a toddler.
"I've been glistening up the blue suede shoes since the tender age of 3," said Deonath. "I have been a fan since I was 2, which was when my grandma sat me down and centered me among all the overstimulation in my environment; she put in an Elvis movie, 'Follow That Dream,' and I stopped dead in my tracks and was enthralled. I was so taken by him. I saw him in the aloha jumpsuit, which is the white one with the eagle on it, and it was all over. It was the coolest thing I'd ever seen, and he has been present in my life ever since. I love it."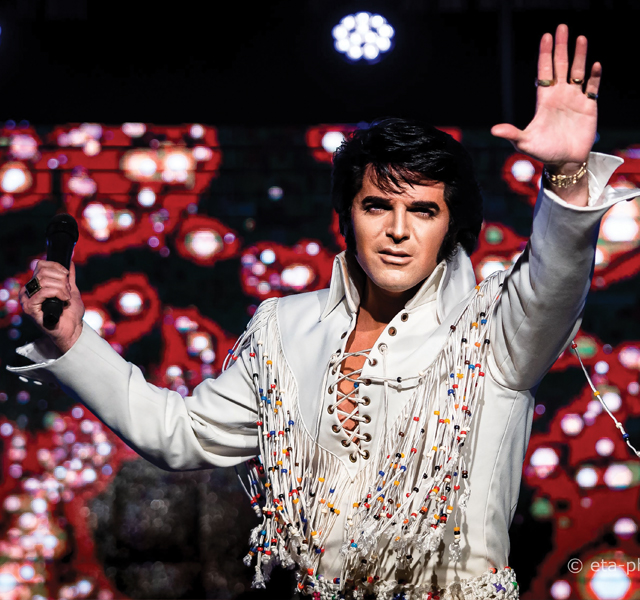 By the age of 21, Deonath knew he wanted to share his love and appreciation for Elvis by creating and hosting festivals for Elvis' fans.
"ETA (Elvis Tribute Artists) Festivals was born out of my original festival in Florida, which was called the Elvis Summer Festival," said Deonath of his first venture into the industry. "That was the first show I produced; I was very young and very green around the edges. We did the show, and it was a re-creation of Elvis' concert that he did back in 1972. It was a roller coaster of a ride, but it really made the jump for me that this could be an actual career. You have to put the work in, and it's very doable, but having the opportunities that I've been blessed with and been lucky enough to experience in the short time I've been on this earth, they all stemmed from this one show.

"At the time, it was nerve-wracking – we only had 125 tickets sold two days before the event, I had all this overhead, I was 21 and lived with my parents, and I was scared. I went to bed and woke up the next day and had sold more than 300 tickets just that morning, then we sold out at 805 seats – it was incredible. I was able to flex my creative muscles and pay and employ the people that I love and make an honest living off of it. I got to spread my vision of what the Elvis legacy should be represented as, with nothing but respect, honor and integrity."
Deonath officially founded ETA Festivals in 2019 and launched festivals in Orlando, Fla., Gatlinburg, Tenn., Myrtle Beach, S.C., and Mount Dora, Fla.
"Through COVID actually and through all that uncertainty, we cultivated a deal and we brought our product to Elvis Presley Enterprises in Graceland; they said, 'We like this, we like what you're doing, we love it,'" said Deonath. "So, we partnered and got the stamp of approval from Elvis Presley Enterprises, and that started our journey in 2022. What we are now was born out of all that. Now, it's just grown into this behemoth in 2023 where we have 10 festivals all across the United States. We are the largest Elvis festival company in the world today; nobody else has as many events as us that are licensed and endorsed by EPE."
The Florida native says that the reasons ETA Festivals has been so successful and so well received by Elvis fans is that he and his company worked hard to deliver an Elvis experience in a way that both the tribute artists and Elvis fans had long been wanting.
"(Producing Elvis festivals) was always a pipe dream of mine, because I wanted to have full creative control and freedom – that was my main drive," said Deonath. "There was this status quo that was broken with our festivals. Being friends with all the ETAs, I knew what they wanted, and being among the fans, I was hearing what they wanted and that they weren't getting it. So, we did that – we listened to what they wanted and who they wanted to see and turned it into a festival, and that's what set us apart – we listened to the fans, and that has been my motivation always. At the end of the day, we're just a bunch of weirdos in costumes. The fans, they're the lifeblood; they're not my fans, they're not fans of the (other ETAs), they're Elvis fans. They're the lifeblood of this world, and Elvis fans deserve the world. If you're an Elvis fan, you're part of a family."
Elvis fans will now have the opportunity to attend an official Elvis tribute artists festival in Jonesboro next month. Kandi Baker, the director of sales for Embassy Suites by Hilton Jonesboro Red Wolf Convention Center, was instrumental in bringing the festival to Jonesboro.
"When we initially talked with (Deonath), we immediately knew it was something that would be a great fit for our convention center," said Baker. "We traveled to Pocahontas to see the festival last year and were blown away by the production and the talent; we knew it was something we had to get to Jonesboro.
"With having the convention center, we always want to make sure we can host groups that bring something different to Jonesboro. This is an opportunity to bring music to a large audience in Jonesboro, and this is the best place in the state of Arkansas to do something like this with being an hour from Memphis, which already brings in Elvis fans from across the world."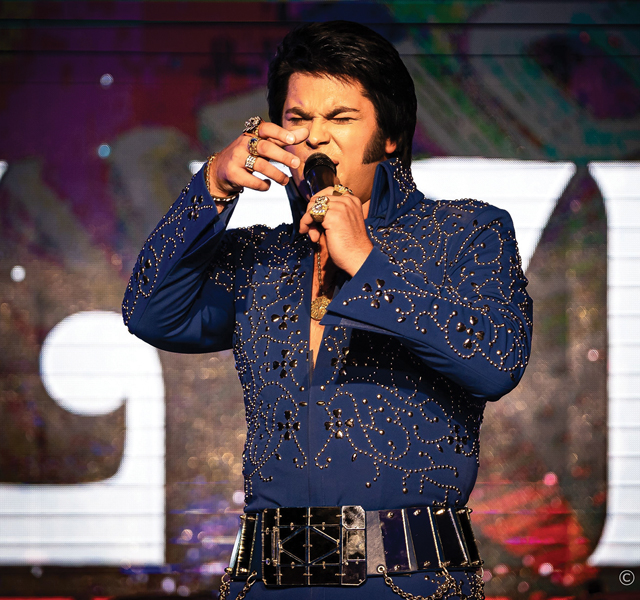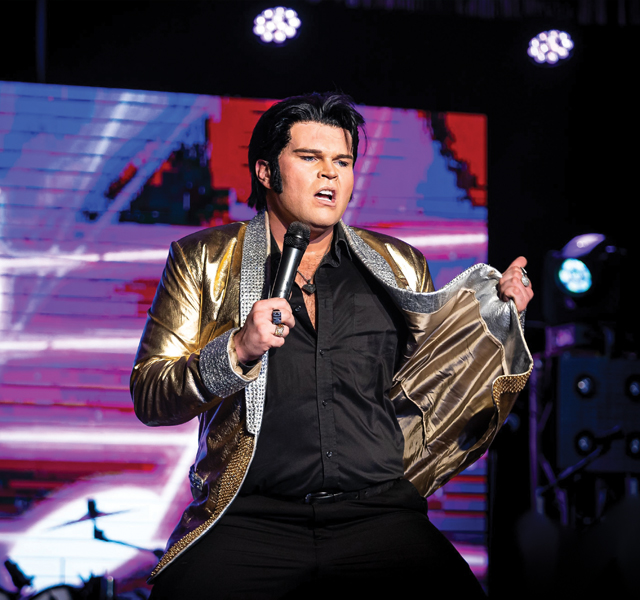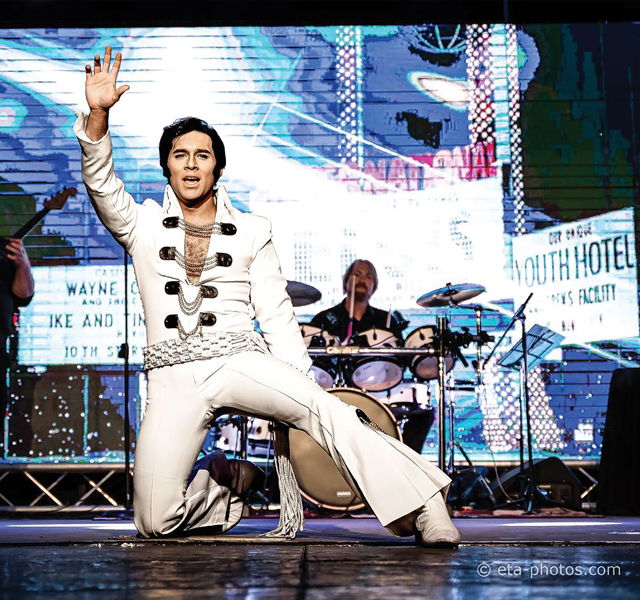 Baker worked quickly to convince Deonath and his team to relocate the festival to Jonesboro's Red Wolf Convention Center for 2023. The venue and close proximity to Memphis and Graceland quickly sold the festival's producer on making the switch.
"Kandi sold us on the venue, and after we toured it, we knew it would be great," said Deonath. "We were in Pocahontas the year before, and we quickly outgrew that. It was a very unique venue there, but people wanted to be closer to the highways and hotels and a more mainstream area, so we looked at Jonesboro.
"We are really hoping for a big turnout and a good year. We are very excited to plant our roots in Jonesboro. It has the potential to be annual depending on turnout and the (ETA's) schedules. … We will take it year by year, but the potential is there. I think it is going to be something we shoot for as far as going for it again next year in Jonesboro."
Baker hopes that this will be the start of an annual partnership with the Arkansas Elvis Festival and what it will bring to the people of Jonesboro and those who travel to the city for the shows.
"We are extremely excited to host this festival in Jonesboro for the very first time," she said. "We think that Jonesboro and people from all over the country will get great entertainment over the course of the three-day festival, and it's exciting that this is the first time that an event that is endorsed by Graceland is coming to the Red Wolf Convention Center."
Deonath says that the level of talent brought in by the festival because it is endorsed by Elvis Presley Enterprises is the biggest draw for true Elvis fans. Many of the headliners are Ultimate Elvis winners, a title bestowed on just 15 Elvis tribute artists each year.
"Ultimate Elvis is a title that is given by Graceland; it's the best of the best, the cream of the crop, and there are only 15 in the world," said Deonath. "I've competed for Ultimate Elvis for the last seven years, and I've come close but no cigar. There are those select few who have grabbed that brass ring and cinched that title, and we work with a bunch of those. There have been other contests that have been around since the '80s and '90s; I was blessed enough to win a world title in Memphis in 2018.
"When we choose artists for the festivals, talent is the biggest thing – how do they interact with the fans and the rest of the (ETAs) and the shows? It takes the total package – stage presence, the look, all of it – but the main factor for me is that they are great with the fans. We'll never be Elvis at the end of the day, but what's great about tributes instead of impersonations is that we put our own spin on what that means; that's what makes it so dynamic, nobody's take on Elvis is exactly the same – that's what I look for."
All six shows will pay tribute to a different phase of Elvis and his music. The festival kicks off on Thursday, May 18, with Elvis – Let's Have a Party and will feature headliners Bill Cherry, Cote Deonath, Ben Thompson, David Lee, Vince King, Moses Snow, Alex Mitchell, Cliff Wright, Michael Cullipher, Braxton Sykes, Radney Pennington and Finley Watkins as they perform different hits from the Elvis catalog. Thursday night's program, Elvis – The Memphis Flash, will feature Ben Thompson, Cote Deonath and Moses Snow in a show featuring the '50s, '60s and '70s, from "Jailhouse Rock" to "Moody Blue."
Friday's festivities will begin with Elvis in Arkansas, a showcase of the multiple concerts he put on throughout his career. It will feature Ultimate Champion Bill Cherry and Grand Champion Cliff Wright along with Radney Pennington. Friday evening's show, Elvis – Era of a King, will feature Michael Cullipher, Alex Mitchell and Joseph Hall in a high-energy show highlighting Elvis' early Vegas years and his time in the film industry.
The third and final day of the festival will showcase what inspired the start of Elvis' career with Elvis – the Gospel. The show will feature David Lee, Jeff Lewis, Cote Deonath and Bill Cherry. The festival's finale, Elvis – 68 to Vegas, will feature Cote Deonath in the final set, to be preceded by Michael Cullipher, Joseph Hall, Finley Watkins, Braxton Sykes, Alex Mitchell and David Lee.
"Fans are going to love all of the excitement and magic and all of the Elvis, all of it, every single bit of it," said Deonath. "You'll see every bit of his career showcased on stage, songs you know and love and some new ones. This festival is fun for the whole family. … Whoever comes through our doors that weekend will have a blast and be welcomed with open arms."
Organizers hope that even those who are not lifelong Elvis fans will enjoy and be entertained by the depth of talent and variety of performances during the Arkansas Elvis Festival.
"Elvis feels so prominent in pop culture today, and that makes me happy because that's my superhero, that's my Captain America, my Batman, that's my idol right there," said Deonath. "To be able to do him justice every time that all of us walk out on stage and every time we put a product out there that entertains people and educates people about his influence on music, it's amazing."
For more information or to purchase tickets, go to arkansaselvisfestival.com.