The Occasions Lady and Celebrating 50 Seasons at Centennial Bank Stadium
The Occasions Lady and Celebrating 50 Seasons at Centennial Bank Stadium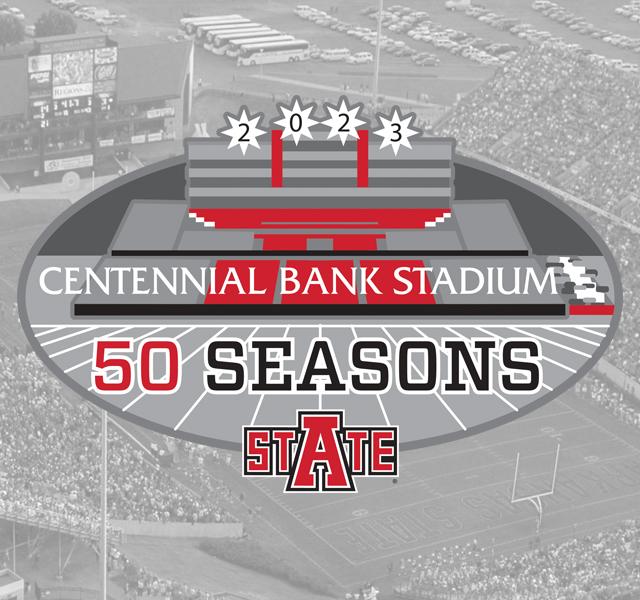 By Audrey Poff, 50th Season Logo courtesy of Mark Reeves, A-State Director of Publications and Creative Services
With Arkansas State University set to celebrate the 50th season in Centennial Bank Stadium this fall, it's sure to bring back a lot of memories for Red Wolves fans who have spent many game days cheering on their beloved football team.
Some of my favorite memories go back to my college days in the '80s when Larry Lacewell was head football coach. Lacewell, who died in 2022 at the age of 85, served as A-State's head football coach from 1979 to 1989 and later served as the longtime director of scouting for the Dallas Cowboys. He was always entertaining and loved to hold court any time he had an audience.
The Indian Family was still the university's official mascot in the '80s and was comprised of a trio of students dressed in authentic Native American attire. Watching Big Chief ride out on horseback during the games never got old. The Indian Family provided a sense of ceremony and pageantry during games that helped rally fans.
Some of my favorite memories of the stadium include playing flag football with my sorority sisters for the intramural flag football championship, taking my kids to the stadium when they were young, and watching my son and nephew play football at the stadium during crosstown battles during high school. The nighttime photo shoot with photographer Melissa Donner in August for this month's cover photo featuring the Purintons was also memorable – lights on, music playing and virtually empty.
To help prepare for the 50th season, which gets underway Sept. 9 with a home opener against Memphis State, we asked Brad Bobo, associate athletic director for marketing and fan engagement at A-State, to provide readers with some stadium trivia and he was happy to oblige. Here's a quick Q&A to test your knowledge:
Q. The stadium opened in 1974, but in which year did the university's Board of Trustees approve the plan to begin fundraising for the project?
A. 1971
Q. Who was the opponent for the first game in Indian Stadium, played on Sept. 28, 1974?
A. Louisiana Tech
Q. During the stadium's second season of 1975, what feat did A-State accomplish that no football team at the school has since?
A. An undefeated season (11-0)
Q. In which season did Larry Lacewell and the Indians defeat Eastern Kentucky in Jonesboro to earn a spot in the Division 1-AA National Championship game?
A. 1986
Q. Which opponent did A-State defeat on Sept. 2, 2006, in the first game at the stadium to be played on artificial turf?
A. Army
Q. A stadium-record crowd of 31,243 saw A-State defeat which opponent 45-0 on Dec. 1, 2012?
A. Middle Tennessee
Q. Other than Indian Stadium and Centennial Bank Stadium, what other two official names has the stadium had?
A. ASU Stadium and Liberty Bank Stadium
Q. Which Pro Football Hall of Fame member ran for 269 yards in a game at Indian Stadium during the 1999 season?
A. LaDainian Tomlinson (TCU)
Q. The last time A-State hosted Memphis (2021), the Red Wolves set a stadium record by picking up how many first downs?
A. 35
Q. Joe Duren (1974) and Scott Roper (1987) share the school record for longest field goal, with each kick coming at home. How long were those record-setting field goals?
A. 63 Yards