The Occasions Lady and … My Funny Valentine
The Occasions Lady and … My Funny Valentine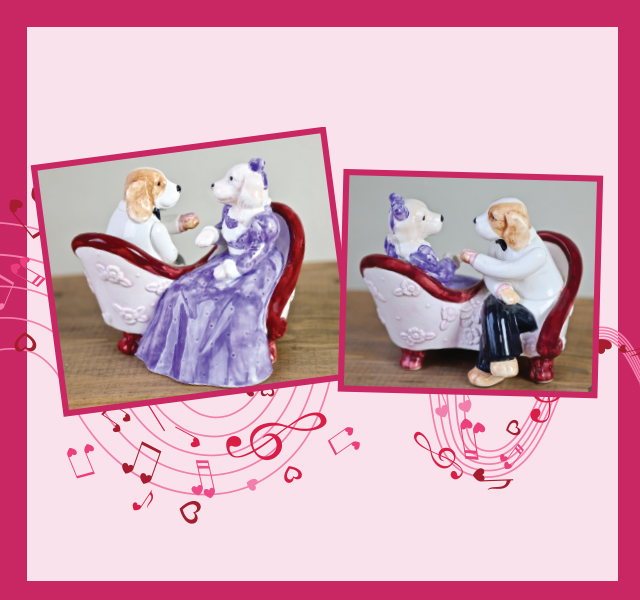 by Audrey Poff
While making room for new furniture last month, I rediscovered one of my favorite Valentine's Day gifts that was given to me approximately 30 years ago.
My mother and I were shopping at the Hallmark store that was located on Main Street in Blytheville for many years. Downtown Blytheville was a popular shopping destination at the time, and the Hallmark store was a frequent stop for gifts or browsing.
While we were shopping, I noticed a ceramic piece that featured two dogs on a settee sipping coffee. I was immediately drawn to it. The details of the sofa included small flowers and a dark "wooden" trim that resembled a cherry finish. The male suitor was quite dapper in a white jacket, black bowtie and black pinstripe pants. The object of his affection was also well dressed, wearing a long, lavender dress and matching bow in her hair.
When I picked up the piece, I realized it was a music box. As I turned the key on the bottom, it began to play "My Funny Valentine." It was the perfect melody for the piece. I really wanted to purchase the music box, but it wasn't a necessity, and I was a 20-something who didn't have a lot of money for knick-knacks.
To my delight, my mom offered to buy the music box for me as an early Valentine's gift, and it has been with me ever since. Every time I see it, my mind automatically plays the tune "My Funny Valentine," and hearing the song always takes me back to that day – just a simpler time in a simpler place.
Now in her late 80s, my mom is no longer able to accompany me on shopping trips like we once enjoyed, but the music box reminds me of the good times and the many shopping trips we have enjoyed over the years.
Two well-dressed dogs on a settee sipping coffee while gazing into each other's eyes. For me, that will always be the story behind "My Funny Valentine" and a memory of a day with my mom that I continue to cherish. This year, take time to celebrate romance, but also the love of family and friends.
Happy Valentine's Day!