The Occasions Lady and The Honky Tonk Biscuit Tour
The Occasions Lady and The Honky Tonk Biscuit Tour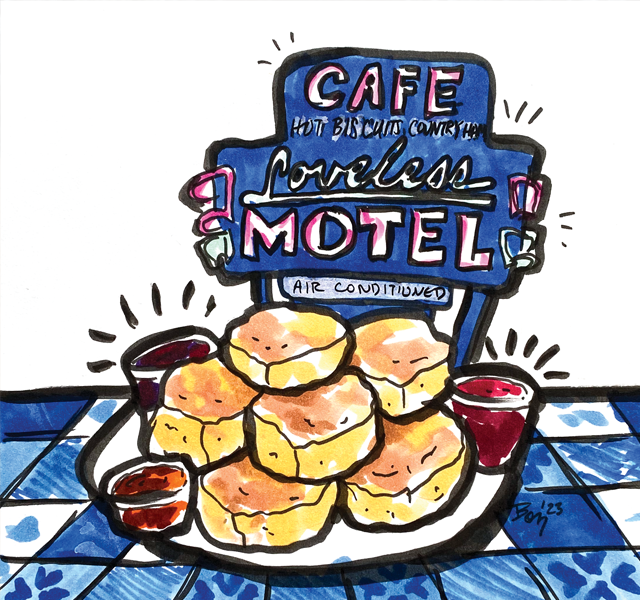 In March, the girls and I loaded up for a quick trip to Nashville during spring break. My youngest, Sophie, is a junior at Arkansas State University and technically the only one of us who still gets a spring break. Although three days makes for a pretty tight itinerary, she had never been to Nashville and Emma and I were happy to accompany her.
While I have been to Nashville on multiple occasions, it was mainly for business-related events or concerts. Evenings were usually spent walking along Lower Broadway, an entertainment district renowned for its honky tonks and live country music. From Tootsie's World-Famous Orchid Lounge, where they teach visitors to "holler and swaller," down to the banks of the Cumberland River, live music blares into the street from nearly every building. It is the land of a thousand honky tonks, and the music scene never disappoints.
So, when we decided to drive east to Nashville, I was certain the girls would enjoy a night out on Lower Broadway – the country music version of the Big Apple. While they seemed to tolerate a few honky tonks, these girls were hungry and sleepy. Lower Broadway was not the highlight of their trip. My best laid plans had turned into a biscuit tour, and the honky tonks just couldn't compete.
A few days before we headed to Nashville, we watched a favorite episode of "Somebody Feed Phil" that is centered around some of Nashville's most iconic restaurants, bars and food vendors. The Netflix documentary series follows Phil Rosenthal, the creator of "Everybody Loves Raymond," as he travels the globe to try the local cuisine and culture. Rosenthal's kindhearted and curious nature make his culinary adventures fun to watch and are family-friendly.
As we watched the episode, this time I took a few notes of places we might want to try. A segment of the show filmed at The Loveless Café in Nashville put it high on our list.
After spending the first night in Franklin, Tenn., a historic town just outside of Nashville where dinner included biscuits at Gray's on Main, the girls decided a stop at The Loveless Café should be next. We had not eaten breakfast before leaving the hotel, and it was straight up noon when we arrived at the café. We studied the menu while waiting for an open table.
With several gift shops on site and multiple buildings on the property, The Loveless Café seems a little like the Disney World of southern biscuits. Owners Lon and Annie Loveless opened their front doors to serve fried chicken and biscuits to hungry travelers on Highway 100 in 1951, and the café remains mostly unchanged. The quaint country charm and good food that made it a landmark still attracts scores of hungry travelers.
Not long after we were seated, our server brought a complimentary plate of country biscuits to our table served with butter and the café's strawberry and peach preserves. The biscuits were amazing and disappeared quickly. We ordered several other items from the menu to share: a platter of assorted biscuit sandwiches (country ham, sausage, fried chicken and a biscuit topped with pimento cheese and a fried green tomato); country ham with red-eye gravy, scrambled eggs and hash brown casserole; and a pulled pork omelet.
The service was excellent, and the food was well worth the drive down Highway 100.
We managed to hit a few other stops from the "Somebody Feed Phil" while in Nashville, but when it comes to a good old-fashioned Southern breakfast with biscuits and all the trimmings, The Loveless Café is in a class of its own.
Spring Break 2023 with my girls – a little light on the honky tonking and heavy on the biscuits – was a fun adventure, but I don't think they learned a thing about country music. Sorry, Hank.