The Return of Presley's Drive In
The Return of Presley's Drive In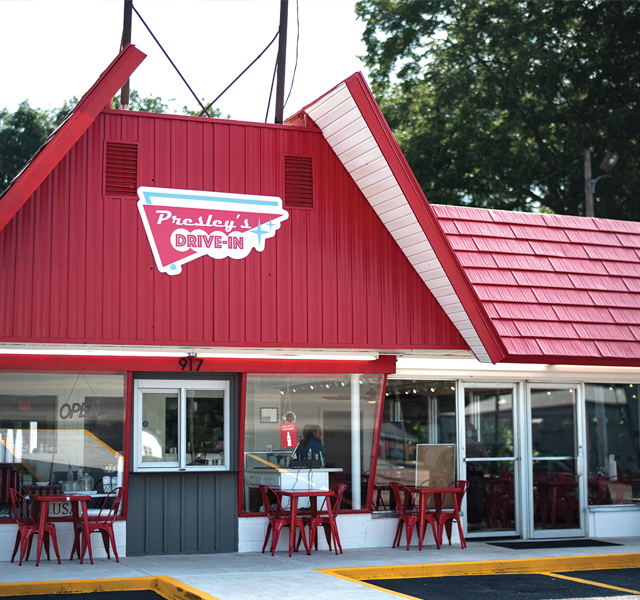 As Jonesboro's West End Neighborhood and the Gee Street area continue to attract businesses and patrons, the recent return and re-opening of an iconic Jonesboro restaurant, Presley's Drive In, has been welcomed with open arms by those who frequented the eatery for the past several decades and by those who are new to supporting the growing area.
Presley's Drive In was started in the 1970s by Harold and Hettie Mae Presley and was passed along to several other owners before closing over a year ago. The restaurant's newest owners, LaDonya Bryant and Dusty Self, hope to continue to serve the community with the same all-American feel and classic diner food patrons are used to, while at the same time adding a few of Bryant's own recipes that she grew up cooking.
"I used to cook with my mom and grandmother and then started cooking at church for the youth group, which was 150 kids," said Bryant, who grew up in Powhatan and graduated from Black Rock High School before moving to Jonesboro in 2016 to work for the United States Postal Service. "I thought, 'If I could do this, I could do a restaurant.' It was far-fetched, but it's what I wanted to do."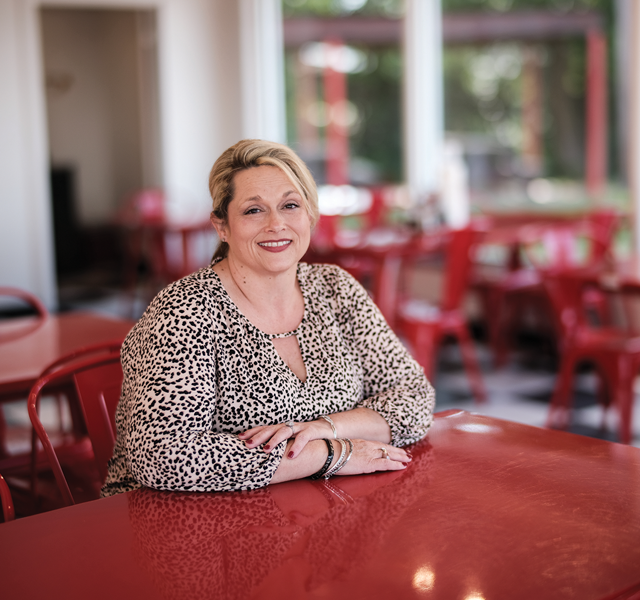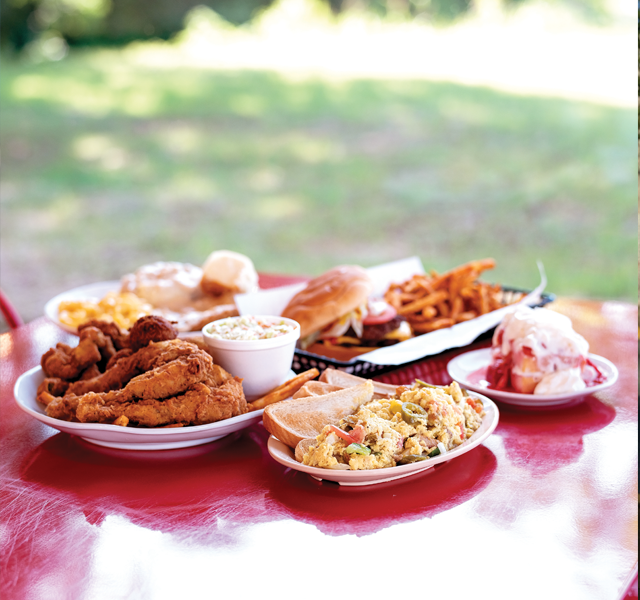 Bryant soon learned that Jeb Spencer and his son, Jackson, along with Jackson's wife, Lindsey, were nearing the end of their year-long renovation of Presley's Drive In, a longtime restaurant space on Gee Street. After the former owners closed the restaurant, the Spencers bought the building in May of 2022 and completely renovated the diner while keeping much of its historic character intact.
"It's a legacy place; it's been around forever, and we wanted to bring something like that back to that side of town," said Jackson. "It's a classic American diner, the kind of place that's critical to have for that side of town. Because of the condition it was in when we bought it, it needed love and attention."
The Spencers replaced all of the glass, installed new floors and light fixtures, painted the interior and exterior and did electrical work.
"We brought back the walkup window, which is a traditional dairy bar aspect," said Jackson, who is one of the owners of Native Brew Works, also located on Gee Street. "We wanted to go back to the traditional style – red with some black and white – and we did certain things to maintain that diner feel. We also took out a parking area and turned it into green space. We wanted to beautify Gee Street; the area has so much asphalt and concrete, we wanted a view of the creek and a lawn."
"Presley's is one of the most iconic buildings in Jonesboro," added Lindsey. "Of course, we are invested in Gee Street and we wanted to see it brought back to its original glory. It's a great representation of Gee Street in its heyday with its style and vibe. … I would love to see it lit up and attracting more people again."
Bryant and her boyfriend, Dusty Self, leased the building from the Spencers and launched with a soft opening earlier this spring with plans for a grand opening sometime this month.

"The people in the Gee Street area have been so nice," said Bryant. "The customer base here is wonderful. We have really good neighbors, and they eat with us. More people need to give this area a chance; it's come such a long way."
Presley's breakfast menu starts bright and early and includes the Classic, which is two eggs, a choice of meat and biscuits and gravy or toast; the Breakfast Special, which comes with one egg, half an order of meat with toast and jelly; Hound Dog Hash, which is served with two eggs, a choice of breakfast meat, bell peppers, onions, tomatoes, cheese, shredded home fries and jalapenos; biscuits and gravy and two different omelets.
The lunch menu focuses on classic Southern diner food, as well. The hamburger steak, chicken fried steak, chicken strip dinner and single and double cheeseburger options are staples, and side options include mashed potatoes, green beans, cabbage with sausage, corn, greens, mac and cheese, and white and brown gravy.
"A lot of the stuff I brought with me has been really popular," said the new owner. "My beef enchiladas have been a hit; it's my granny's recipe. Our customers have really loved the chicken and dressing, too. We do offer a fajita chicken salad, and that sells big time, and so does the Chicken Bacon Ranch Sandwich and the Philly, which they had before."
Many of those family recipes have made their way onto the plate lunch schedule, which is offered Monday through Saturday. Each day, diners can choose one meat, two sides, a roll and a drink. Meat options vary each day and include meatloaf, chicken fried steak, chicken and dressing, Mexican chicken, beef enchiladas, hamburger steak, pork steaks and U.S. Farm-Raised Catfish with slaw and hush puppies.
As the restaurant prepares for its grand opening, Bryant and Self have been open to suggestions and requests from the restaurant's former patrons, including the return of the Pizza Burger, a longtime favorite, and the Totally Loaded Fries, which are crinkle-cut fries with fajita chicken, ground beef, chili, bacon, onions, tomatoes and cheese sauce. Fish and frog legs are always on hand, too.
Presley's deserts have always been a favorite, and Bryant and Self want their cakes, pies, hand-dipped cones, shakes and soft serve ice cream to become a community staple once again.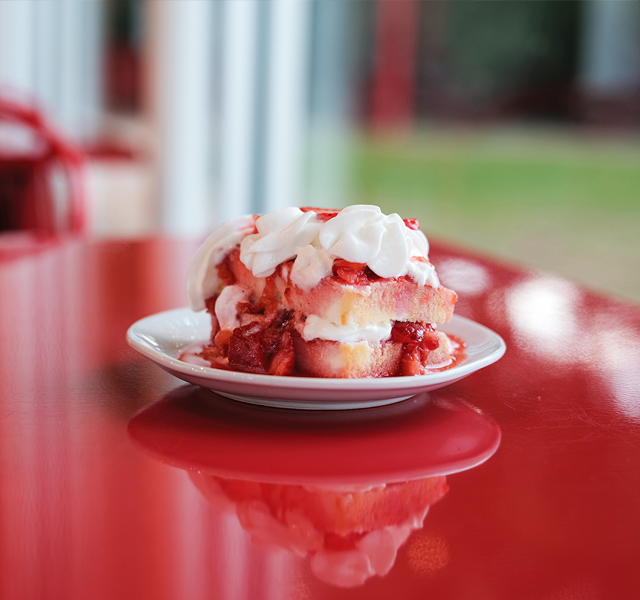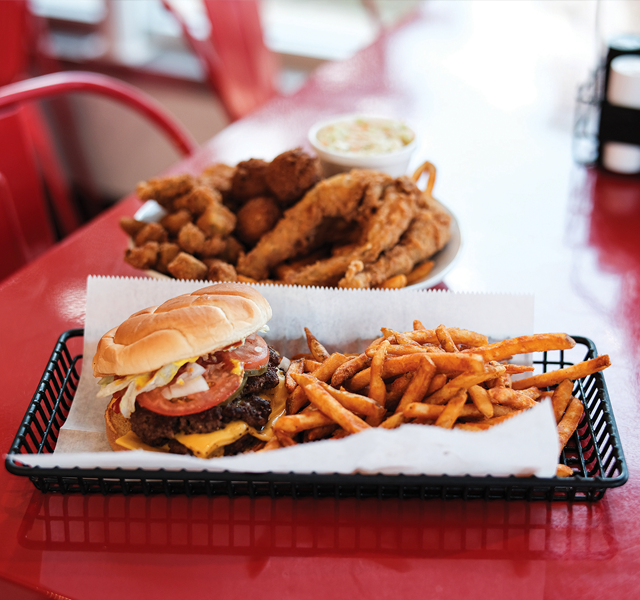 "All those desserts will be coming back in July," said Bryant. "June was about getting everyone here and back in the swing of things.
"During the holidays we have a lot of catering; we can cook a whole holiday meal. Our pies are really popular; we make chocolate, pecan, lemon and coconut cream pies. And the chicken and dumplings sell out every time I make them. … I have no professional training, I'm just a person who likes to cook."
The menu itself is still a work in progress prior to the grand opening, partially because customers who have been frequenting the diner since the '70s want to make sure they can still order all their favorites.
"The longtime Presley's customers are very opinionated and let me know their requests," said Bryant. "They ask for certain things to be brought back to the menu, and we do our best to accommodate what they want.
"But my favorite part is the stories they tell us. I love listening to the stories; people come in and the old stories they have about Elvis Presley here at the diner are amazing. So many people in this community have something to add."
Bryant says a gentleman who recently stopped by Presley's to eat recounted a story where Elvis and Jerry Lee Lewis came by Presley's Drive In and were playing in the parking lot one evening. When Jonesboro Police Department officers came by and asked them to stop playing, they refused and kept playing for hours. Many patrons have told the new owners that Elvis would come in and regularly sit in the same corner booth.
Terry Presley, son of Harold and Hettie Presley, says his parents purchased the business in 1973.
"At that time, it was a Tasty Freeze, and before that, originally, it was a Dairy Queen," said Terry. "After about six months, my mother decided to drop the franchise and start Presley's Drive-In. My mother was the driving force that made this adventure a success. My wife, Kelly, and I purchased the business from her in the late 1980s and we ran it until August 2000. I had a debilitating heart attack in May of that year and that's when we decided to sell."
As for the family's relation to Elvis Presley, Terry confirmed the family's connection to the music icon.
"My grandparents, Jesse Caswell and Lovie Mae Presley, moved from Mississippi in the 1940s. They crossed the river and settled in the Payneway/McCormick area just outside of Trumann. My cousin, Donald Presley, wrote a genealogy book called 'From the Rhineland to Graceland' that documents our family's kinship and the original German surname of Preslar."
To honor the distant relative of the original owners and the history of the diner, Bryant plans to have a relative of Elvis at the grand opening.
As Presley's Drive In finds its place among a revitalized Gee Street, its new owners hope it will again become a staple for families and regulars in the area.
"It's a family atmosphere," said Bryant. "The people who come in here remember eating with each other before. We have people come in and pull tables together. It's very relaxed and family oriented. They love the remodel and have just been so positive."
Presley's Drive-In, located at 917 S. Gee St., is open Monday through Friday from 6:30 a.m. to 2 p.m. and Saturday from 7 a.m. to 2 p.m. For more information about weekly specials and special events, find Presley's Drive In LLC on Facebook or call (870) 206-8282.