Top 10 Fall Fashion Trends
Top 10 Fall Fashion Trends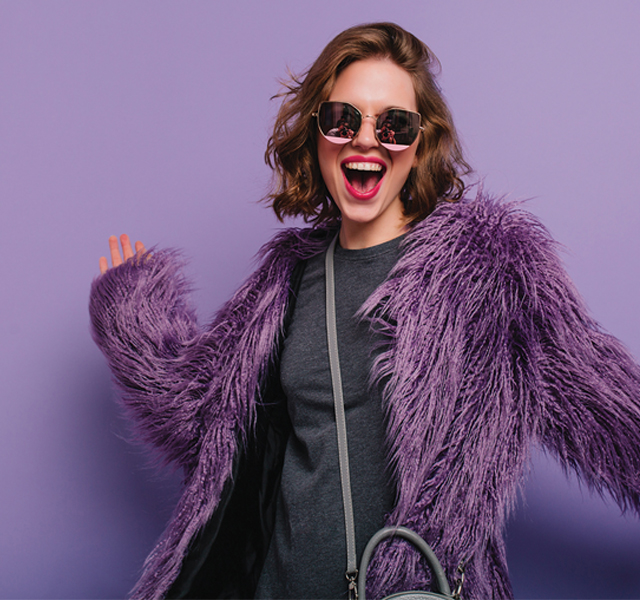 by Brittney Osborn
It's finally October. Fall is here. The leaves are changing colors, and the styles in stores are, as well. For those looking to add a little fashionable flair to their wardrobe this season, check out Occasions' list of the top 10 trends this fall and shop the many local boutiques in Jonesboro.

Red - Paint the town red this fall. This punchy color is not just for game day and the holidays this season. Red is of the moment and is showing up in everything from romantic blouses to everyday tees, from statement earrings to sequined boots. Try a fun and flirty vibrant red blouse with everyday denim, or go for maximum fashion impact by dressing in all red from head to toe.
Statement Jewelry - After several seasons of dainty gold necklaces and minimalist earrings, statement jewelry is back. But have no fear, this season's looks are a far cry from the infamous bubble necklaces of the early 2010s. Vintage styling, pearls and heart motifs are especially popular, as are collected charm styles. Try a charm necklace or a heart locket to elevate a look this fall. Don't be afraid to layer favorite pieces this season as the motto "more is more" is true. Statement earrings are especially having a moment with shoulder grazing chandelier styles, larger than life studs and even mismatched styles gracing the runways.
Yellows - Every fall heralds the return of timeless autumnal hues such as burgundy, forest green and mustard yellow, but this season there's a little surprise twist to this year's yellow offerings. Chartreuse and lemon yellow are vying for the top yellow hue this season. These citrusy hues look especially fresh when paired with more traditional fall colors. Chartreuse and plum, lemon yellow and olive, the possibilities are endless. Try something new this season and brighten those chilly days with vibrant outerwear in this au-currant hue.
Wide Leg Denim and Trousers - Hold on to the skinny jeans, ladies! (Seriously, hold on to them. They'll be back, so just slide them to the back of the closet until that time comes.) This season's silhouette lets legs breathe with relaxed and wide legs. This style is perfect for pairing with the more fitted silhouettes in this season's tops.
Elevated Basics - Nothing beats a great tee. This basic piece can take a wardrobe far. Try a scoop neck style in a rib knit for an updated look, or look for traditional silhouettes in unexpected fabrics. How about a tee in sheer mesh layered over a camisole? Or a long sleeve tee in delicate lace? These basics are perfect for pairing with the wide leg styles mentioned earlier.
Cargo Pants - With the rumors of an *NSYNC reunion, it's no wonder that styles of the early aughts have returned but with a more modern twist. Sure, one could wear their olive green cargo pants with a black fitted crop top, but does anyone really want to look like a live action Kim Possible? Try cargo pants in a metallic silver with a patterned mesh top or a fluffy eyelash yarn sweater. More on that later! Cargo pockets are also appearing on skirts and vests to add a little adventure to even more looks.
Peplum Waists - This season is all about returning favorites. The peplum waist is back, and it's bigger than ever. More dramatic ruffles and flares are not just on blouses, but also on dresses and skirts. A sheath dress with an additional peplum waistline in a vibrant red with statement jewelry is a winning look packing three trends into one.
Fluffy and Cozy Textures - There's just something about crisp fall days that make everyone want to cuddle up with something cozy. Well, cozy is no longer just for the couch; this fall is all about cocoon cozy chic. Try a fluffy teddy bear coat or even an ultra-plush sweater (bonus points if it's red or yellow) to be fashionable yet comfortable.
Denim Maxi Skirts - The denim mini skirt has been having a moment this spring and summer, and with chillier temps on the horizon, it's no wonder that the denim skirt is sticking around to finish out the year, but with a longer hemline. With so much fabric, this can be a heavier style, so choose what to wear with a denim maxi skirt carefully. Try a cropped sweater or a sheer blouse to balance the silhouette. Not ready to commit to a full maxi? Try an ankle skimming midi that shows off a pair of amazing sneakers.
Blazers - Instead of topping an outfit with a waterfall cardigan or a plaid shacket like in years past, try this season's more polished choice, the blazer. Whether it's a classic black, a preppy tweed or a dramatic metallic, a blazer is the finishing touch that even the most basic fall outfits crave this season. Also a plus, blazers help a T-shirt and jeans outfit feel more fall-like even if the weather isn't cooperating. When it's chilly in the morning or evening but still feels like summer during midday, this versatile piece is sure to be a wardrobe workhorse.