Uncle Taco Brings Fun and Flavor to Downtown
Uncle Taco Brings Fun and Flavor to Downtown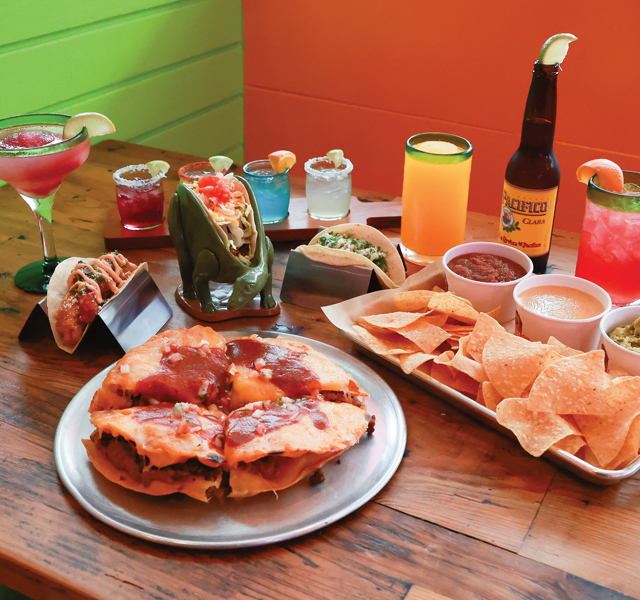 There's a new uncle in town, and with a creative menu of appetizers, tacos and margaritas served in a fun atmosphere, this uncle may soon become everyone's favorite.
When Skinny J's owner James Best closed Eleanor's Pizzeria last August, he and his staff had already been working on a new concept for nearly two years. Named for his oldest daughter, Eleanor, the pizzeria opened in Downtown Jonesboro at 211 S. Main St. in May 2017. By that time, Best had opened Skinny J's restaurants in Jonesboro, Paragould and North Little Rock and has since opened a Skinny J's in Conway.
Best and his wife, Emily, have three children: Eleanor, 8, and twins Charlie and Willa, 4. In addition to the restaurants, he also farms rice and soybeans in Cash. With a busy lifestyle and young family, once the pizzeria closed, he opted to take his time remodeling the downtown restaurant space.
Although the closing of Eleanor's was bittersweet for Best and his staff, they were ready to bring a different concept to downtown. The new restaurant, Uncle Taco, officially opened on Feb. 2 following a soft opening.
"I had wanted to change Eleanor's for about two years," said Best, "and I'd been practicing back in the office on this taco stuff for a year and a half or two years."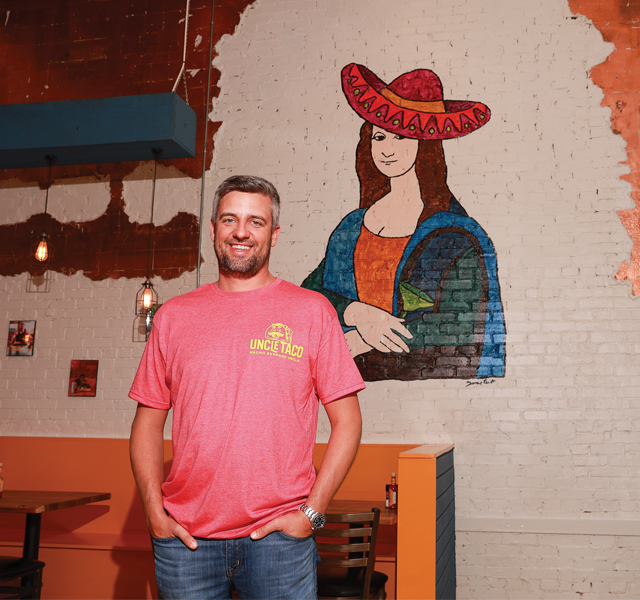 The new concept, he says, is simple, fast and good.
"The execution of what we do back there, once everything is prepped, is so simple," said Best. "There's no place in Jonesboro where you can come get what we have together in one place. We wanted basic, good drinks and basic, good tacos. When we say basic, we mean your normal margarita but made with the freshest and best ingredients, not your store-bought stuff, and the same with the tacos. We had a lot of fun working on this."
Although Uncle Taco has only been open a month, feedback has been positive.
"It's fast, so lunch has a quick turnaround time," he said. "People like that. People are also noticing that everything is fresh. During the first weekend we were open, we sold out of tequila and sold out of chicken twice."
Best says he has been pleased with the initial response from customers.
"It's been really good," he said. "People seem to be accepting it really well. Really, the only thing that has surprised me is just how well it's gone over with people."
Uncle Taco offers a variety of appetizers, all served with corn tortilla chips, including queso, guacamole made fresh in-house daily, bean dip, nachos and a variety of house-made salsas ranging from pineapple to salsa verde. Also on the appetizer list is the popular Eleanor Pie. Named for his daughter, the Mexican pizza is made of refried beans, cheddar cheese, red sauce and pico layered between crispy flour tortillas that is a meal itself. Customers can choose to add a variety of toppings to the pizza – chicken, ground beef, chorizo, carnitas, smoked pork or jackfruit.
Uncle Taco's selection of tacos includes everything from The Basic (ground beef, lettuce, cheddar cheese, tomato and sour cream) to a gluten-free, vegetarian option filled with jackfruit, pineapple salsa, cotija, cilantro and avocado crema. Other protein options include carnitas, smoked pork, smoked chicken, chorizo, carne asada and fish with a variety of dressings that range from a sweet pineapple salsa to spicy ranch. Any taco on the menu can also be made into a burrito, salad or bowl.
To take it up a notch, Best said they wanted to offer an extensive menu of adult beverages, as well as zero-proof mocktails, at Uncle Taco. The house margarita is available on the rocks or frozen. Other margarita selections include the Prickly Pear (a salty and sweet pear combination with a house-made fresh lime mix), the Fiery Grapefruit (ghost pepper tequila, house-roasted jalapenos and sweet grapefruit), the Corona-Rita (the frozen house margarita topped with a Corona Extra) and the Sangria Margarita (the frozen house margarita made with the addition of berry wine). Assorted cocktails include Uncle Taco's Tijuana Tea (a punch-like drink with tequila), the Mexican 75 made with tequila, champagne and blood orange juice, and a Tequila Sunrise made with freshly squeezed orange juice.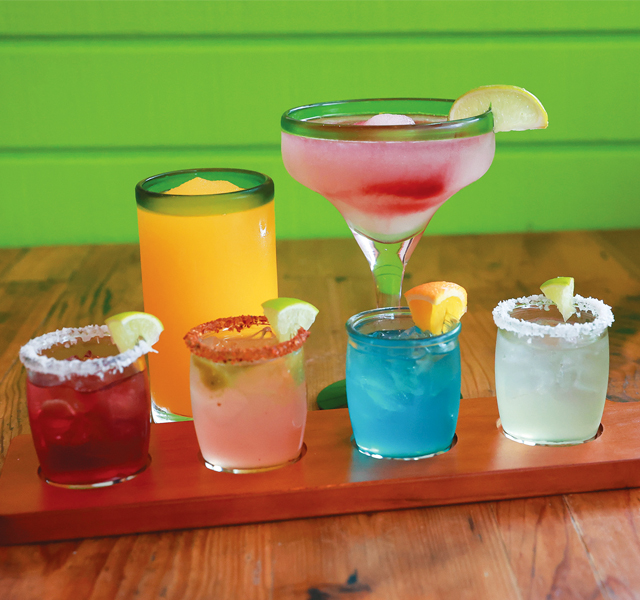 In addition to a variety of beers and wine, the bar menu also offers a selection of mocktails. Non-alcoholic beverages include Uncle Taco's Blood Orange Fizz, the Agave Strawberry Lemonade and a Berry Cooler. Peachy Keen, a frozen peach-flavored concoction, is also non-alcoholic and can be purchased by all ages or can be served with alcohol added to it.
"The drink menu is just as big as the regular menu," said Best. "It's the first restaurant we've done where we actually focused heavier on the drinks than we did the food. With this, we actually put a lot of time and effort into a cocktail – two years' worth of time and effort. All of our drinks are made from fresh squeezed fruit. We have someone in here every morning squeezing oranges, squeezing limes – every day."
Best credits manager Sarah Boyd for coming up with the quirky name for the restaurant.
"Every name that we came up with that we liked, we would type it in and it was taken. Sarah kept saying Uncle Taco, Uncle Taco so we went with it. When we were looking at logos, we had a fun one that came back and it all just kind of fit," said Best of the restaurant's logo, a taco with a face drawn on the outside of the shell. "It all just came together."
From a creative standpoint, Best says he enjoys everything about the new concept.
"Think about it – with pizza you are just playing with dough, pizza sauce and toppings," he said. "With Mexican food, you can do anything. Everybody loves it."
Best said it was also easier to add vegan and gluten-free options to the Uncle Taco menu.
The restaurant's jackfruit taco came from a recipe in a cookbook that was a gift from his wife. Hailed as a meat substitute, jackfruit has a texture similar to pulled pork.
"My wife got me a cookbook for Christmas, and they had a jackfruit taco in there," he said. "So, I just got some jackfruit and started playing with recipes until I found something I liked. Jackfruit is a huge superfood; it's really good for you. For a vegetarian option, you can eat jackfruit on a taco and it tastes like you have a protein in there."
Brunch will be the next addition for Uncle Taco. Beginning in March, the restaurant will offer popular brunch items such as huevos rancheros, breakfast burritos, breakfast tacos, fresh squeezed orange juice and mimosas. Brunch will be served Saturdays and Sundays from 10 a.m. to 2 p.m.
The restaurant, which seats 75, also offers private party space for approximately 40 people. For more information about Uncle Taco, visit eatuncletaco.com or call (870) 520-6356.