The Lights Shine Bright in Downtown Jonesboro
The Lights Shine Bright in Downtown Jonesboro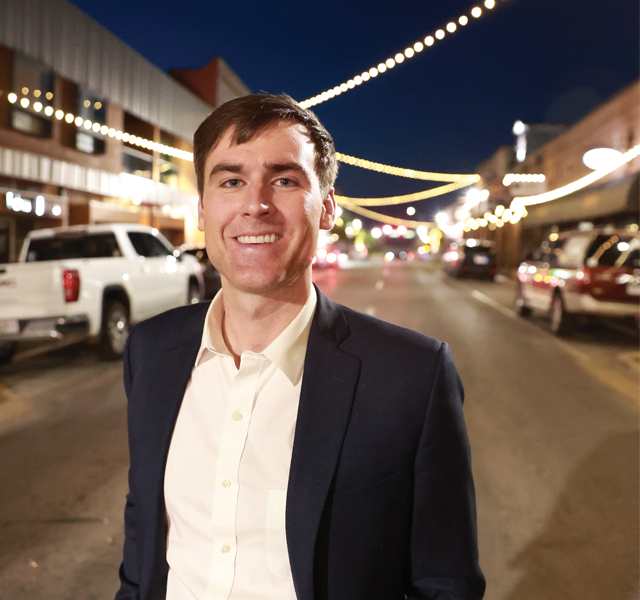 by Audrey Hanes, photography by Melissa Donner
The recent addition of lights strung up and down Main Street in Downtown Jonesboro has given the area a festive and updated look, making it a safer and more welcoming street for those who eat, shop and live in the thriving community.

Last month, lights were strung along Main Street, the first of a two-part project according to Downtown Jonesboro Alliance (DJA) Executive Director Sarah Doss. Phase one of this project included Main Street from Huntington Avenue all the way to Cate Street. Doss says they hope to complete phase two of this project later this year or next year, which would include Main Street from Washington Avenue to Huntington Avenue.
"Lighting is such a cool project to me because it is multifaceted," said Doss. "These lights provide the beautiful aesthetic we love while also bringing an additional layer of security to our Main Street.
"… This lighting initiative would not have been possible if it weren't for our amazing donors and partners, as well as grant funding from Main Street Arkansas. We are so blessed to have support from local businesses and organizations, as well as additional grant funding, to be able to incorporate large projects like this."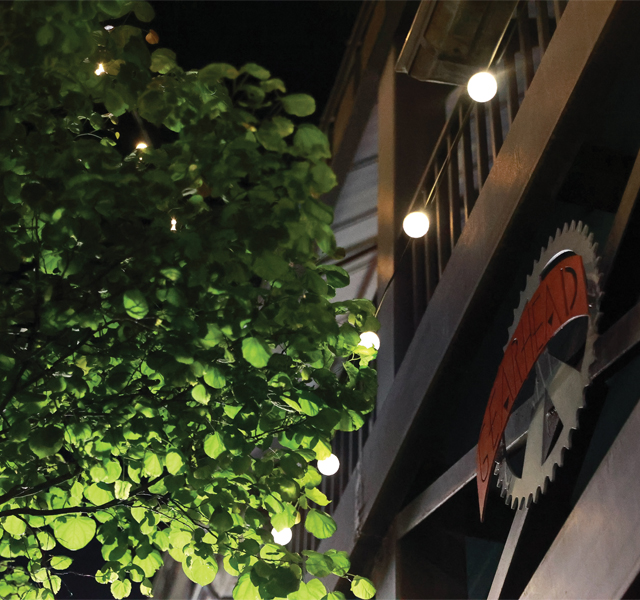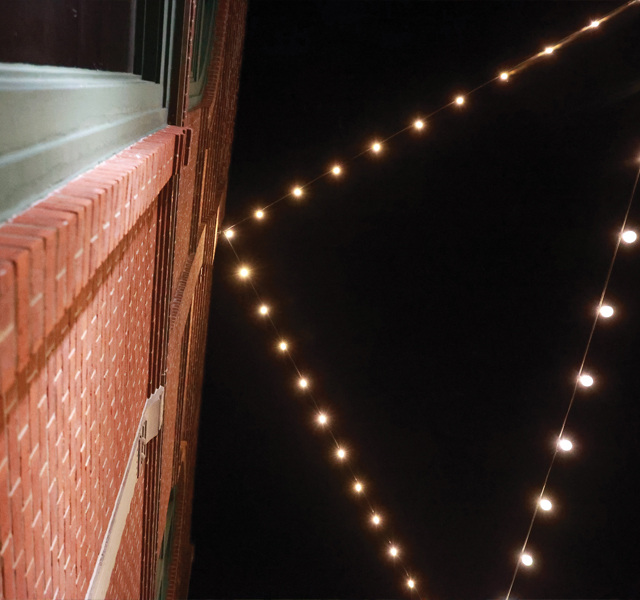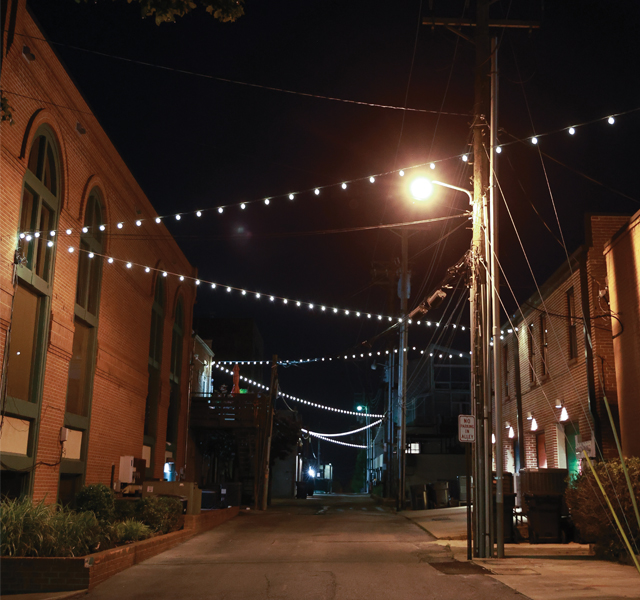 Mayor Harold Copenhaver and the City of Jonesboro worked with DJA and downtown businesses to help make the longtime wish a reality. While it was thought to be an issue in the past as far as highway requirements, Copenhaver says Main Street is a city street and doesn't become a highway until the bridge over the railroad tracks, making the much-needed project possible.
"Downtown Jonesboro has been wanting it, we just needed to ensure that they know no damage will be done," said the mayor. "I always enjoy conversations with DJA on ways to make quality improvements to our downtown. We are doing everything we can to make it an enjoyable and safe experience. … Lighting does so many things, and beautiful lighting will give our downtown a totally different, but wonderful, nighttime feel than daytime.
"When I travel to other cities in or outside Arkansas, I see how remarkable the difference is between streets that are well-lit and decorated versus those that are dim and unwelcoming. We want people to be excited to come downtown, and the new lighting will be very inviting. There's also a safety factor – dark corners and streets don't feel safe to a lot of people at night. We want to ensure that people feel as safe and comfortable as possible when they come downtown."
Gearhead owner and longtime Downtown Jonesboro business owner Ted Herget has been an advocate for more lighting in the community for many years. From malls to town centers, Herget says that the lighting aspect of any development should be very intentional because lighting is instinctually what makes people feel safe.
We all gravitate towards light; it's what we needed downtown," said Herget. "People don't want to park or walk down the street when it's dark. Really thoughtful, purposeful lighting makes people comfortable. Watching people walk down Main Street now versus five years ago, it's really spectacular. We need to use light to draw people to where we want to go."
Next up, Herget says there will be great care, thought and planning put into the lighting aspect of the Bridge District, which will help link the downtown area to A-State's campus.
Doss says the difference between this lighting project and all of the previous lighting installments is how many people it took to make this one happen.
"In order to string lights across Main Street, we had to not only get city approvals but approvals from ARDOT, as well as from each individual building owner that would be affected by these additions," she said. "We are blessed to have such accommodating business owners downtown that were eager and excited to see these upgrades to our already amazing downtown.
"Sam Waddell of Waddell, Cole & Jones, DJA's board president, was a huge component to the success of this project. Without his hard work and dedication, I am not sure we would've been able to pull off a project of this caliber."
Waddell, a Jonesboro native who graduated from Jonesboro High School before graduating from University of Arkansas' School of Business in 2011 and the UA School of Law in 2014, returned to Jonesboro to practice law at Waddell, Cole & Jones. Waddell, whose business is located in the downtown area, has been involved with DJA since 2019, initially joining as a member of the Board of Directors before assuming the role of vice president in 2021, followed by becoming board president in October 2022.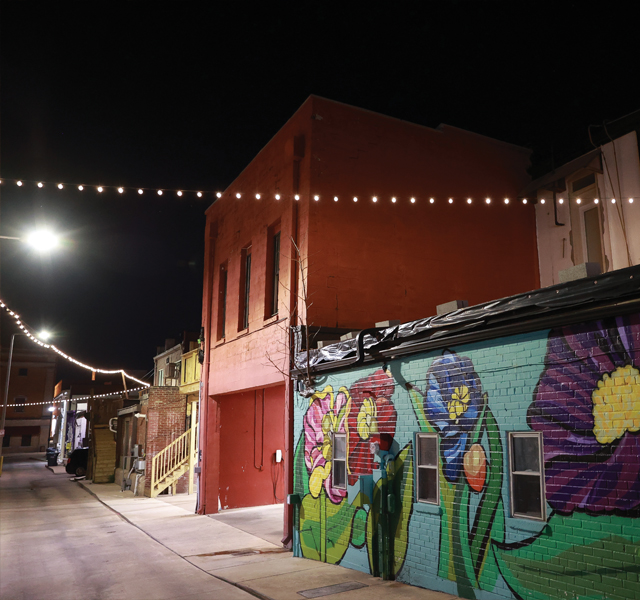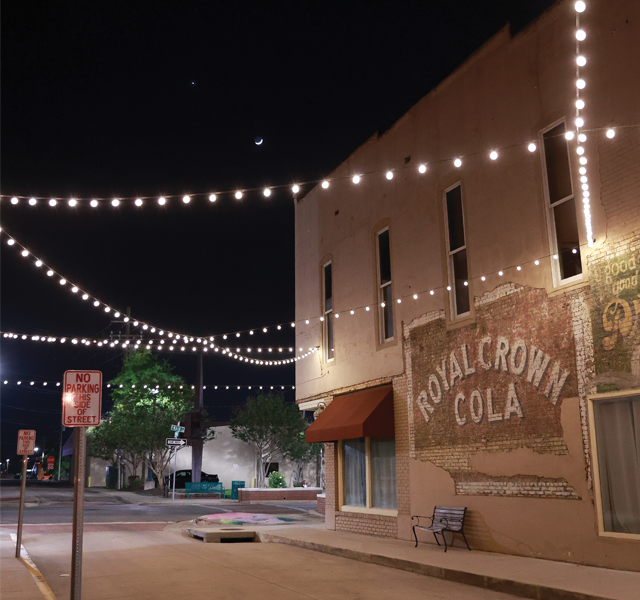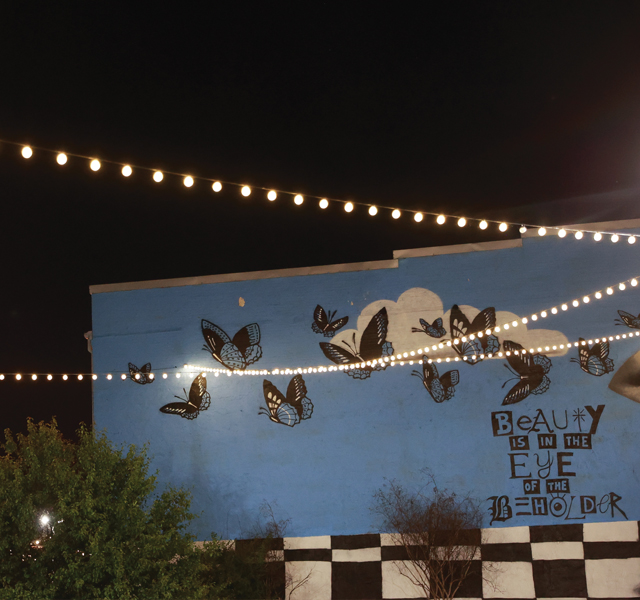 The DJA board president says that Doss' vision, leadership and determination were instrumental in bringing this project to fruition.
"I worked closely with Sarah in securing the necessary approvals and gaining the support of downtown building owners," said Waddell. "We are truly grateful for the cooperation of the city and the downtown community, without which this project would have been impossible.
"… This lighting project was driven by our desire to create a more vibrant, welcoming and safer atmosphere on Main Street. The project aimed to improve the overall appeal of the area and attract more people to visit, shop and dine in Downtown Jonesboro."
Waddell and the DJA leadership appreciate the Jonesboro community's commitment to maintaining and revitalizing Downtown Jonesboro.
"It is through the collective efforts of residents, businesses and community leaders that we can have a downtown we are all proud of," said Waddell. "DJA looks forward to its continued work with the community to improve and preserve our historic downtown. Downtown is the heart and soul of the community. It reflects our city's character and identity and serves as an important cultural and economic hub.
"Typically, when you think of any given city or town, what first comes to mind is its downtown. Supporting Downtown Jonesboro contributes to a thriving city center, creates a strong sense of community pride, drives local economic growth and enhances the overall quality of life for residents. We need Downtown Jonesboro to be an appealing destination to gather, work, eat, shop and live."
Looking ahead, DJA has plans for further improvements to Downtown Jonesboro.
"Additional projects are in the works, including the installation of lights on Main Street from Huntington Avenue to Washington Avenue," said Waddell. "We also aim to install additional lighting from Main Street to Huntington Square, connecting those areas and enhancing the aesthetics and safety of downtown. Our goal is to create an environment that attracts and retains customers, businesses and residents."
The City of Jonesboro's Parks and Recreation Department, with the support of DJA, is also working to complete a pocket park located on the corner of Monroe Avenue and Union Street, which will feature green space, a pavilion and playground.
"Please be on the lookout for DJA announcements regarding the many exciting events hosted downtown throughout the year," said Waddell. "These events showcase local vendors, live music and family-friendly activities, and they are a lot of fun."
Copenhaver similarly encourages people to continue to invest their time and support in Downtown Jonesboro.
"All cities have similar DNA, but it's their downtowns that make them unique," said Copenhaver. "Creativity and passionate people make downtowns special, and I admire all those who put their hearts and resources into downtown. Our downtown has grown more and more attractive over the past decade, and I appreciate the people who are responsible for all the work and faith that has gone into that transition."
For more information about Downtown Jonesboro Alliance and to keep up with events and news about the downtown area, visit downtownjonesboro.com.